You can't ride on your bike taking all your family members for a holiday at a beachside. For convenience, you have to carry bikes within your car, and for that, swing away bike racks have got no better alternative. With swing away hitch bike racks, you can keep your bikes on the rack while still being able to get into your SUV or Car's trunk.
With the swing away bike racks, you can drive your bike to the camping site in your car. Having hitch bike racks in the back of your car means that you don't have to use any of your car's interior space or the roof.
Based on our research and experience of using them individually, we reviewed the 5 best swing away bike racks in 2022.
What is a swing away bike rack?
The van's rear doors of most SUVs, pickups, and wagons can be easily accessed through a lift gate or swing door. Consequently, the current generation of hitch mounted bike racks has been engineered such that you may still use the back of the vehicle while towing bikes.
Swing away bike racks are used for carrying bikes and cycles with you on the SUVs or cars to your holidays. Swing away bike racks are ideal for transporting your bicycle safely to your camping destination.
Why do you need a swing away bike rack?
Swing away bike racks will be handy at times for every bike rider but especially for mountain bikers. Even though they can get there on their bike. Putting a hitch bike rack on the trunk, roof, hitch, or spare fat tires is all ways to do this.
Most hitch bike racks can be attached to the hitch with integrated cable locks or latches. Swing away bike racks certainly solves many problems while traveling with family and friends and carrying bikes there.
For example, we went on our holiday from Sydney to Gold Coast to drive for a 1-week vacation, and we carried three bikes with our existing rack, which is a swing away hitch bike rack on our SUV.
Our Recommended Best Swing away bike racks
In hurry? check out the product features table for a quick idea. The performance of these 5 swing-away bike racks is outstanding. However, after testing we liked Thule, SportRack Ridge, and Yakima the most. Because our ride with those bike racks went very smooth and we didn't find any major issues. However, we highly recommend checking customer opinions before buying.
Quick and and easy to install

Load capacity: 40 lbs per bike

Included SKS (Same Key System) locks

Not for fender equipped bicycles
Now let us share our detailed reviews and comparison on those bike racks. Because we know Shortlisting thousands of products in the marketplace can be a difficult job.
1) Thule Apex XT Bike Hitch Rack
This is a fantastic swing away product from Thule. The bike carrier has a unique design that lets you carry a number of bikes at once & swing away from the car when complete. Anti-sway cradles improve the bike's stability and fit by making it more stable and easier to ride.
To connect and secure bikes quickly on the Thule Apex swing away hitch bike racks, use an easy-to-use ratcheting strap called the cradle strap.
Why this is our first choice?
Safety
The 7″ space between each bike makes sure that you have safe and secure bikes when they are being moved with Thule Apex hitch bike racks.
Strength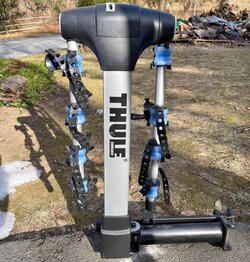 Integrated anti-sway function keeps bikes from bumping into each other when you're carrying a number of bikes at once and disappears when not used, making for better stability and fit. Integrated cable locks come with the Thule Apex hitch bike racks to keep bikes from falling off (lock included).
Because of the tool-free Tight stinger, the swing away hitch bike racks are easy to attach and stay in place on the car. The bike is safe because it has an integrated cable lock (locking knob secures rack to vehicle). Anti-sway wheel cradles improve the bike's stability and fit by making it more stable and easy to ride.
Things that can be improved:
More focus on the durability of the product should have been given.
Gripping isn't so comfortable within it. So, it could have been improved.
Final verdict:

In terms of family-friendly hitch bike racks, the Thule Apex XT swing away bike rack secures bikes and will be a good deal. This hitch bike rack is great because it can hold up to four bikes at once. Thanks to Thule's anti-swaying function and safety measures, your bikes will be safe when you put them on this hitch bike rack.
2) SportRack Ridge Hitch-Mount Bike Rack
Our second favorite bikes rack is SportRack Ridge Swing Hitch Bike Rack. The SportRack Ridge is hitch mounted rack that has the capability of hauling bikes up to 4. When you have bikes loaded rack, the swing mechanism of this loaded hitch rack allows for easy access to the cargo space.
As soon as it's not in use, the hitch bike stand folds up into a small, compact shape that's out of the way. Anti-sway cradles hold each bike in three places, one by the seat post and two by the top tubes, to keep the bikes from bumping into each other or the car.
There may be times when a separate bike adapter bar is needed. When you are done with the day, you can lock the hitch bike rack and put it on your car's hitch in the garage. You can open your SUV's hatch even though you have a rack on it because the bottom piece of the rack moves.
This hitch bike rack was easy for us to put together and easy to store. An excellent buy, this hitch bike rack is solid and secure. We used it on our RAM2500 truck a year ago, holding one or two bikes which were hybrid bikes and two electric mountain bikes or E-bikes.
Why do we like it?
It costs less than $200 (5 bikes) to buy this SportRack Ridge hitch bike rack. However, it's still a well-made thing. If you want to transport and protect your mountain or hybrid bikes, these hitch bike racks are the best way to do it.
The best deal for your money
This hitch bike rack can hold 140 pounds, which means it can hold up to four hybrid bikes. It is possible to transport typical hybrid bikes or standard full suspension bikes with this amount of space and bikes weight capacity (35 pounds maximum weight per bike).
However, fat bikes and electric bikes/E bikes should stay away from these hitch bike racks.
Taking care of your bike styles
There are soft rubber wheel straps that come with the hitch bike rack that is easy to put on and take off. This strap will help protect the frames of your hybrid bikes, thus your bike styles. It keeps the bike's frame from getting dirty.
Things that can be improved:
Because the bikes are so close together and dangle in the air, the handlebars of one bike end up in the spokes of the next. Not suitable for fat bikes.
Even though these hitch bike racks are called "4-bike racks," it's hard to make all four bikes attached in a rack.
Final verdict:

The Sport Rack Ridge hitch-mounted bike racks are the cheapest swing away bike racks you can buy in the market. We've tried a few other hitch bike racks for our hybrid bikes that cost about the same, but this one is the best. It looks great, works well, and is a great deal.
3. YAKIMA FullSwing Hitch Mount Bike Racks
The Yakima FullSwing hitch bike racks will be an excellent choice for people who want the most ease of use. This hitch bike rack has up to 160lbs (68kg) of bike weight and load capacity of four bicycles. ZipStrips are used by the FullSwing hitch bike rack that secures bicycles to the track quickly. This is in addition to the SKS locks already built into each bike.
Why do we like it?
In terms of bike styles, the EXO bike rack is the best
Owners of Sprinter Vans should think about this model of hitch bike rack. They can find only a tiny amount of space between the hitch pin and the rear axle (less than 6 feet). When you buy a Sprinter Van, this is never more than four feet. This is a good thing.
A swing base that can move bikes and other things
Yakima FullSwing swing away hitch mounted racks could be used in many different ways because they have a clever swing base. It's easy to keep track of your things with the EXO system models because they can be linked together.
Yakima FullSwing Hitch mounted racks could also be used with the EXO Topshelf. Because of this, you can make a two-tier hitch rack that can hold more than just a bike!
Safe locking system
Everything you need can be kept safe with this model of swing away hitch bike rack. Locking SpeedKnobs and Hitchcock locks will keep your things safe and sound on Yakima FullSwing hitch bike racks.
Things that can be improved:
There was a twist in this hitch mounted rack's bottom bracket where the swingarm attaches. This caused the arm mounting bolt not to line up correctly.
There was a problem with how close they were to the bolt hole, making it hard for the bolt to fit. These problems should have been looked into with more focus.
Final verdict:

The three main reasons to choose Yakima FullSwing hitch bike racks are how easy it is to install the hitch, how easy it is to "strap" motorcycles, and how well the product looks (no visible welds or hinges). As a result, you can be delighted with the purchase and thank the seller.
4) Thule 9027 Apex Swing Away 4 Bike Hitch Racks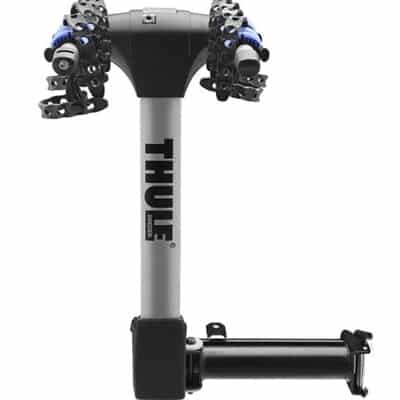 This one comes with a load capacity of four bikes. The upright mast and the two-piece horizontally folding swing arm assembly are critical components of the 9027 Apex hitch bike racks. A tethered hold-open pin secures the two folded sections of the swing arm as they come together.
A 90-degree turn of the locking handle to the lockup pin secures bikes when the vehicles are moving. The hitch lock is also built-in. There's also a bike lock. To remove all of the Thule names and labels was similarly simple for us.
We preferred how it felt when we closed the Yak and screwed in the bolt. Also, the blue accents over the red ones were more appealing to our eyes.
Why do we like it?
Installing without the use of any tools
Lock this swing away hitch bike rack to the car with the Snug-Tite hitch receivers' lock. Use shock-absorbing cradle that secures bicycles to the ground. Carriers that use RDT (Road Dampening Technology) cushion the impact on your road bikes during transportation.
Developed bike stability
Bike stability with these swings away hitch bike racks has developed a patented No-Sway Cage to prevent bikes from colliding.
Design
Incorporating the handle into the design is standard practice.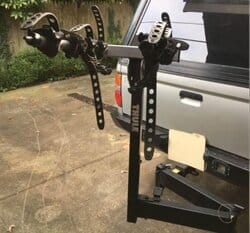 Easy to carry & handle
It can carry up to four bikes. Also, it is easy to carry bikes with it because of the built-in handles.
Compact
Creating a compact fold and fold arrangement, the swing away hitch switch allows the arms to fold away when not in use.
Things that can be improved:
The hitch is the most susceptible portion of the bike rack. They have an adaptor for a two-pronged plug "Hitch" that is screwed into the 1 1/4″ socket.
The hitch can be moved with the help of this hitch extension.
Final verdict:

We've never had a problem mounting our downhill mountain bikes with this swing away hitch bike rack for the past five years! And it's aesthetically pleasing as well as well-built and planned. It is appreciable that you can get to the back of your car without removing the bikes.

We particularly like that the swing away racks can be locked to the bikes themselves. It will be a good buy to load bikes and carry them anywhere you need. You can also buy it from Thule shop.
Also read:
5) RockyMounts Swing Away 2 bikes hitch rack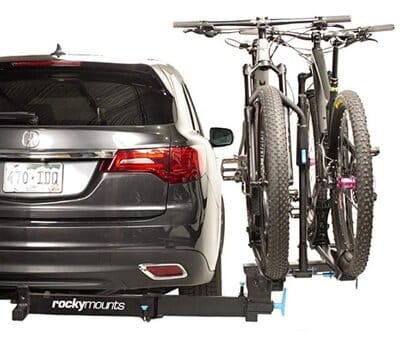 The BackStage hitch bike racks come with a load capacity of two bikes and are one of the few best swing away platform hitch racks on the market. Instead of being an add-on, other racks sell pivoting attachments. This one already has them built-in.
The design of this platform hitch rack is suitable for cars' rear luggage areas. People who own vans or other vehicles that can't use the tilt-down feature of other hitch racks might want to check out BackStage. This is because it doesn't have that feature.
BackStage hitch bike racks have all the features we've come to expect from a swing away hitch receivers bike rack- like a remote tilt release lever, low bikes loaded height and a variable bike fit. The swing away feature is one of them.
If the cable were 8 inches longer, it would go through all front and rear wheels and the frame. You can add another cable to keep your hybrid bikes, E-bikes, or mountain bikes safe, though.
Why do we like it?
BackStage is the name of a brand of swing away hitch bike racks that can fit a broad range of tire widths & wheel sizes. RockyMounts says that these platform hitch racks don't need adapters to work for the front and rear wheels 20-29 inches in diameter and bike tires of 5 inches wide or even wider (like fat bike tires).
In this case, if you want a quality rack that fits a 36-inch to 50-inch wheelbase, you'll be fine.
Things that can be improved:
When we first used this platform hitch rack and made our bikes attached, the pull level to lower it came off after just one use, which should have been an alarming sign.
The wheel arm's ratchet lever can come loose, causing the arm and hitch bikes to fall off and be dragged behind my car.
The BackStage swing away hitch bike racks, as we said before, are inconvenient. The hitch bike rack comes in several parts and needs to be put together. It was the hardest hitch bike rack to put together during our tests.
Because the base is so heavy and awkward to put together, you should use your car's hitch receivers to hold this platform rack in place. Loading bikes can also be a hassle.
Final verdict:

People who camp in vans and cab-overs can swing their arms away from these versatile racks when they don't need it. The platform hitch rack is very flexible and easy to use, except when it swings away from you. It fits most hybrid bikes without a hitch. We also find loading and unloading bikes easy from this platform rack. Considering the flexibility in usage with these versatile racks, it was a decent buy for us. You can also buy it from Etrailer.com.
Best Swing Away Hitch Bike Racks comparison table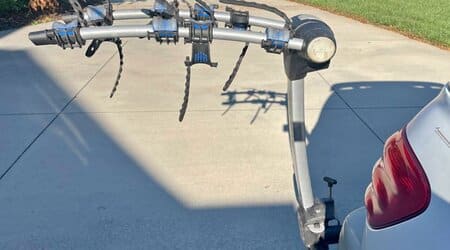 To make your buying decision easier here's the comparison table of swing away bike racks that we've tested and reviewed. Compare each and every feature before taking the buying decision.
Product
Thule Apex XT Swing 4 hitch bike racks
SportRack Ridge Swing 4 hitch bike racks
YAKIMA FullSwing Hitch Bike Racks
Thule 9027 Apex Swing Away Hitch Bike Rack
RockyMounts BackStage hitch bike racks
Dimension
42.2x11x 40.2 inches
39x17x11 inches
43.5x26x17.5 inches
47.8×16.7×10.2 inches
46x22x8 inches
Vehicle type
Passenger Car, Van, SUV, Truck
SUV
Passenger Car
Trailer
SUV, Bicycle
Material
Metal
Steel
Aluminum
Steel(vinyl-coated)
Aluminum
Rack weight
42 Pounds
42 Pounds
56 Pounds
55.05 Pounds
1 Pound
Mounting type
Strap, Hitch
Straps, Hitch
Trunk,
Hitch, Mount
Hitch, Mount
Tires, Hitch
Things to remember before buying the Best Swing away bike rack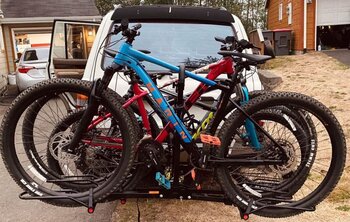 These are the things you need to keep in consideration before buying swing away hitch bike racks.
How many bikes you'd like to carry?
The number of bikes you can carry depends on the type of your swing away hitch racks. People need to know that the make and model of their car will significantly impact which model of hitch bike racks they choose. Many people still get the wrong swing away hitch bike racks when figuring out which one is right for their car and the number of bikes they want to carry at once.
Take a look at your expenses
Is the price important while buying swing away hanging racks to transport your hybrid bikes or E-bikes? Of course, it is. Determine your budget before you think about any other factors because it will help you decide what kind of vehicle-mounted bicycle carrier you can buy.
People who bike for safety might wonder if the hitch bike racks they use have any anti-theft features. Some do, and some don't. To keep your valuables safe, choose hitch bike racks with locking mechanisms that scare away thieves.
How to install the swing away bike rack? (Step by Step)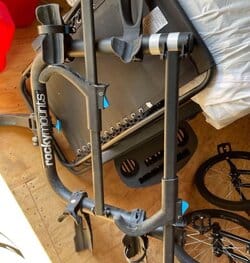 The hitch mounted bike racks or hanging racks with a swing mechanism on the back of your truck or car is a great way to move a lot of bikes. Below are the steps to install the swing away hitch bike racks.
Steps-
1) Identify the size of the hitch receiver.
2) Remove the lid from the hitch receiver.
3) Insert the bike rack into the hitch receiver.
4) Now, you need to insert the bolts and flat washer.
5) Install the mountings with a wrench.
6) Finish by installing a cotter pin at the end of the whole.
Also read:
FAQs
Is it safe to use the swing away bike racks?
Yes, it is safe to use a swing away bike rack. Because trunk-mounted bike racks or loaded hitch racks can damage your car if the bikes are not adequately secured, you must take preventive measures. It's easy to scuff the paint if the bike's front wheel can move. Scratches and faded paint will inevitably occur as a result of this.
How can we make my bike rack more secure?
Install hitch bike racks on the roof of your car. This could necessitate the purchase of roof racks instead of hanging or hitch racks. The roof racks can be locked, and your hybrid bikes can be attached independently to the roof rails or roof racks, using a particular U lock, although the trailer alternative is more secure.
Is swing away bike rack compatible with any Car?
Swing away bike racks fit in nearly every vehicle. Ensure the hitch receivers of your automobiles and hitch bike racks are the same.
Conclusion
Choosing the perfect swing away hitch bike rack is a troublesome task. With our research and experience, we have laid before you the best 5 swing away bike racks that can be your ultimate choice. We hope our reviews will help you select the best one as per your preference.
Also, read about other hitch accessories: