Trailer Honda Goldwing hitches are the main connection between towing vehicles and trailers. It is a part of the structure that bolts to the vehicle and serves as a linkage between two points for connecting a trailer. A trailer hitch is merely another name for a tow hitch, which is used to tow a trailer.
A tow hitch is typically used to refer to a receiver hitch. A fifth wheel hitch, gooseneck hitch, and other hitches, on the other hand, maybe referred to as tow hitches.
Hitching involves three main components-
The trailer hitch on your vehicle.
Towing ball mount and trailer ball.
Your trailer.
All trailer hitches, or tow hitches, are intended for a specific purpose and are rated for particular weight capabilities. Let's dig deep to know about the best trailer hitch for Goldwing.
What is the Best Trailer Hitch for Goldwing?
After testing several trailer hitches for Goldwing, no doubt Kuryakyn 7642 is the Best Trailer Hitch for Goldwing. Kuryakyn hitches are designed for maximum strength and durability while enabling bolt-on installation with just a few common hand tools. Use alone or in conjunction with the appropriate Goldwing trailer wiring harness and Goldwing trailer connector kit (not included) for a unique and personalized look. This trailer hitch fits Goldwing motorcycle without any problem. You'll find a detailed review of this motorcycle trailer hitch below.
Now, let's go over the top three Goldwing trailer hitches for your Goldwing, along with their benefits and drawbacks.
#1. Rivco Complete GoldWing Trailer Hitch Kit GL18007-20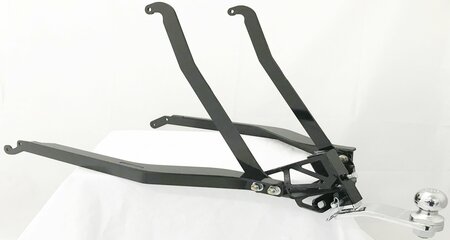 Rivco complete Goldwing trailer hitches kit GL18007-20 machined with aircraft aluminum construction that's incredibly sturdy and lightweight; weight is only 8.9 lb. With a package dimension of 20 x 12 x 6 inches.
Attaches to mainframe only; no flimsy sub-frame attachments. Instead of heavy masses of steel, superior strength is derived from the perfect triangulation of mounting points.
Works with ball-type and Heim joint-type couplers. Each hitch comes with mounting hardware as well as a triple chrome-plated 3inches drop tongue which provides 12inches tongue height.
This Item Fits the Following Applications:
2001-2005 Honda GL1800 Gold Wing.
2001-2010 Honda GL1800A Gold Wing ABS.
2006-2008 Honda GL1800P Gold Wing Premium Audio.
2006-2010 Honda GL1800HP Gold Wing Audio/Comfort.
2006-2010 Honda GL1800HPN Gold Wing Audio/Comfort/Navi.
2006-2010 Honda GL1800HPNA Gold Wing Audio/Comfort/Navi/ABS.
2007-2010 Honda GL1800 Gold Wing Airbag.
Pros & Cons
Let us now weigh their advantages and disadvantages.
Pros
It's as simple as pulling the retaining pin and the tongue out of the receiver to remove the chrome-plated tongue.
Without the tongue, the aluminum hitch frame remains hidden on the bike.
The GL18007-20 hitch's maximum recommended tongue weight is 60 lbs.
The GL18007-maximum 20's recommended towing weight is 600 lbs.
Cons
The goldwing trailer hitches do not include a tow ball; they sell the GL18007-C tow ball separately.
Note: When towing, do not exceed the maximum axle weight specified by the motorcycle manufacturer.
#2. Kuryakyn 7642 Motorcycle Accessory
The distinction between a good ride and a white-knuckled ride is made by this rock-solid Goldwing trailer hitch.
The product weighs 19.9 pounds and measures 23.2 x 7.1 x 7.1 inches. Appropriate for Honda Goldwing trailer models: GL1800 (2001-2010).
Vehicle service types are
Street-touring-motorcycles.
Street-motor-scooters.
Street-motor-scooters.
Street-sport-motorcycles.
Off-road motorcycles.
Marine-personal-craft.
Snowmobiles.
Pros & Cons
So, what are its advantages and disadvantages?
Pros
Included with the item-
1 rear sub-frame weldment plate
1 chrome hitch
2 stabilizer bar weldments
1 left crash bar mounting bracket
1 right crash bar mounting bracket
1 hardware kit
The fit is perfect.
It takes approximately 2 hours to install.
Cons
Not included with the item-
A set of metric hex wrenches
Metric socket set and ratchet
Metric combination wrenches
A ft/lbs torque wrench
Large adjustable wrench
Pro Tip: Drill a hole and weld a nut over it prior to installing for an anti-rattle bolt to be added on the side.
#3. Show Chrome Accessories 52-921 Vertical Hitch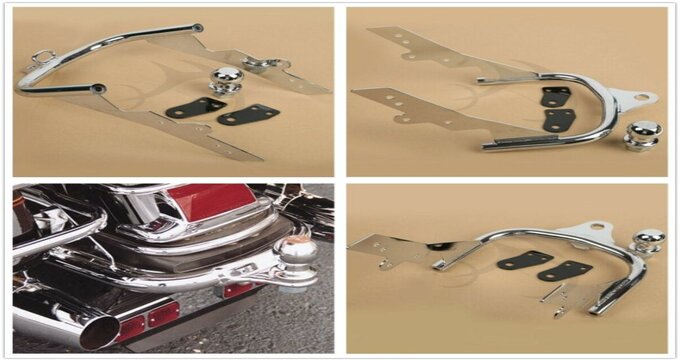 Big Bike Parts has already begun shipping its brand-new receiver hitch for the 2018 Honda motor company. When the receiver is not being used, this vertical hitch design provides a clean look that is almost hidden.
For a tight fit, this classic 11/4″ receiver hitch mounts straight to the motorcycle's mainframe and sub-frame using the given extra strong bolts. This Show Chrome Accessories Vertical Hitch fits all 2018 Honda Goldwing trailer models. The item has a weight of 18.1 pounds (8.15 kg). The dimensions of the product are 28 x 18 x 6 inches (71.1 x 45.7 x 15.2 cm).
The vehicle service type
Street-cruiser-motorcycles.
Pros & Cons
The following are the advantages and disadvantages of Show Chrome Accessories 52-921 Vertical Hitch Receiver for Honda 2018 GL1800,0 Pack.
Pros
It includes a 1 7/8″ hitch ball.
Big Bike Parts' standard anti-chatter bolted configuration is included to remove the excessive movement, boosting pulling steadiness and towing tracking.
Instructions and all necessary hardware are included.
It is possible to install it without removing the rear tires.
Made in the United States.
Cons
This item does not include a trailer wiring harness.
On the pricey side.
Trailer hitch for Honda Goldwing: Buying Guide
Your success in choosing the best trailer hitch, especially the Goldwing trailer hitches, depends on four basics.
Purpose
Weight capacity
Towing ball mount and trailer ball
Safety
Purpose
First, think about the type of vehicle you own, and the load you plan to tail. A full trailer will require a very different approach than hitch racks or bike racks/carriers. For general towing, like KD cycles, standard hitch racks are considered.
Weight
Weight carrying capacity is a major factor in choosing a hitch. Hitch organized into classes from 1 to 5. Class 1 supports up to 2000 pounds, suitable for compact full size and crossover vehicles. Class two scales up to 3500 pounds, appropriate for full sized cars and up to quarter-ton trucks and SUVs. This class ranges between 3500 pounds and 12,000 pounds.
You will need at least a crossover vehicle to attempt this level of weight. Class four and five are considered heavy duty hitches. These are able to pull between 8000 and 20,000 pounds. This level of tow requires a half ton truck minimum.
Note: Check your Honda Goldwing owners manual or researcher model online to determine the appropriate class and weight capacity for your specific.
Towing ball mount and trailer ball
Towing ball mount and trailer ball is another key thing to consider. Trailer balls come in three sizes. The larger the ball, the more weight you can carry. Some ball mounts come with several ball sizes in one, providing multiple towing options. Make sure the ball and mount you're using needs or exceeds the weight rating of your trailer. To keep your trailer level, most ball mounts come with a drop or rise function. This higher or lower adjustment allows the amount to stay level while attached to your vehicle.
Pro Tip: To calculate drop, subtract the distance between the bottom of the trailer coupler and the ground from the distance between the top of the receiver tube and the ground. 
Also read: 5 Best Adjustable Drop Hitches For Lifted Trucks
Safety
To tow a trailer, you'll need a vehicle specific 'T' connector. Use it to connect your vehicle's lighting system to the four-way adapter standard on most utility trailers. After hooking it up, test the signals to ensure everything is working properly before you hit the road.
Once the trailer is coupled to your vehicle, connect the towing safety chains to the trailer hitch in an 'X' pattern. Keep the chains lower to the ground and check that the load is secured properly.
Over time, pay attention to the condition of your hitch. Look for signs of wear and tear, corrosion cracks, or other forms of damage. If you have any doubts about the condition, replace it before you get on the road.
With purpose, weight capacity, towing ball mount and trailer ball, and safety in mind, it's time to get familiar with your new route.
What Size Trailer Do I Need for a Goldwing?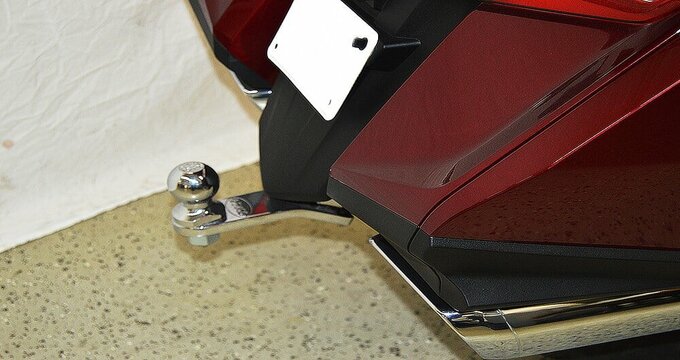 You'll need at least a 10′ trailer with a flat front and an 8′ trailer with a V front. It's also much easier if you have a fold-down rear door that also serves as a ramp.
As a result, the door is a little heavier than many of the common outdoor folds. However, you will not be required to transport a ramp, and most fold-down doors will easily accommodate a Wing.
Personally, Thule aluminum 6.5 ft. x 10 ft. V-Nose has served me well. It can hold bikes with a rear storage container equipped, pulls well, and weighs only 1300 lbs.
Also read: Top Swing Away Hitch Bike Racks in 2022
How much weight can a Goldwing tow lift?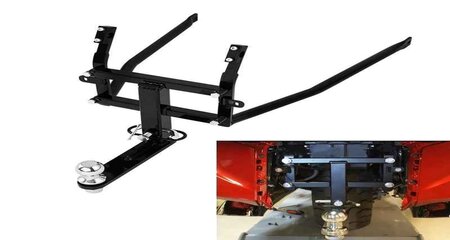 Although the Honda Goldwing can tow vehicles weighing up to 5000 pounds, the very first crucial factor to consider is hitch weight. Back there in the downward force, bikes can support so much. However, a substantial amount of hitch weight is required to keep the trailer stable. To me, 30 to 50 lbs are about right.
The second critical step is to become fully aware of the new bike-trailer combination's reduced braking capabilities. You'll be fine as long as you drive with a "heads up" attitude and use the engine/transmission to help you slow down before you need to stop.
There are no "standards" for "how much weight." However, you don't want any more than 50% of the bike or rider's weight in or on that trailer. So the rider is 250 and the bike is 980, for a total of approximately 1230 upfront. 50 percent of that grants you about 600+ lbs that can be comfortably towed without worrying about the cart pushing the horse.
The same stuff we all do with our trailers and pickups. You don't want to tow a 10,000-pound load behind a 3,000-pound car or light pickup. Sounds like a recipe of disaster, isn't it?
Lastly, about its price. The price can vary from $100 to $300 on most retailers or online shops.
Read: How to lift the 5th wheel hitch out of the truck?
Which is Better Class 2 or Class 3 trailer hitch?
The answer to this question depends on what types of vehicles you want to use it for and how much weight you are planning to tow.
Class 2
Class 2 trailer hitches can support a GTW of up to 3,500 lbs. and a tongue weight of up to 300 lbs. This sort of hitch is commonly used for pickup trucks, full-size vans, and SUVs to snowmobile trailers, tow small boat trailers, camping gear, or motorcycle trailers.
As the name implies, the hitch ball slides into a 1.25-inch "receiver" tube. Receiver hitches are linked to the vehicle's mainframe and mount beneath the rear wheel and bumper.
Class 3
Class 3 is recommended for larger trailers. Class 3 hitches have a stronger attachment and a greater 2-inch receiver tube and are often used on full-size pickups.
It can give you good performance with up to 8,000 pounds, with a tongue weight of 800 pounds. This hitch's standard design is suitable for general towing.
What Is The Difference Between a Class 3 and Class 4 Tow Hitch?
If you're towing items weighing more than 3,000 pounds, you will most likely have to choose between a class 3 and a class 4 hitches. Discover the key differences between class 3 and class 4 hitches to evaluate which one is the right one for your needs.
| | | | | |
| --- | --- | --- | --- | --- |
| | Gross trailer weight (GTW) | Tongue weight (TW) | Types of heavy equipment | Vehicles |
| Class 3 Hitches | Maximum 8,000 pounds | Maximum 8,00 pounds | Large boats, Medium trailers | SUVs, vans, and light or heavy-duty pickup trucks |
| Class 4 Hitches | Maximum 10,000 pounds | Maximum 1,000 pounds | Heavier trailers, mid-sized campers | Light or heavy-duty pickup trucks |
The main distinction between a Class 3 and a Class 4 hitch is the capacities that they specify.
How to install Honda Goldwing Trailer Hitch (video)
Conclusion
A trailer hitch can mean all the differences between smooth riding and tense riding. As an independent Honda enthusiast, I can assure you, all three trailer hitches referenced above are intended for outstanding strength and rigidity, while also enabling a bolt-on installation with just very few basic hand tools. Add an appropriate trailer hitch to your Honda Goldwing for a truly custom look, and hit the road in style.
Drive safe, break slowly and don't worry, You got this!
Also read: