Last 80 years, America saw a revolution in the weight distribution hitch section. Starting from Andersen to Blue Ox, hitches have been updated and scientifically advanced. Andersen wdh has been a classic for the last few decades.
As soon as the Equal-I-Zer's latest drop, Andersen came out of its traditional spring bar style and upgraded to a motion-dampening™ technology.
The latest upgrade made sure universal 3 inches have a customized weight distribution hitch for ease. However, the effectiveness of the Andersen weight distribution hitch is still a subject of debate. So, our experts tried the hitch out with a ford to test its limits. For an exclusive analysis, read the review below.

Andersen weight distribution hitch
---
Andersen wdh has a motion-damping sway technology that copes in windy weather conditions
No spring bars are required, and it comes with hitch balls
Doesn't make noise when traveling
Comes with a lifetime warranty
Are Andersen weight distribution hitches any good?
Andersen weight distribution hitch not only provides anti-sway but also its motion-dampening technology takes a grip on a trailer's weight. Resulting in better grip and better sway. Also, the weight transfers from the front to the trailer axle which makes sure no bounce. Moreover, it has no spring bars and that ensures a quiet journey. As it has multiple hitches and weight options, it is safe to say Andersen hitches are worth the money.
Key Features of Andersen weight distribution hitch
Unbeatable motion-dampening sway control
Andersen weight distribution hitch is well known for its unbeatable anti-sway technology. While testing this hitch with our Ford, we tossed the vehicles on a windy highway.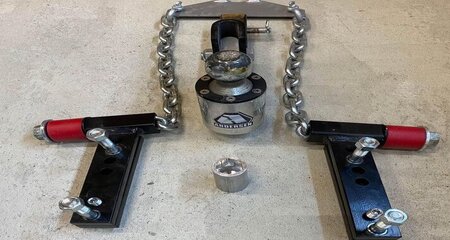 Surprisingly, Andersen hitch did a great job giving us a quiet and hassle-free journey. According to the manufacturer, the hitch easily detects sway and automatically adjusts the weight distribution ratio from the front axle to the rear axle according to weather conditions.
Please make sure to disable your tow vehicle's auto electrics no sway system. New Ford, Chevy, GMC models have built-in sway control that can misread sway detection with Andersen wdh. If a user doesn't follow this instruction, the two sway control might work simultaneously compared to the Andersen system. Ultimately, it might cause an accident. While test driving, our experts had a quiet and fast journey with Andersen wdh.
Heavy-duty tension plate
When we received our Andersen no sway weight distribution hitch, we were looking for spring bars first. But the motion and anti-bounce design eliminate any need for a spring bar. Instead, we had to adjust the tension chain system. Make sure you raise your trailer to adjust the nuts on the ball mount system.
It needs a 150 ft-lbs torque wrench and two pairs of ⅛ inches sockets. As the chain tension is heavy-duty, it's great for sway weight distribution hitch. Unlike most weight distribution kits, Andersen provides an extra pin and clip for plate adjustment. For GMC's new models, we recommend tightening both shackle pins with bare hands or a tongue jack.
Bracket positioning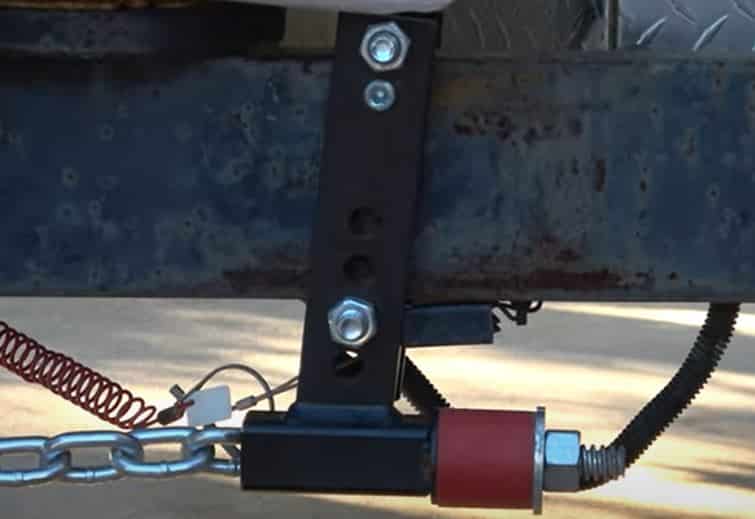 Adjusting the hitch with the bracket is the key to optimum weight transfer. Always place the large brackets outside the trailer frame in proportion to hitch head assembly. There's an in-depth bracket position in the Andersen weight distribution hitch manual. But keep customization according to your trailer axles.
Loosely attach outer blacked with the wd hitch. 3″/4″/5″/6″ universal brackets and even 8 inches bracket goes fine with Andersen wdh. But we had a 6 inches universal bracket proportional to the standard ball mount. Unfortunately, it was going out of top bracket holes, so we used a second bolt to adjust through the first 6 inches bracket and the hitch ball.
Frame Options
Andersen wdh made sure there are options available for both regular, C-channel & Y style brackets. We would advise strengthening the set screws and pre-drill a 13 inches hole in the trailer's frame. Add an extra two inches on the lower back of the trailer hitch to avoid drilling work and harming the wd hitch.
Both installations provide extra support to the frames. A 60-degree angle bracket installation provides straight alignment between your vehicle and the trailer. Manufacturers claim the Andersen wdh works with Y style frames, but some chains would need removable for that. If a user removes or adds a chain, then they should also remove or add tension bars.
Easy hooking & unhooking
On different community links search forums & thread show posts, we saw several questions about installing Andersen wdh. As a beginner, it can take a bit of time to understand proper hitch installation techniques. However, you can read our weight distribution hitch simple guide written by our expert.
A quote originally posted, "How to unhook the Andersen weight distribution hitch? There are no spring bars. Help!". First, there are many kinds of spring bars here. Users need their tongue jack to lift the trailer and take any weight off. The friction material will help to loosen up the ¼ inches socket. Gradually remove the pin and attach the clip to the triangle plate. Now you can use the Andersen weight distribution hitch as a standard hitch ball.
For hooking, simply lower the trailer using the support leg and attach the triangle plate. Again using the ¼ inches socket, tighten the nuts to establish a hitch ball assembly. Finally, re-hook up the chain, and you're done. Even heavy-duty trucks work fine with the hitch.
Pros:
It has ten different models according to different hitch balls, trailer frames, tongue weight sizes.
It can tow without extra weight distribution hitch
The hitch barely makes any bounce due to motion dampening technology
One pin connection makes the hook unhook process conveniently
No extra grease is required to lubricate the Andersen wdh
Things we didn't like:
Vehicles that have default built-in anti-sway need to be separately turned off before installation.,
Traditional hitch users don't like its spring bar free update.
How much does an Andersen hitch weight?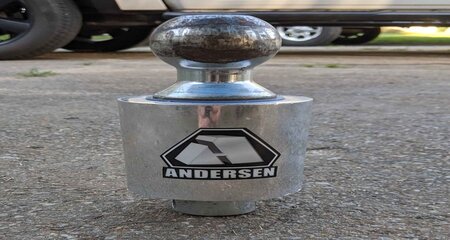 Andersen's balls range from 2 inches to 16 inches. Moreover, the weight changes according to the trailer frame inches. This particular one is the model 3350 and has a ball of 2 5/16 inches and a drop of 4 inches. Also, under the universal frame for 1400 lbs max tongue weight, 14,000 is the gross trailer weight rating. In the case of 2 inches hitch, the max tongue weight is 1000 lbs and the gross trailer weight rating is 10,000. Overall, the package weighs 52.5 pounds.
Andersen hitch vs Equal-i-zer: Which one is the better?
| | | |
| --- | --- | --- |
| Concern | Andersen Weight Distribution Hitch | Equal-i-Zer Sway Control Hitch |
| Sway technology | It uses Motion-Damping™ technology to control sway and bounce | Integrated 4-Point Sway Control™ provides the highest level of sway resistance |
| Max Trailer Weight | Starts from 6000 lbs and ends at 14,000lbs | Starts from 4,000 lbs and ends at 14,000 lbs |
| Grease | No grease required | Should be kept lubricated from time to time |
| Initial Tongue Weight | Starts from 1400 lbs | Starts from 600lbs |
From our testing, both Andersen no sway and Equal-i-zer wins.
Read detailed comparison here: Andersen Weight Distribution Hitch vs Equal-i-zer full comparison
Also read: Blue ox sway pro vs Equal-I-zer Weight Distribution Hitch
Andersen No Sway Weight Distribution Hitch Installation (VIdeo)
Andersen Weight Distribution Hitch Review: Final verdict
So far, our experts liked how the Andersen no sway weight distribution works and controls sway. You already know that a hitch tongue weight must be 15% more than your gross trailer weight.
Andersen weight distribution hitch uses its no sway system to distribute weight to the front wheels and the back at a rate so no accidents can happen. The no spring bar made the hook-up very easy and set up convenient. It delivered noise-free travel compared to traditional hitches.
We didn't feel any bounce due to its weight balance to the front wheel. However, Husky Round Bar Weight Distribution Hitch & Blue Ox Weight Distribution Hitch are also great options to consider.
Also read other top hitches reviews: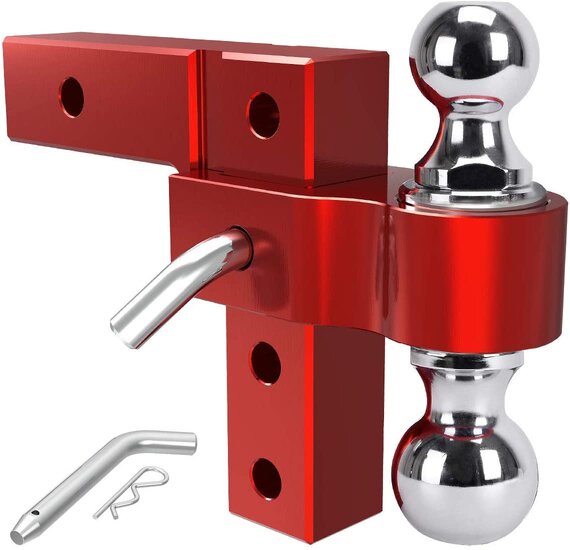 We are a team of 8 Hitch specialists based in Poland. Every day we fix different hitches for our clients. So we thought why not create an informational blog for the hitch users from all over the world.
So besides running our Hitch store here in Poland, we also write the hitch accessories tips and guidelines on this website. Read more about our Hitch store and services here.