Weight distribution hitch is a must if anyone wants to avoid unwanted sway. The core reason that hitches are always popular is that it provides truck safety and prevents accidents. Not every weight distribution system is great because some of them can accidentally pass more weight to the front axle than it requires causing an accident.
Also, if light tow rig, then gross tongue weight can cause out-of-control trailer sway. Reese is one of the old yet famous names in the towing & truck industry. With changing times, it's updated to new versions and technology of weight distribution hitch. 
In today's review, we have tested out the Reese strait-line hitch and its function.
Reese Strait-line Hitch Review & Key Features: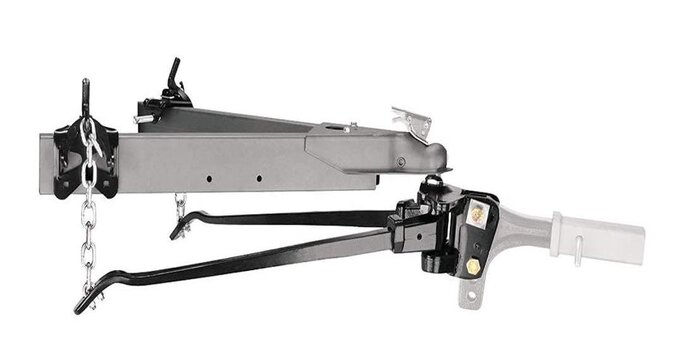 Dual cam sway control
Most hitches have a fraction-style weight distribution hitch that makes the truck sway control weak. Top brands have exceptions, but the Reese strait line hitch is incomparable when it comes to active dual cam sway control sway. It's essential to relocate any hanger bracket to activate the dual cam system of Reese strait line hitches. Reese offers these brackets in their kits that come along when you purchase the hitch.
Reese hitch apart from equal i zer hitch is its active sway control reduced noise. Remember installing U-bolt is essential for getting the full benefit of straight line sway activation. No matter how good your weight distribution hitch might be, it won't work if the installation isn't proper.
Also read:
Best 3 blue ox sway pro Reviews
Weight Distribution Hitch vs Sway bar
U bolts
Users have to remove the truck spring bar before they install it with the hanger house of this dual cam system. Reese hitch automatically shifts its weight to the front axle of the travel trailer. Make sure that you tighten the U bolts. While testing this out, we used a grease pencil to mark the center of its hitch ball vertically & horizontally.
This straight-line hitch because its weight distribution system is quite difficult to dual cam setup even if the manufacturers claim the dual cams are very easy to install. We had to use an extra penetrating truck oil to adjust the cam arm of this Reese straight-line hitch. Our experts tested the wd hitch with an F150 towing a 26ft bunkhouse truck, and except for the setup issue, the sway control was fine.
While test driving, it automatically aligned the boat trailer sway on a straight line and our tow vehicle at an asymmetrical line.
Spring bar & hanger bracket tips
While equal i zer hitch doesn't need spring bars, Resse strait line hitch has a weight distribution system that needs straight line spring bar setting due to its dual-cam nature. Our experts installed the spring bars automatically hooks first according to the ball mount head. Then we put their spring bar on the truck cam portion.
While u bolts face down, make sure to tighten the hanger brackets.
Manufacturers claim it's an easy-to-install package. As hanger brackets mainly control the sway flexibility of this truck hitch. Rotate the bracket to pull the vertical chain. After that, lift both of the spring bars and install the chain by clipping slots. Always raise any trailer tongue jack before removing the load from cam arms.
Our experts strongly suggest taking precautions to avoid any travel trailer sway related serious injury.
C- channel dual cam hp system
Reese strait line hitches always use a C clump weight distribution system to accommodate its trunnion spring bars & boat trailer frame. Users are advised to use a dual cam HP frame plate and C clamp together for easy adjustment. Our experts positioned the frame plate for weight distribution. Also, there's an option for a round bar style too. The manual gives a proper direction when it comes to setup.
But mostly, we'll recommend you to buy Reese straight line hitch if you have a trunnion style travel trailer.
In the end, properly position a frame plate while keeping the basic dry tongue weight. Manufacturers suggest measuring from the ball coupler and pulling forward the torsion bars & cam arm pivot bolt. One observation about this hitch is that if the trailer's frame plate integers, there's a big chance that the truck weight transfer can change its position.
So, always maintain the same coupler with the Reese weight distribution hitch regardless of any frame. The chain hanger has a temporary position in front of the cam camera, which allows the tow vehicle to take vertical sway. 
Even weight distribution
Before testing the Reese hitch, we installed the dual cam arm weight distribution wd system. Compared to our vehicle, it needs two inches of cam arm adjustment apart from the thread portion. Also, the Reese straight line hitch head is strong enough to adjust with the hitch yolk and ensures a level ride. When the lock washer compresses, then continue the frame plate. Also, the length changes according to the wd system and the number of chains attached to the ball and hitch. Reese offers a variety from 600 lbs tongue weight to 1,200 lbs and holds up gross trailer weight to 12,000lbs.
Specification
By purchasing a Reese hitch, you'll receive a ½ inches wrench with an open end. Also, the drill bits go 7/16 inches and end to ¾ inches open end.
We drilled a 16 inches hole side of our trailer's frame, so the wrench adjusts.
Also, the socket comes in a ¾ inches ratchet. Users should drill pilot holes before finalizing the 13 inches thread. Moreover, any 50 ft-lb screws need four toque bars for reputation strength for its weight distribution system. Lastly, don't forget to install hex nuts into the 31/2 inches head bolts for final installation. It has decent self centering hooking and bottle racks.
Pros:
Built-in sway control works best for mid-level tongue weight and resists high winds even in tricky road turns when adjusted properly.
Strait line technology aligns the tow vehicle & trailers stay at a straight line and disrupts unwanted weight transfer.
The dual cam hp system prevents disruption of the balance between hitch adjustment and the trailer.
Reese straight line pro active design provides a high-performance trunnion bars style and even a wd system.
Provides excellent sway control at a reasonable price
Starts from 600 lb tongue and ends up to 1,200 lbs
Comes with a lifetime warranty
It has a simple trailer weight distribution system installation & setup process.
Comes with an easy to install package
Cons: 
From our testing, we found the hitch to be noisy, while the manufacturers claim it provides reduced noise.
Is Reese strait-line hitch good?
After the test drive and observing every aspect, we would say Reese's straight line hitch is very good. We took turns and drove through windy highways, and while carving, it worked excellently.
On different thread forums, we saw customers not experiencing any noise while we did. So, it might be a weight distribution system problem. But the dual sway control provides excellent sway control and the wd system even the toughest ride. Also, the hitch comes with a warranty and an excellent tongue trailer weight option.
Compared to equal i zer it doesn't work well, but Reese does a great job and is a worthy investment.
Related: Andersen vs Equal-i-zer Weight Distribution Hitch
How to set up a Reese weight distribution hitch? (Video Guidelines)
Conclusion
When we test different hitches, we automatically compare with the popular Blue ox or equal i zer hitch. Those are some great hitches, but the Reese strait line has to be one of the most active & spontaneous hitches we've tried.
In direct comparison to Andersen hitches, the No sway weight distribution hitch is a true competitor of the Reese weight distribution hitch. But the dual high-performance sway control and the kit make it the best solution to control sway.
Also read: