The receiver trailer hitch step or hitch bumper guard is one of the most necessary accessories because protecting the back of your automobile is just as necessary as protecting the inside of your car, if not more.
And the best trailer hitch bumper guard or hitch step can give you this protection. There are undoubtedly a variety of uses for this product, including protecting the back of the vehicle for individuals who tow trailers or other objects.
Not only does it allow safer, more convenient, and provides easy access to the top of your truck or the rear cargo area, but it also can save your vehicle from damage during a low speed rear end accident.
In this article, you will peek at some of the best chosen affordable hitch steps that you can buy online. Our team has spent considerable time researching and physically reviewing the products.
So, if you would like to know detailed insights about the best trailer hitch bumper guards, make sure you read this article carefully till the end.
4 Best Trailer Hitch Bumper Guards Review and Comparison
Bully Heavy Duty Hitch Step

For cars, trucks, or SUVs

Multi purpose utility steps

Multiple tow strap extension points

comes with a lock to prevent theft
We looked at materials, durability, designs, reviews from experts, and customer ratings to find the best-performing receiver trailer hitch steps for this list.
1) Bully Heavy Duty Hitch Step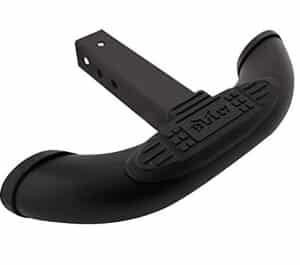 The BBS-1102 hitch steps or hitch bumper guard can be used on any molded bumpers of cars, trucks, or SUVs with 2 inch hitch receivers. As long as you have the BBS-1102 hitch steps, you can get into your SUV interiors/cargo area, your pickup truck beds, or your truck bed roof racks or luggage racks quickly and easily.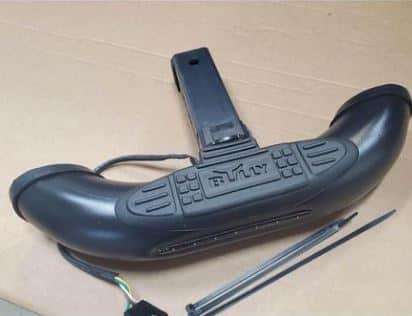 Steel that has been powder coat finished and is strong, makes the Bully trailer hitch mount step safe to use. The package comes with instructions and a wire harness. If your car has a 2 inch hitch receiver, you don't need to do anything else to get the BBS-1102 hitch steps to work.
Plug and playsets make it easier to get started. The multi purpose utility steps have a rubber pad that makes sure secure footing and comfortable for everyone to use.
Unlike the TYGER that has a solid steel construction. Bully BBS-1102 hitch bumper guard is made to fit hitch receivers that are the most common sizes.
The hitch step is 18 inches wide and has a tube that is 3 inches wide. Sport utility vehicles and pickup trucks benefit greatly from this hitch step because they are made of strong materials.
| Why you should buy it | Perks |
| --- | --- |
| Heavily-weighted Bully's hitch mounted step is light and won't put extra strain on your car's chassis. | We found a customer review during research saying that the end caps on each side could be more high quality. Other than that, it's top notch! |
| Effortless installation and the package included a small shim to provide a snug fit in the receiver and help prevent slight rattling. | |
| Tools required for the hitch are in the package, including the hardware. Bully Plug-and-play: The BBS-1102 hitch bumper guard, on the other hand, doesn't need a service provider to set it up. | |
| One hitch step can hold 350 pounds because it is made of the right kind of steel and built by experts. | |
| Paintable and able to be changed. In order to match the color of your car or other parts, you can paint these hitch steps. | |
| A mandrel-bent 3 inch tube that is 18 inches wide and 16-gauge plastic hitch step pads cover the entire surface of the stair, making it safe and easy to get up and down. | |
| The Bully BBS-1102 side hitch step with heavy duty construction makes it easy to get into the truck beds. | |
2) Eapele Hitch Step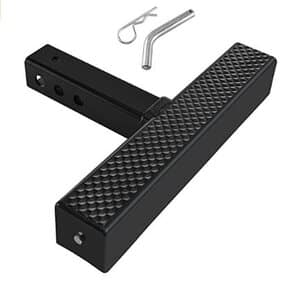 Eapele hitch mounted step or bumper guard has ridges on the top sides to allow non slip traction for your shoes. This tow hitch step provides multiple tow strap extension points. The middle holes can work with your tow straps to assist tow your trailer, truck, and cedars.
Eapele tow hitch steps and hitch bumper guard make climbing in and out of the back of your vehicle more convenient by using your vehicle's rear hitch receiver and improve rear access to your truck beds or racks.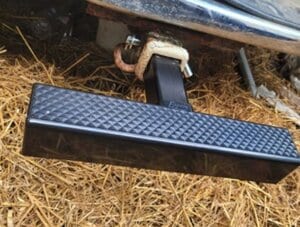 Fits 2″ receivers or square connector. Overall dimensions are 15.3″(L) x 10.5″(W) x 2.5″(H). Includes hitch pin and clip, which you can use to prevent slipping down.
Made with ultra strong 8GA thick steel which is long lasting corrosion resistance, and gives you 400lbs of maximum load. ED coating powder coat finish is weatherproof and durable, thus, this hitch bumper guard should last for years of road abuse.
Square steel construction with plastic cover provides non-scratching support. Ridges plastic cover also offers comfortable footing with a non-skid surface.
| Why you should buy it | Perks |
| --- | --- |
| Large, heavy duty hitch step easily slides into a 2″ trailer hitch receiver opening. | According to some customers, this trailer hitch step might fit loose in some receivers. However, they just added some rubber panels or tape to prevent movement. |
| Non slip plastic cover design and surface texture increase friction and improve safety. | |
| Well-painted process would be rust-resistant and extend the product lifetime. | |
| The hitch step would protect your vehicle's rear bumper and avoid even a scratch when the car behind or the rear car hits the rear wall. | |
| The maximum load weight capacity is 400lbs. | |
3) Weather Tech Bump Step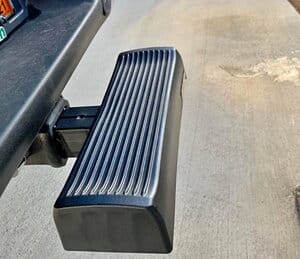 It's important to protect your car's bumper from rear end accidents, dents, and scratches. The Weathertech 81Bs1 Macneil Automotive trailer hitch step or bumper guard is designed to protect your car's or truck's rear. You can also use these hitch steps as a step to get to the roof.
A sturdy structure bump step for your car was made in the United States by the best experts with the Idea of making the most of It. Whereas the rest of the bumper guard in this list is manufactured by China.
Besides, with this one, you don't have to worry about falling off these steps because they are non slippery and have a strong step pad that ensures a secure and comfortable step.
Multifunctional, besides protecting your car's back, this hitch bumper guard can help you get into truck beds, shell roof racks, and SUVs' interiors. You shouldn't worry about the weight with this because it can hold up to 300 pounds.
In fact, as per a customer review, a 215-pound man was able to sit on it comfortably even though it was made of plastic.
Also, unlike all of the hitch bumper guards described above, this one has an anti-theft hitch lock to secure it with your receiver.
| Why you should buy it | Perks |
| --- | --- |
| Fits any car with common sized hitch receivers- 2 inch receiver hitches. | None was found during the test and the customer review on this one was pretty clean too. |
| POFENZE patented hitch step provides easy access to the storage area and provides extra protection from rear end collisions. | |
| It has solid all welded design with a 4 inch square heavy duty steel tubing and has an anti-skid step pad that is strong & safe. | |
| The hitch step comes with a lock to prevent theft. | |
| If you are not satisfied with the products or services, you can contact Weathertech for a replacement or full refund within 30 days. | |
| Plastic instead of mild steel means it is an anti rattle device and will never rust as a metal hitch step would. | |
4. Tyger Auto TG-HS8U81238 Hitch Armor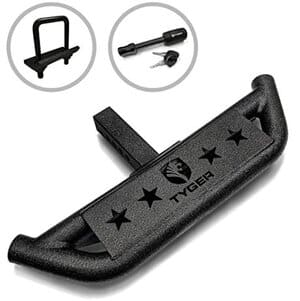 These truck bumper hitch steps have solid iron constructions with dual stage powder coat finish and are water-resistant. Your trailer hitch receiver's size must be at least 2 inches wide to use this. These dependable bump steps OR hitch bumper guards with the 350lbs maximum load also protect your car, providing a smooth and quiet carrying experience.
The TYGER proprietary trailer hitch steps make it easy to get to the storage compartment. The dual girder design is the best way to protect against rear end crashes. This is an easy installation with a simple Plug And Play setup. A stabilizer and a free pin lock are both in the package.
It took two stages to make tubes with a diameter of 2 inches and a wall thickness of 0.120 inches; they had a black textured finish powder coated in two stages.
In some cases, the backup sensor may be able to communicate with the main sensor.
TYGER provides a limited lifetime warranty against manufacturing flaws!
| Why you should buy it | Perks |
| --- | --- |
| The dual girder system provides maximum protection from rear end collisions. | Some customers think that this trailer hitch step may interfere with the backup sensor in some rare cases. Otherwise, it meets and passes all their expectations, and you get what you pay for. |
| Fits on any vehicle with 2 hitch receivers. | |
| Weight capacity of 350 lbs. | |
| Easy Plug And Play help with easy installation. | |
| Free pin lock & stabilizer are included with the pack. | |
| Heavy duty 2 inch diameter & 0.120 inch wall thickness tubes. | |
| Dual stage powder coated textured black finish. | |
| TYGER gives a limited lifetime warranty for US consumers against manufacturing defects. | |
Trailer hitch bumper guards Comparison table
To make your buying decision easier, we've compared the above products. This comparison table has been done based on our own research and customers' opinions.
| | | | | |
| --- | --- | --- | --- | --- |
| Product name | Tyger TG-HS8U81238 | Bully BBS-1102 | Eapele hitch-mounted step | Weathertech 81Bs1 |
| Product dimension | 30 x 20 x 9 inches | 19 x 11.25 x 3.75 inches | 16.6 x 12.2 x 2.5 inches | 19 x 13 x 4 inches |
| Weight limit | 350 lbs | 300 lbs | 400 lbs | 300 lbs |
| Receiver hitches | 2 inch | 2 inch | 2 inch | 2 inch |
| Warranty | Limited lifetime warranty for US customers against manufacturing defects | Limited 1 year warranty against defects in materials and craftsmanship | None | Limited warranty |
Buying guide for Hitch steps or Bumper Guards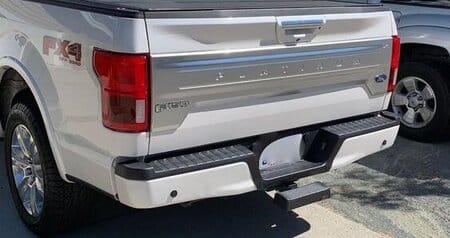 You'll need to select the suitable trailer hitch step or bumper guard to do the task correctly and safely. Here are some crucial things to think about.
Vehicle
The biggest factor is your rig. Each vehicle can only tow a certain amount, and not all vehicles are designed to add hitch steps or bumper guards. To find the correct trailer hitch step, you'll need to know your vehicle's capabilities and limitations if one is a universal fit.
Towing Capacity
Knowing how much towing you'll be doing can help you choose the right hitch step or hitch bumper guard.
Read:
Hitch Classes
There are six main types of trailer hitches, each with its own set of characteristics and applications.
Cars, minivans, and crossovers with a low GT weight capacity and a 1 1/4-inch receiver are classified as Class 1 and 2.
Trucks, Vans, and SUVs with a moderate GT weight capacity and a 2 inch receiver size are classified as Class 3.
Trucks and SUVs with a high GTW maximum and a 2-inch receiver are classified as heavy duty in classes 4 and 5.
Work trucks with the greatest GTW restriction and a 2 1/2-inch receiver are classified as Class 5-commercial heavy duty towing purposes.
Hitch Height
When towing, you'll want to ensure enough adjustable length between the ground and the hitch. You may have trouble getting over bumps and dips if there isn't adequate space in between. You need a minimum of one-foot distance, or else you may risk harming your equipment.
However, your trailer won't sit level and will be dangerous to tow if your receiver is too high. To solve this issue, you can use risers or drops.
Read: 5 Best Adjustable Drop Hitches For Lifted Trucks
Hardware for mounting
Not all trailer hitch attachments are capable of doing the same task or carrying the same amount of weight.
To ensure a safe journey, you'll need to figure out the type of mount you'll need and what you want them to do. Check if they are easily installed or not because if they are not, you might have to spend a little bit on professional installation as well.
Protective coating
Most trailer hitch steps and hitch bumper guards have a protective finish that offers all weather protection to prevent them from the climate, corrosion, rust, and road debris. It's crucial to find a hitch step with a solid finish to avoid weakened hitch abilities due to corrosion.
How to install Hitch Bumper Guards?
Trailer hitch steps or hitch covers are, for the most part, easy to install following these three simple steps:
1. Slide the hitch step post into your open receiver hitch.
2. Position it in place or to your desired position if given options.
3. Insert and secure the hitch pin or Easy Bolts to keep the hitch step in place.
NOTE

Trailer hitch steps or hitch bumper guards with LED features might need a more hands-on installation that demands to wire and connecting components appropriately. Consult your manufacturer instruction sheet for more information.
Hitch Mounted Bumper Guard FAQs
Why do you need trailer hitch bumper guards?
Trailer hitch bumper guards prevent small objects from being caught in the hitch, resulting in longitudinal conveyor belt tears. Prevent vehicle damages and costly periods of unexpected downtimes.
Do hitch bumper guards work?
Of course, they do.
Trailer hitch bumper guards or hitch steps protect your vehicle from scratches if you have to park in a crowded street or a cramped garage.
They save you money from repairing cosmetic damages which your insurance may not cover.
They give you peace of mind by keeping your dream car's rear safe.
Bumper guards discourage tailgaters.
How strong is a bumper hitch?
The stable load for a standard bumper hitch is around 200 pounds. However, the weight should not surpass 500 pounds with travel effects (bumps, curves, etc.).
Read: Is it possible to Pull a Gooseneck Trailer with a Bumper Hitch?
Conclusion
We always go the additional mile when reviewing products to ensure that our users only see the best and most dependable trailer hitch step. We hope that you would have been able to grab the best hitch step or bumper guard Procter for yourself through this article.
If you're still not sure which hitch step is right for you, we suggest evaluating the features and functions of the hitch steps listed above. Each has its own set of benefits and drawbacks.
Also read: