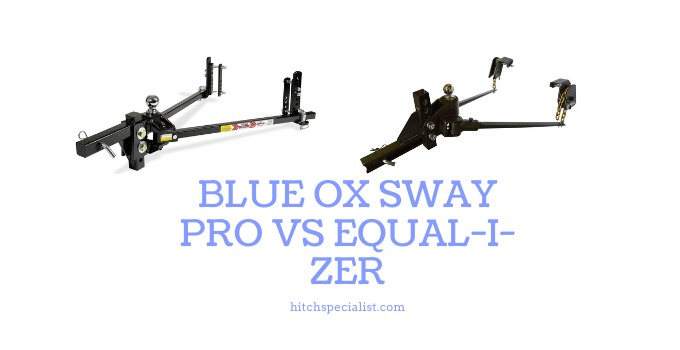 Every time we go on a trip, at least one of us has an Equalizer/Blue Ox sway pro tag with us. The core difference is that Blue Ox is a chain hitch, and Equal-I-zer is an integrated hitch. Blue Ox and Equal-I-zer are some fantastic hitch brands now on the market.
Not to mention, both have adopted different technology to distribute weight and control sway. Equalizer has created a name for its own, but people are still skeptical about Blue Ox due to the chain pull attachment setup. We've tried both of these hitches and other hitches with our Rockwood 6000lbs and ram 2050 diesel.
Equal-i-zer vs Blue ox sway pro: Comparison Chart
A comparison chart between Equalizer vs blue ox comparison on multiple factors is below:
| | | |
| --- | --- | --- |
| Concern | Equal-I-zer hitch | Blue ox sway pro weight distribution hitch |
| Hitch Style | Torsion bars | Chain brackets |
| Technology | Integrated 4-Point Sway Control™ | SwayPro™ |
| Maximum Towing Capacity | 10,000lbs to 16,000lbs | 20,000lbs |
| Maximum Tongue Weight rating | Customizable | 2,000lbs |
| Weather conditions | Not efficient in the rainy season | Yes |
Also read:
Now let's talk about the differences briefly.
Function
Blue Ox Sway Pro primarily focuses on distributing weight through its Pro optimization. Each Sway pro is tested to monitor its weight distribution capacity through a computer. Blue Sway automatically balances front axle to rear axle weight, even if you miscalculate your tow trailer tongue weight. Also, there's no need for extra brackets or frame drilling because it needs no additional adjustment.
On the other hand, Equal-I-zer transfers weight and control sway simultaneously. Whenever it experiences wind or unknown force, the integrated torsion bar stops swaying, and also the internal spring bar quickly shares weight within the front, back, and trailer axles. This ultimately prevents the front axle from zero weight and keeps the balance.
Sway Control
Equal-I-Zer is an integrated or friction bar installed sway control hitch, and Blue Ox is a chained version. Whenever Equal-I-zer faces any kind of sway, the 4 point sway technology enables the friction points to stop any twisting motions. Standard hitches have two point friction bars where Equal-I-zer has spring arms connected and two sway bars installed internally. Also, there are rigid brackets that quickly eliminate any kind of exterior sway issues. From our experience, Equal-I-zer has one of the fastest sway control technologies in case of sharp turns.
Blue Ox Sway Pro spring bars put extra tension on the ball mount whenever it faces sway. The Sway pro technology ensures the spring bars, trailer, chain link, and truck bed keep a straight line no matter what. However, there are interchangeable spring bars that can decrease or increase the swy capacity according to your preference.
We were impressed how the Blue Ox could align our trailer to the center, and we faced absolutely no sway. In heavy snow and wind, the Blue Ox sway bar becomes automatically heavier to defend the balance and reduces sway in heavy snow and wind.
Also read: Weight Distribution Hitch vs Sway Bar
Design & Set up
You'll get a 14/15 inches ball mount with a max of 1.25 inches to shank included with an equalizer. Most of the time, the nut needs a 1 inch walled socket. The installation process doesn't take much time; however, the socket needs a cavity between the shank and screws. As it is an integrated hitch, you don't need to readjust or carry a measuring tape to reinstall every time you change directions.
Even if SwayPro is a lift bracket or chain-based hitch, it is easy to adjust. However, you should always check the manual before installing the hitch. Self-locking bars and lift bracket arms eliminate the need for an extra pin or clip. An adjustable shank is included for adjusting up to five inches. You have to twist a ninety-degree angle to get it right and in position. Most importantly, once you adjust the measurement, you don't have to fine tune it while reversing.
Also read: How to Setup a Weight Distribution Hitch? (Step by Step)
Towing capacity
Blue Ox towing tongue weight starts from 350/550/750/1000/1500/2000lbs. Most of the versions have a two inches shank that allows sway pros maximum loaded tow weight capacity to 20,000 lbs. However, if you include the sway pro flat bars, then the gross towing capacity ranges from 6,500 to 15,000 lbs. Also, never forget the golden rule; always go up twice than for actual tow weight for the maximum towing capacity.
Equalizer comes with included or non-included hitch ball that provides two different towing capacities. If hitch ball is not included, then 4,000 lbs to 10,000lbs. If included 10,000lbs to 16,000lbs. Also, the tongue weight capacity starts from 600lbs and is customized according to your trailer's needs.
Structure
Sway pro is made of alloy steel that makes it a very heavy duty hitch. It has strong chain-to-frame triangle combination control systems that are made from 100% American steel. Also, Equalizer has a metal body from steel, and it's pretty lightweight for wd bars. Sway pro reduces noise than the Equalizer.
However, a torsion weight distribution hitch equal-I-zer makes very little noise. Compared to Equalizer, Blue Ox provides better customer service. However, both provide one year warranty and a limited edition lifetime warranty for a few. The prices of both the hitches are quite close.
FAQs of Blue ox sway pro vs Equal-I-zer Hitch
Where are Blue Ox hitches made?
Blue OX hitches are manufactured in Pender, Nebraska, U.S.A.
Where are Equal-I-zer hitches made?
Equal-I-Zer hitches are engineered and made in the U.S.
Is Blue Ox SwayPro a good hitch?
Yes, it is. It provides good weight distribution and sway control and keeps your towing experience safe and great.
Can you back up with an equalizer hitch?
The equal-I-Zer is a versatile hitch that allows backup but manufacturers advise measuring the frame bracket. It means installing it in the center of the bumper puller or 32 inches from the hitch head center.
Does an Equal-I-zer hitch reduce tongue weight?
No, it doesn't reduce tongue weight. It redistributes the tongue weight to the front & back axle to even out the towing vehicle and trailer.
Blue ox sway pro vs Equal-I-zer: which one to choose?
It is a tie between Blue ox vs equalizer. Because both of the hitches are the best hitches in the long ride.
Blue Ox is as easy to install as stated in tutorials and provides great sway control. It was easy to set up while reversing, and it's very user-friendly.
Equal-I-zer lacks in centering and aligning the trailer in front of Blue Ox, but the integrated sway provides a strong win. However, the major difference we would say is the washer adjustment. You have to raise the tongue of the Blue Ox for changes and for Equalizer, you don't. You can choose any one of them regardless of trip duration or weight.
Want to learn more about the Weight distribution hitch? Read our other articles: