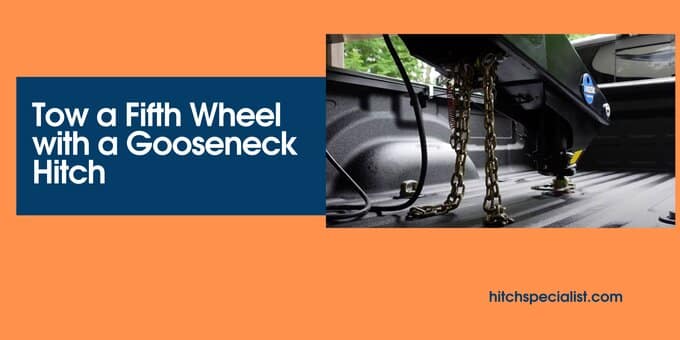 A 5th Wheel to Gooseneck adaptor makes things easier when you have an inadequately matched hitch and trailer combination. But what are the different sorts, are they safe or costly?
This article will look at these questions and discuss the best ways of pulling a fifth wheel with a gooseneck hitch.
How to pull a fifth wheel with a gooseneck hitch?
Pulling a fifth wheel with a gooseneck hitch is a simple and practical answer to a common towing problem. For towing heavy loads, only two types of trailer hitches are used: fifth wheel & gooseneck hitches.
Your tow vehicles with wheeled cargo, on the other hand, might not be compatible. To save time and money, you can buy a hitch adapter that will change the king pin on your 5th wheel trailer and enable it to lock safely into a gooseneck hitch.
To access the gooseneck ball adequately, connect an enlarged metal adapter to the kingpin.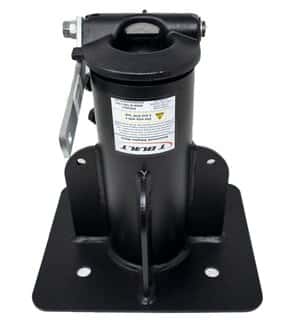 By simply bolting this adapter to your trailer's king pin & coupling it to the gooseneck ball, you can pull your 5th Wheel trailer with your gooseneck hitch. To tow the trailer, these adapters must be at the appropriate height.
Calculate the distance from the top of the gooseneck ball to the king pin plate's bottom.
Some of these adapters hook to your gooseneck ball or use your gooseneck hitch's ball hole to allow you to sync your fifth-wheel trailer without modifying it.
Ways #2 Get a 5th-wheel to coupler adapter that replaces the trailer pin box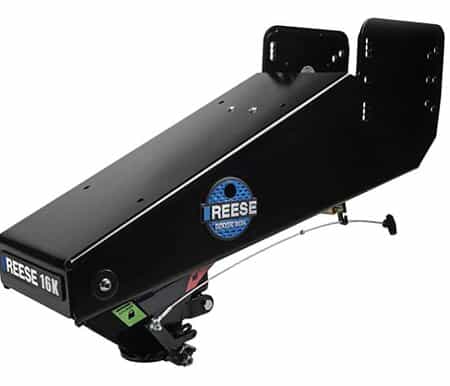 This option is for those who want this to be a permanent solution. If you intend to use a gooseneck hitch in the long run, replacing your 5th wheel pin box with a gooseneck pin box is the best solution.
Way #3 Get a 5th Wheel Adapter that fits the Gooseneck Trailer
This type of adapter replaces either the gooseneck trailer's inner tube or both inner and outer tubes and allows the gooseneck trailer to fit an industry-standard fifth-wheel hitch. Adapters that replace the inner tube are ideal if you need to switch between using a gooseneck and a fifth-wheel hitch frequently.
If your trailer's gooseneck coupler height is adjustable, you can simply remove the inner tube by loosening the set screws or the pin(s). However, if it doesn't line up perfectly with your trailer's existing holes, you may need to make some modifications to your trailer.
After that, you can then slide in the adapter, which will replace just your trailer's inner tube. The inner tube will have the kingpin on it, so then all you have to do is tighten the set screws or reinsert the pin(s). This type of adapter comes in two versions: a standard 4″ square or a standard 4″ round version.
Ways #4 Get an adapter that attaches to a gooseneck ball in the truck bed
With an adapter, you can choose a truck-bed-mounted frame that raises the gooseneck ball to the 5th wheel hitch height.
Ways #5 Get a 5th-wheel adapter that installs in the ball hole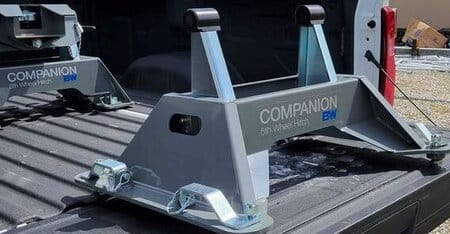 A 5th wheel converter installed in the ball hole of the gooseneck hitch is another great option.
If you happen to already have a Gooseneck Hitch Ball in your truck's bed, you can get a 5th Wheel Hitch that fits into the ball hole of the Gooseneck hitch.
Take a look at the RVK3500 B&W Companion Fifth Wheel Hitch from B&W Trailer Hitch. Pull only one pin, and the hitch removes entirely from the bed. It is a great option for those who want to switch between trailer types frequently. Which option you choose depends on your particular circumstances.
Also read:
Guidelines for towing a fifth wheel with a gooseneck hitch
The gooseneck adapter is attached to the 5th wheel towing plate's bottom. To execute so, you must first determine the distance from the ground to the ball as well as the height of the gooseneck receiver.
Second, after you have those measurements, you'll need to purchase an adapter to even them out.
Third, attach the adapter to the kingpin as directed by the manufacturer. Set screws should be used to keep it in place. Make absolutely sure the adapter is secured properly.
Finally, back your truck up to the gooseneck ball & attach both the ball and the receiver. These adapters are available in a variety of sizes, so you'll be able to easily find one that is long enough to comfortably handle the ball.
The adapters put a lot of pressure on the ball as well as the support bars, which is something to be concerned about. So double-check with qualified mechanics to make sure the adapter is safe to use.
Is it safe to use Gooseneck To Fifth Wheel Adapter?
Yes, it is safe for the most part. A gooseneck hitch may tow a 5th wheel trailer as long as the weight capacity is appropriate and the proper adapter is installed.
Despite the fact that these adapters are built in this manner, they are an excellent choice for a temporary tow. They're not meant to stay on your truck or 5th wheel trailer permanently.
Because of the potential for damage to the frame, utilizing one of these adapters may void your trailer's warranty. Consider substituting your pinbox with a gooseneck one if you plan to use a gooseneck hitch for a long time.
How expensive is the 5th wheel to gooseneck adapter?
Some gooseneck adapter solutions are under US$400, but a close study shows that they have taken some form of material, structural, or engineering shortcut. As a result, think about US$350 as your starting point. Other gooseneck adapters that cost more than $700 may be found on the other side of the scale.
When buying one, keep a look out for specific features that could improve ride comfort and security.
Can you change the 5th wheel to a gooseneck?
Yes, a fifth wheel can be fitted in the gooseneck hitch.
Although this sort of connection requires additional components, it enables a single truck to tow both types of trailers. It also eliminates the necessity for fixed 5th wheel rails, which can make loading cargo in the truck bed difficult.
Conclusion
Pulling a fifth wheel with a gooseneck hitch is suitable as long as it's used for a short while. Yet, if you want to tow for an extended period of time, do your homework and ensure you have covered your bases.
You certainly do not want to cause any unwanted damage to your valuable automobiles. But, now that you know, you can make the greatest decision for your truck and trailer, we believe!
Also read: