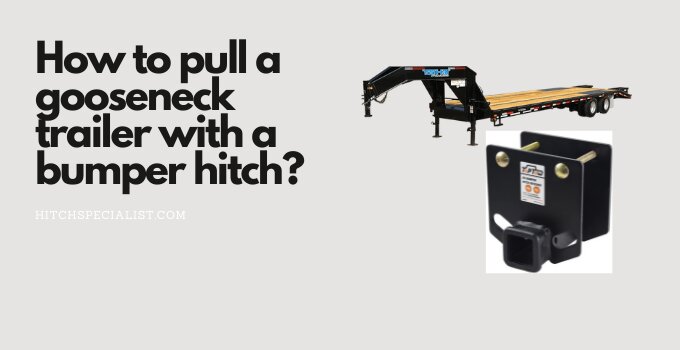 Before we begin, let's simplify the terms. A gooseneck trailer attaches to the bed of a tow vehicle or, more specifically bed hitch ball. Because it has a long and arched front neck design, gooseneck trailers are often paired with a gooseneck hitch. A bumper pull hitch is smaller than standard hitches and attached to a trailer's bumper. Most commonly tow SUVs and pickup trucks.
Many of you in different forums asked if you could tow your gooseneck trailers with a bumper pull hitch. We have never tried to do this, but we tried ourselves to see if it is legal and safe for this article.
Is it possible to tow a gooseneck trailer with a bumper hitch?
Our experience
First, the tongue weight of your gooseneck trailer and tow capacity of bumper pull hitch and towing vehicle capacity should be the same. We towed our Big Tex 16GN Gooseneck Trailer with Shocker Mainframe bumper hitch 16k. The grinders were set to the left side because it looked like the trailer would fall off anytime. Our tow vehicle couldn't handle the pressure well.
Unstable
Bumper pull hitches are unstable for gooseneck trailers in general. Gooseneck trailers are designed for tow big and heavy items and carrying items over 30,000 lbs. But bumper towing capacity ends up to 30,000lbs.
The difference clearly showed effect while using our towing vehicle with the gooseneck trailer. For a moment, we thought the gooseneck trailer, bumper pull, and tow vehicle would break apart and cause an accident.
Powerful sway
Bumper pull hitches are better for towing small-capacity items. We don't think it's wise to tow a gooseneck trailer. For example, the trailer would create a high sway if you try to haul 20k lbs of gooseneck trailers with a bumper pull hitch or rear hitch.
The bumper pull hitch will be unable to stop because of the weight and excessive swing motion. Also, it puts extreme pressure on the rear axle and the pin weight.
Damage
Our bumper pull hitch and trailer were damaged during this test. Also, the inner sidewalls and frame rails wedged against each other so the trailer couldn't move. It took us more time to install and uninstall than the regular hitch we use without gooseneck trailers.
Also read: How to install Weight Distribution Hitch?
Is there any 5th Wheel To Bumper Pull Adapter on the market?
Unfortunately, few are, but Eaz Lift & Curt offers customization options. Most use a drop hitch instead of an adapter. There are not many because of the legality of these adapters. Even if the towing capacity and tongue weight is the same, the instability and design of the hitch create a risk despite having an adapter.
Octalcomics 5th Wheel Bumper Pull Adapter provides a towing capacity of 10,000 lbs. We couldn't try this one as our Big Tex tow capacity is 16,000lbs. However, a 5th wheel hitch tongue weight starts from 15,000lbs, so it's widely questionable if it's practical or not.
So, we contacted our dealer and Curt for a custom 5th Wheel Bumper Pull Adapter for our trailer. The first difficulty was setting up because setting the fifth wheel hitch to the bumper pull trailer was time-consuming and tricky.
Even though the tongue weight capacity was the same, the trailer was moving while fixing the position with ball mounts.
The next difficulty was the trailer's flatbed; we had to add an extra rail mount plate to convert it to a bumper pull.
TLDR: there are adapters on the market, but it's expensive and time-consuming.
Also read: What are the Pros & Cons of 5th Wheel to Gooseneck Adapter?
Is it safe to use a Bumper Pull Adapter?
Bumper pull adapters are safe and best for bumper pull trailers, SUVs, pickup trucks, and cargo carriers. Almost every regular bumper pull adapter advises not to use it for heavy RV towing or toeing with heavy tow capacity hitches.
The design and structure prevent it from doing so. For weights under 10,000 lbs, it's completely safe to use a bumper pull adapter. But for gooseneck trailer issues, we can't provide any guarantee.
However, you can easily tow with a two by 5 or 16 inches ball, including a receiver hitch or gooseneck ball. Bumper pull trailer adapters also don't need extra weld or any heavy setting unless you're using gooseneck trailers.
Most brands now manufacture bumper pull adapters taking tongue weight up to 5,000lbs and even more. However, for some models, the size of the ball hitch mounts might change the bumper pull adapter position.
Gooseneck Or Bumper Pull: Which one to choose?
The gooseneck is a more stable option than bumper pull. The ball design of the gooseneck hitches allows your trailer to move weight faster when on the drive. Bumper pull hitches have an excellent grip while driving, but gooseneck hitches are better compared.
Also, you can easily add a drop hitch to your tagalong trailer ball hitch if you want to, which bumper pull doesn't allow it. We prefer bumper pull trailer hitches but in case of simple towing like motor vehicles, pick up trucks, semi trucks or cargos, empty trailers, or smaller trailers. In case of towing our Big Tex 16GN Gooseneck Trailer, it's best to go for a gooseneck hitch or ball hitch.
In the case of trailers, both are pretty great. Buying one depends on what weight you want to carry and tow. If you're hauling a car or tow heavy-duty items, go for a gooseneck trailer.
In the case of regular RV or pickup trucks, a bumper pull trailer should do fine.
Also read:
Is It Legal to tow a gooseneck trailer with a bumper hitch?
The three core conditions for weight rate and legality are:
Towing hitch gross weight capacity rate has to equal the actual tongue weight or more. Also, the tow vehicle capacity should equal the actual trailer capacity.
The hitch tongue ball hitch or trailer's tongue fit must be the same size as the adapter whole or drop hitch pin size.
The safety chains of the bumper pulling hitch must connect to the receiver hitch or tow the vehicle's frame while not disrupting the natural weight distribution function.
If you can fulfill these three conditions, towing should be legal worldwide.
Conclusion
You can tow a gooseneck trailer with a bumper pull hitch, but we don't recommend this idea. The risk of the safety chains falling off from the adapter is high. Also, we didn't find this a practical approach for our test. The most common type of method to tow a gooseneck trailer is a gooseneck hitch. It ensures to carry more weight and provides more stability. The whole setup will give a better ride than a bumper pull hitch.