Many peoples ask whether they can tow a fifth wheel with their SUV or not. Is it going to hamper the vehicle? Or what are the steps and guidelines? Read the article properly to understand.
Is it possible to Tow a 5th wheel with an SUV?
Yes, you can tow a 5th wheeler with SUVs. Basically, Trucks should be used to tow fifth-wheel RVs. But an Automated Safety Hitch is a specialized gear that technically allows a van or SUV to tow a gooseneck style trailer.
Read: How to install Gooseneck Hitch?
However, fifth wheels are pretty heavy and are likely beyond the towing capabilities of a van or SUV anyhow.
Read: 5 Best Fifth Wheel Hitch Reviews for Safe RV Towing
Things you should remember before trying to tow with your SUV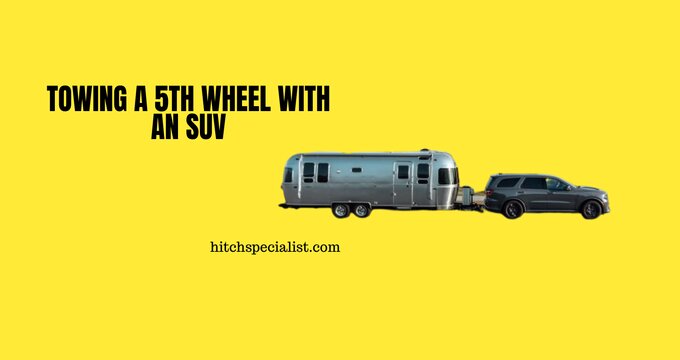 There are a few things that need to be checked before towing.
Make sure the maintenance on your tow vehicle is up to date:
Before going on a towing road trip, make sure your SUV has recently had an oil and filter change, that the brake pads have plenty of life left, that the engine coolant is filled to the right amount in the reservoir transmission fluid is topped off.
Checking the tongue weight and load
Before towing to your SUV, the tongue weight should be ten to fifteen percent of the trailer's total weight. Also, before you do anything else, make sure you utilize the proper tongue weight. Aside from that, my advice to you is to remember to perform a load check on a regular basis. The ropes will ultimately loosen up as the suspension jiggles, no matter how tight you keep them for the load. After ten miles, come to a halt, check the weight, and tighten it again if needed.
Also read: Importance of tongue weight during towing a boat
Check the tire pressure
Never tow a vehicle without first ensuring that the tires are properly inflated. If your tires run more remarkable, you will use less fuel and save a lot of money. You're in trouble if one of the tires is considerably hotter than the others.
Pullover to examine the tire's temperature, brake pedal, and wheel bearings. It does not require the use of a non-contact infrared thermometer gun. You can tell if the tire pressure and wheel bearing are out of balance with simply the palm of your hand. And always keep a spare tire with you.
Maintain the safety chain
Safety chains that connect to the hitch should be installed on all trailers. Make that the safety chains or trailer harness you installed under the hitch are in good working order. Check if these chains are still connected to avoid an accident along the route. If the nut, hitch pin, and hairpin are still keeping the drawbar in place, recheck them.
The hitch ball should be matched to the trailer
Make sure the ball on your tow hitch and the coupler on your trailer are the same sizes because hitch balls of the wrong size are the leading cause of trailer accidents.
Read:
Choose the correct hitch
Some vehicles come with factory-installed tow hitches, but locating the right hitch is critical for those who don't. Explain what you plan to tow to your local trailer rental company. It is the tow vehicle's chassis, not the bumper, is where the trailer hitch is attached.
Read:
Bring the tools you'll need to fix your car
If you're preparing to tow a vehicle, be sure you have the necessary tools and equipment in case something goes wrong with your truck. Bring extra tires, batteries, cones, and other automotive necessities with you. Always keep your driving license and insurance information ready and the phone numbers of potential towing businesses.
Towing is a dangerous practice that can endanger both you and your vehicle. You may not be able to reach your target destination if you are not prepared for any unexpected damages or accidents. Make sure you have everything you need and don't start towing without it.
Alternative ways to tow a fifth wheel
Suppose you want alternatives to towing a fifth-wheel without buying an automated safety hitch. There are some steps to follow:
Buy a truck that has bench seats
If you buy a truck that has wider bench-type seats rather than regular seats will increase the sitting space where many people can travel at a time. Or if you have a bench seat only in front, you're going to have a huge space behind which you can use for various purposes.
Ford 150, Chevrolet Silverado 1500, Chevrolet Silverado HD, etc., are well known for this category of trucks. But if you add too many people, you won't have space left for luggage also, sitting too many people on the front side is risky for the driver to drive.
Sleeping Crew Cab tips
Trucks with sleeper cabs provide the comforts of home. This is critical for the driver's safety as well as their comfort. They don't have to plan ahead of time where they'll stop for the night after a long journey. It attaches more seats, but it'll lessen the bed space of your truck.
Extended Crew Cab
This is essentially a crew cab with additional storage and passenger space. An extended crew cab may be the appropriate choice if you have friends or family that require more room and space. You may lose some truck bed length with the larger cab, but if cabin comfort is your main priority, this is a good pick.
Buying large trucks
Buying large trucks like six doors is very effective in having ample space inside. Indeed, it's rare and costly, but you'll be out of any space hassle once you have it. By including the passenger space, you can manage it in your way. You don't need to customize it. Just pack it up, and you're good to go.
Also, wondering which SUVs have the highest towing capacity? watch the video:
Also read:
Conclusion
It's a little more challenging to drive your vehicle with fifth wheels added to it than driving the vehicle alone. But yes, your SUV can tow a fifth wheel, but a few things to consider are that a poorly set-up trailer can make towing a problematic and unpleasant experience. This can also cause the vehicle you're towing to move or be damaged, resulting in significant accidents. So, before attempting to pull a vehicle, consider these tips to avoid any potential dangers.
Also read: