Back in our days, before the Google days, we had our fair share of struggle because we didn't know much about hitches or their classes. Learning the alphabet for a trailer owner is knowledge of different hitches and hitch classes. You can't choose a random hitch and expect it to be perfect for your trailer.
There are different types of trailer hitches, and each of them is designed catering to different trailer designs, some versatile, some specific, and with a limited gross tow capacity. Not only that, but other trailer hitch classes also play a vital role in distributing the trailer weight. Feeling confused? Then check the rest of our explanation below:
How do trailer hitches work?
A trailer hitch is a tool that you have to attach to the chassis of your towing truck/vehicle. The hitch design can vary from pintle, pin, or ball. For example, if you want to tow your car, the towing capacity will not be equal if you use a truck.
Read: Honda fit towing capacity (all models)
For a 6,000 lbs tongue weight trailer, you will need 6,000 lbs equal or over the ability to tow. If your towing vehicle can only take up to 3,000 lbs, it might be too much for your towing vehicle to handle.
As a result, the imbalance in weight transfer of your trailer and tow vehicle can cause the tow vehicle to lose weight on the front rear, which might turn into an accident. A trailer hitch transfers this excessive weight as a whole equal to the front and rear axle of your towing truck. Modern hitches now also provide resistance from any turbulence or sway. Before we dig deep, these are some terms you must know:
Coupler: The front of the trailer tongue locks the hitch ball tops and amounts. It swirls at a 90-degree angle around the ball when the trailer takes a U-turn.
Read:
Hitch ball: It functions by protruding the trailer from the tow vehicle's rear bumper tow bar.
Hitch pin: The pin functions to lock the ball mount inside the hitch's tube.
Towing capacity: The maximum weight a vehicle can tow whole on a ball configuration.
Tongue weight: Trailer tongue's force or weight downwards ability while driving.
Gross trailer weight: It is the combined weight of your loaded trailer.
Also read: 7 Best 3 Point Quick Hitches for trailer and tractor
Types of trailer hitches and compatibility chart
Here's a table of different types of trailer hitches with their compatibilities:
| | | |
| --- | --- | --- |
| Hitch Type | Suitability | Maximum Towing Capacity |
| Bumper Hitch | Campers, Boat trailers, Small sedans, SUVs | 19,000lbs |
| Pintle Hitch | Military, Farming and Construction | 62,000lbs |
| Front mount hitch | Campers and Off-roaders | Differs according to brands |
| 5th Wheel Hitch | Pick-up truck | 30,000lbs |
| Weight Distribution Hitch | Travel trailer | 20,000lbs |
| Gooseneck Hitch | Car haulers, Towing livestock trailers, Large flatbed trucks | 25,000lbs |
| Receiver Hitch | Bike rack, Spare tire, Cargo | 2,000lbs to above 10,000lbs |
Now let's see how those trailer hitches work.
Bumper Hitch
Bumper hitches attach to the bumper of your pickup truck or car. It is commonly used for campers, boat trailers, small sedans, and SUVs. The weight transfer capacity of this hitch is limited to the power of your vehicle bumper. However, it can start from 2,000 to 19,000lbs towing capacity at max. The ball mounts of this kind of hitch come in different sizes.
Read: How to Keep the Weight Evenly Distributed on a Trailered Boat?
Pintle Hitch
A pintle hitch has a hooking mechanism and is also known as a pintle. It attaches to the truck or towing vehicle. You'll also see a ring known as Lunnete that attaches to the trailer while installing. It is famous for heavy towing and on rough roads. So, pintle hitches are great for military, farming, and construction. It can tow up to 62,000lbs.
Front Mount Trailer Hitch
Front mount hitches provide a clear view of where the lining has to be. Also, it can align any cargo or hitch step and even mount plates. It is more about aligning and a clear road vision rather than towing or transferring weight. We would say this is ideal for campers and off-roaders.
5th Wheel Hitch
Fifth wheel hitches are installed internally in a truck and are for pick-up truck towing. It sits around the bed of the pickup truck. The capacity of these hitches is around 16,000 to 30,000lbs. Usually, while looking for a 5th wheel hitch, you'll notice these sit on the rear axle front and long bed trucks.
Don't know how to install the fifth wheel hitch? no worries, here you go: Install A Fifth Wheel Hitch On A Short Bed Truck? (Step by Step)
Weight Distribution Hitch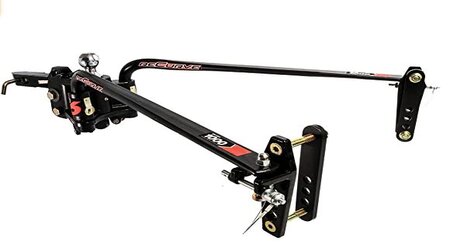 A weight distribution hitch restores any imbalance and decreases any kind of trailer sway. It spreads the load from the towing vehicle to a 60:40 weight combination from the front and back axle. The spring arms mainly lift the rear and distribute weight. However, it doesn't decrease or increase weight; instead, it allocates as its name specifies. WD hitch can take up to 20,000lbs at max.
Also read:
How to Setup a Weight Distribution Hitch?
Gooseneck Hitch
The 5th wheel hitch and gooseneck hitch are similar, but gooseneck mounts on the truck bed at a 180-degree angle. It's widely popular for car haulers, towing livestock trailers, commercial or large flatbeds, gooseneck trailers. However, the towing capacity is above 25,000lbs at max and more than average hitches capacity.
Also read:
Rear Mount Hitch/ Receiver Hitch
It is one of the most popular hitches worldwide. A square receiver tube includes the vehicle's frame mount for towing. It provides weight rating to five class scales where light is I and heavy means IV. Different classes combined go more than 12,000lbs towing at max. The receiver tubes vary from 1 inch by 1 inch to 2 ½ inches by 2 ½ inches. We'll discuss the receiver hitches class scale further in this article.
Also read:
What do trailer hitch classes mean?
Trailer receiver hitches have different styles and classes according to towing capacity or, more specifically, your vehicle's towing capacity. However, these are known as hitch classes and are five receiver hitch classes. Each class is for a specific weight range and different receiver opening ratios.
Read: Subaru Crosstrek Towing Capacity
All receiver hitch classes look quite the same, and some are not even visible when you come for installation. Hitch classes are popular as hidden hitches because they are internally installed inside the main hitch. Thickness and the steel gauge also handle the hitch classes' weight capacity; if the class increases, then the strength of the hitch's design and overall towing capacity.
How to know what class hitch I have?
There are many misconceptions on the internet regarding this question. You don't have to open your whole hitch; instead, check the label or the manual. For checking the label, hitches always have a mark of weight or class rating as a sticker on their body.
After finding this out, note down the information. It includes max weight capacity, gross weight, and distributing weight and not to mention towing weight.
Class I: Max trailer weight up to 2,000lbs
Class II: Max trailer weight up to 3,500lbs
Class III: Max trailer weight up to 5,000lbs
Class IV: Max trailer weight up to 10,000lbs
Class V: Max trailer weight above 10,000lbs
Types of trailer hitch Classes and Differences
Comparison table of Class 1 vs Class II vs Class III vs Class IV vs Class V
Class
Maximum
Towing Capacity
Tongue Weight
Receiver Tow Bar
Use
Tow Capability
I
2,000lbs
200lbs
1-¼ "
Lightweight
Regular vehicles
II
3,500lbs
500lbs
1-¼ " to 2"
Moderate weight
Full-size Sedans, Minivans, CUVS, SUVs
III
5,000lbs
600lbs
2"
Light/ Heavy
Large SUVs, Regular vans, Mid-sized campers
IV
10,000lbs
1000lbs
2"
Heavyweight
Semi utility trailers, Horse trailers, Big campers, Haulers
V
>10,000lbs
2000lbs
2 ½ "
Heavy-duty
Toy haulers, Commercial trucks, Containers
Related: How to reduce tongue weight on a travel trailer?
Class I
Class I trailer hitches are primarily for regular cars. These are better for light-duty trailers, mobility scooters, hitch mount bike racks, cargo carriers, and boats. It can not go heavy duty because the max towing capacity is 2,000lbs and a tongue weight of 200lbs. No Class I hitch has a square receiver tow bar size more than 1-1/4″ inches. It installs at the tow vehicle framer, even the short bed truck pan, and some attach to the bumper.
Read:
Class II
The square receiver tow bar is about 1-1/4 and goes up to 2 inches of Class II. These are better for full-size sedans and minivans, CUVS, SUVs. We have used Class II for pickup trucks, too, and its gross capacity is 3,500lbs and has a 500lbs tongue weight. These are similar to Class II and installed at the vehicle's bumper. Class II is better for slightly heavier towing, carrying three to four bikes on the rack, and jet skis.
Class III
Medium strength towing needs to upgrade power than class II. Class III has about 5,000 lbs of towing capacity, and the capacity range might vary according to the hitch brands. It has a 2 inches receiver tube, and you'll need an extra adapter if you have an inches tow bar.
These are also installed at the frame, and a whole kit comes along with the hitch class. It stands between towing pickups and heavy-duty trucks. We love this when towing large SUVs, regular vans, mid-sized campers.
Class IV
First, there's no bumper hook to this hitch, and it is excellent for heavy-duty towing. The towing capacity goes up to 10,000lbs. Some brands put 14,000lbs under class IV, but we would say anything above 10,000lbs is not class IV.
These have two inches receiver tow bar and include two ball mounts. Sway controls and wd hitches are mainly class IV hitches. Trailer load does differentiate in IV hitch, and you can carry semi utility trailers, horse trailers, big campers, dump trailers, livestock trailers, passenger boars, and more.
Class V
The last and the highest is Class V. It is for absolute heavy duty towing and strong pickups/trucks, vans, and large SUVs. The receiver tow bar is about 2 ½ inches and sometimes has 3 inches on the top end. Usually, it has a towing capacity of more than 10,000lbs. Weight distribution systems that are more than 15,000lbs have class V hitches. It is for the most potent towing, including toy haulers, commercial trucks, containers.
Custom Trailer Hitch class
Class V tends to have a towing capacity of around 32,000lbs; if you want customization or more, then there's always an option to go for custom size.
Conclusion
We hope you are now quite clear about the whole hitch scenario. Sometimes unlikely hitches might suit your trailer, and likely hitches might not function. Make sure to install the hitch correctly to get the full effect. Always and always check the weight rating and towing capacity while purchasing any hitch and trailer tongue weight. The wrong measurement can cause you to lose your money and even cause accidents. Finally, you can always help the hitch brands helpline or consult one-to-one hitch experts'.
Also read: