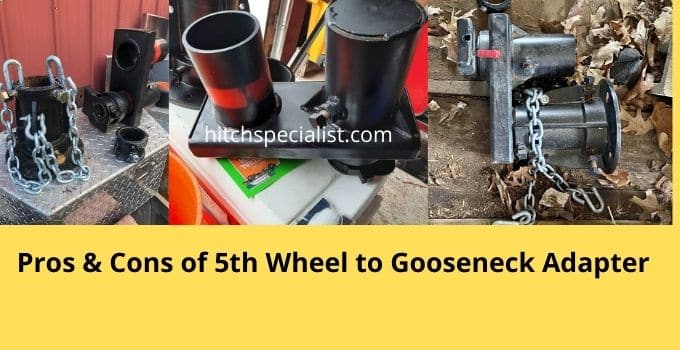 Often people have questions like how a gooseneck adapter works or how to install this. In the market, several types of gooseneck adapters are available now but people get confused about which one will be beneficial and going to be suitable for my truck that can hitch properly.
These adapters give a good solution to you even if you can convert your 5th wheel to a gooseneck, you'll need a gooseneck hitch and a gooseneck adapter. Gooseneck adapters are not used permanently in any vehicle it's a temporary solution but if you maintain it properly it's going to be long-lasting.
So read the article properly to understand how a gooseneck adapter works and what types of adapters are available in the market. Also, you'll be able to know the pros and cons of these adapters. So, keep reading the article and let us know your thoughts as well.
How does the 5th Wheel to Gooseneck Adapter work?
A gooseneck hitch is a trailer hitch that connects to a towing ball located in the vehicle body rather than a 5th wheel hitch. Because of the link to the truck's frame, gooseneck hitches provide better stability when towing heavy cargo. For heavy trailers, this means a more even weight distribution. These adapters are generally safe to use but it's not that long-lasting.
So before attaching or buying a Gooseneck adapter try to understand what are the types, what is this, and how it works? Different 5th wheel to gooseneck adapters operate in different ways, but they all allow the fifth wheel to use the truck's gooseneck hitch.
Some of the 5th wheel to gooseneck adapters can attach directly to the gooseneck ball on the trailer through an additional tube, allowing you to connect your trailer to your truck's gooseneck ball. These adapters are metal tubes that link directly to the kinpin on the front of your fifth wheel and then reach down to attach to a gooseneck ball in the truck's bed.
Fifth Wheel to a Gooseneck Ball Adapters Types and their Pros-Cons
The 5th wheel to gooseneck adaptor makes things easier when you have an inadequately matched hitch and trailer combination. But frequently peoples get confused about different types of adapters. If you want to tow a fifth-wheel trailer but your truck only has a gooseneck trailer hitch, you can use one of several adapters.
Some of these adapters attach to your gooseneck ball or use your gooseneck hitch's ball hole to allow you to hook up your fifth-wheel trailer without having to modify it. There are some other adapters attached to the trailer, allowing you to connect it directly to your truck's gooseneck ball. Which choice you select is determined by your unique circumstances.
Remove the Trailer pin box and replace it
Pros: It's one of the safest options. This method does not require any modifications to your truck's body and it does not increase any stress on your hitch in the truck body, there is more cargo room inside your truck. This method has no negative impact that can make any damage to your trailer or hitch. It's a lot easier to obtain the right height alignment this way. Nowadays some companies are providing Warranties also to these types of pin boxes.
Cons: This method is a bit expensive compared to other solutions.
Adapter for trailers that connects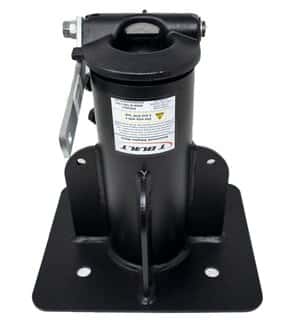 Pros: These adapters like T Built 12″-17″ Adjustable 5th Wheel RV to Gooseneck Adapter Hitch do not necessitate any good truck modification. A truck body can travel with more load space. Also, it is kind of similar to using like pin box method.
Cons: Can put the trailer's kingpin under strain. Not all manufacturers have given their approval and also this can put more stress and wear on your trailer's kingpin, leading to problems down the road.
Gooseneck Ball Adapters / Gooseneck Ball Hole Adapters
Pros: These items like B&W Trailer Hitches Companion Fifth Wheel Hitch – RVK3500 are exceptionally safe we can say and it's also simple to switch between the trailers. A very good thing is there's no need to make any changes to the trailer just connect it properly once and that's it. It's simple to remove when you need to load merchandise into your truck bed.
Cons: When you are hauling the fifth wheel, it takes up the body a bit which creates a problem sometimes.
Raised Gooseneck Ball Adapters
Pros: There are also differences in raised gooseneck ball adapters. But Some options from it are more expensive than others. One of the main advantages is when not in use, it can be removed from the truck body very easily as its weight is light enough.
Cons: To install these adapters parts for both the trailer and the truck are required must. Also, it's possible to put some strain on the trailer's kingpin. The main problem is not all manufacturers have given their approval to use this which means surely it can create some big problems for your truck and trailer. So, in our opinion, it won't an ideal thing to install.
Postscript: Because of the potential damage to the frame, utilizing one of these adapters may void your trailer's warranty. Try to consider replacing your pin box with a gooseneck one if you plan on utilizing a gooseneck hitch for a long time.
So Should You Buy a Gooseneck Adapter?
Well, Gooseneck adapters help you a lot to make a proper hitch to your 5th wheeler and make your journey better. Also, when you're towing these 5th wheelers you have to be sincere enough to install a perfect and safe adapter based on the truck's capacity and shape.
However, remember these adapters are sometimes not recommended by vehicle manufacturers and if any kind of problem creates for the vehicle, they won't be liable for this. So, it's better to call or take the help of an expert before buying the perfect adapter and before installing these adapters and you must need to have several partners to complete the task which we recommend you strongly. Once you're done with this you are good to go. Have a safe journey!
Also read: