Fifth-wheel to gooseneck adapters are all you need to convert your truck to a perfect trailer carrier.
Deciding the right 5th wheel to gooseneck adapters, however, might be difficult when considering the broad field of options with similar characteristics. When you're driving a trailer, there's a lot on the line. A single blunder or mistaken turn can result in a serious accident. So, you must be careful while picking up the best fifth wheel to gooseneck adapters.
To assist you choose the best fifth wheel hitch to gooseneck adapters, we've studied and reviewed 5 of the top fifth wheel to gooseneck adapters on the market.
Our FavoriteFifth Wheel To Gooseneck Adapters In 2022: A quick look
The superior and highest towing capacity of 30,000 lb. (7,500 lb. vertical load).
Very affordable.
Easy to install and includes all parts and hardware needed for installation.
Any industry-standard 5th wheelbase rails are compatible.
Safety chain hookup slots are included in the design.
Warranty is limited to a lifetime (one-year parts, one-year finish).
Fully Adjustable, with Support Blocks.
For a simple installation, all of the required hardware is included.
Adjustable height in 3 different sizes makes it user-friendly.
Great ride quality, hand-built American product.
This Adjustable 5th Wheel/gooseneck hitch is installed and adjusted easily.
Made in USA.
Can I Convert my 5th Wheel to Gooseneck?
Yes, the fifth wheel can be converted to a gooseneck.
The fifth wheel to gooseneck converter is a quick and easy option if you have got a 5th Wheel travel trailer and your tow vehicle already has a gooseneck hitch.
How to Know What Size Gooseneck Adapter Do I Need?
On a level trailer, estimating the length from the truck bed to the kingpin plate is a common mistake. Instead, take a measurement from the gooseneck ball's top to the kingpin plate.
The reason for this is that when you buy any gooseneck adapters, the height of the adapter is measured from the top of the adapter to the inside of the hole on the bottom of the adapter.
The whole height of the gooseneck adapter device is not included in the measurements.
If you measured the outside of the gooseneck adapter with a tape measure, it would be larger than its rating.
When taking measurements, take notes of the trailer's turning radius and the truck's height over the bedrails.
Start by reckoning from the top of the gooseneck ball to the bottom of the king pin plate on your trailer.
When taking measurements, make sure your truck & trailer both are on the same level ground. In case the vehicle and trailer are not connected, measure the heights of the hitch ball & coupler.
Next, take measurements from the ground to the top of the gooseneck ball, and from the ground to the bottom of the king pin plate again. Your adapter offset size will be defined by the difference among these dimensions.
Also, from the top of the gooseneck ball to the trailer, assure you have 4-6 inches of clearance above the bedrails.
Using this measurement, figure out how tall of a gooseneck adapter you'll need.
The majority, on the other hand, have 6-8 inch height adjustments.
| Measurement | Suggested Adapter Hitch Size |
| --- | --- |
| 11″ | 12″ |
| 12″ | 12″ |
| 13″ | 13″ |
| 14″ | 15″ |
| 15″ | 17″ |
| 16″ | 17″ |
5 Best 5th Wheel to Gooseneck Adapters Review (Tested)
1) EAZ LIFT 15″ Gooseneck Adapter
Most regular fifth wheel trailers may be converted to a gooseneck trailer with Eaz-Lift's universal fit adaptable Gooseneck Adapters. These gooseneck adapters will give you the option of towing two different types of trailers with just one truck.
You'll also appreciate not having to use a huge hitch that takes up space in your truck's bed when hauling a fifth wheel trailer. The Gooseneck Adapters from Eaz-Lift have a locking coupler for easy connecting and disconnecting.
This 5th wheel gooseneck hitch has been tested and rated to haul a gross trailer weight of 30,000 pounds and a maximum tongue weight of 7,500 pounds. And it stands 15 inches tall altogether.
These gooseneck adapters are simple and smooth to install and include all of the necessary parts and hardware.
Features we like (pros)
A fifth wheel trailer is converted to suit a gooseneck trailer hitch.
All business-standard 5th wheelbase rails can be used.
Any 2 5/16-inch gooseneck ball can be attached to the locking coupler.
Tows a fifth wheel trailer without filling up the truck's bed with a big hitch.
The locking gooseneck coupler has a wide range of motion and is easy to connect and disconnect.
Overall height is 15-inches.
Extremely lightweight.
Universal fit.
Things could be better
During our research, we've found a complaint about a small amount of "bucking."
No offset and height adjustment.
Why this is our best pick?
During testing the product and research reviews online and in-person for 60 hrs, we picked EAZ LIFT 15″ fifth wheel to gooseneck adapter as our top pick. No serious issue or annoyance wasn't found. Built to last and full of great client reviews as well.
Given the weight of this product, it will be tough for you to dislike this gooseneck adapter. You may also appreciate the fact that it is less expensive than the typical retail pricing range.
Best purchase at this price range!
Check further instruction on EAZ official website
2) CURT 16055 Bent Plate 5th Wheel/ Gooseneck Adapter
This 5th wheel gooseneck hitch has been tested and is rated to haul a gross trailer weight of 25,000 pounds and a vertical load of 6,250 pounds (limited to the lowest-rated towing component).
In contrast, the Eaz-Lift's Gooseneck Adapters have the highest Gross Trailer Weight of 30,000 lbs.
This one-of-a-kind gooseneck hitch converts the 5th wheel to a gooseneck adapter. It's made to fit into your truck's standard 5th wheelbase rails & allow gooseneck towing.
For a wide range of applications, this gooseneck 5th wheel hitch suits any business 5th wheel rails. It comes with a standard 2-5/16-inch gooseneck ball for easy gooseneck trailer hookup.
For guaranteed weather resistance, the CURT gooseneck hitch adapter is protected with an extremely durable carbide powder coat finish. Rain, snow, mud, and other harmful elements have no effect on this durable finish.
These fifth wheels to gooseneck adapters fit simply into the 5th wheel hitch rails and therefore are secured with four hitch pins that are included. They can be mounted above the truck axle or flipped and adjusted to move 3 inches backward.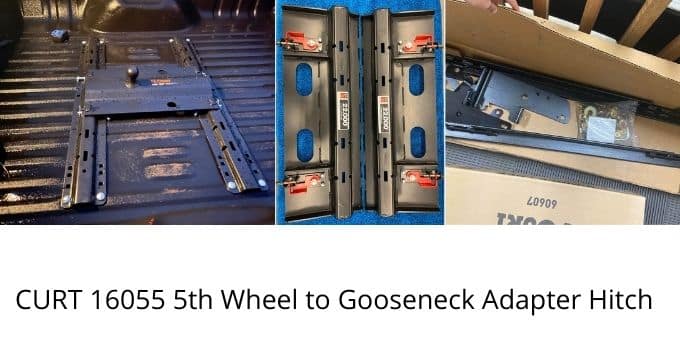 Features we like (pros)
Tows gooseneck trailers with pickup trucks configured with fifth-wheel rails.
Installation and removal of four pins for convenient access to the pickup truck bed.
Features a welded 2-5/16″ trailer hitch ball.
You can flip it for a 3″ rearward offset or position this over the axle.
A high-durability carbide powder coat coating protects the surface.
There are pins and clips provided.
Things could be better
Rust may happen in harsh weather.
Also read: How to install Gooseneck Hitch?
Check further instruction on CURT website.
You can also buy from Homedepot.
3) T Built 12 "-17" Adjustable Gooseneck Adapter Hitch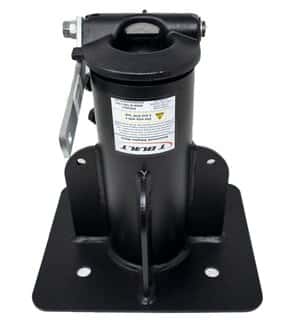 Maybe you have a ball in your truck and would like to tow your fifth wheel without having to carry all of the extra hardware in your truck bed.
T Built gooseneck adapters allow you to convert your RV trailer to be towed by a gooseneck ball. Works with your B&W turnover ball or any other gooseneck hitch with a 2 5/16″ ball. All hardware is included – grade 8 mounting bolts, washers, and locknuts.
Also, a remote release featured cable is available. This model adjusts easily to allow for 3 different heights of 12″, 15″, and 17″. You can adjust to the one that is right for you. There are also spacer inserts to help support the load.
These fifth wheels to gooseneck adapters are designed to withstand whatever comes their way with their 24,000 Pound Rating. It has a Self locking coupler and features a welded 2-5/16″ trailer ball. Attaches to most standard kingpin boxes – MUST be bolted or welded to king pin box.
Note that this T Built gooseneck adapter model does not attach to the king pin. It attaches over the king pin and is bolted directly to the king pin box.
As long as you have one trailer, this will work great. If you have two trailers, you should get the Eaz-Lift's Gooseneck Adapter or the CURT 16055 Bent Plate, as both of them are universal fit and will allow you to haul two different kinds of trailers with just one truck.
Features we like (pros)
Adjustable 5th wheel to Gooseneck Adapter.
Remote Release featured cable makes the use more convenient and flexible.
Self locking coupler.
Made in the USA
Things could be better
According to some client reviews, it would be more convenient if the fifth wheel camper hitch were already drilled.
To know further check T Built website.
Looking for a used one? check eBay. (however, we don't recommend second hand products)
4) T Built 15″ Gooseneck Adapter Hitch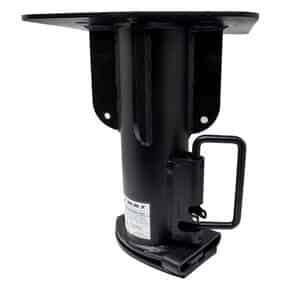 One of the benefits of the T Built Adapter Hitch is that it allows you to pull a fifth wheel RV gear or trailer without having to put a lot of hardware in the cargo box of your truck.
You'll be effectively transforming the trailer with these gooseneck adapters.
They are made to function well with the truck's initial turnover ball or a gooseneck hitch that already exists. Grade-8 mounting bolts, washers, plus locknuts are included.
These goose neck adapters have adjustable heights of three different heights: 12-inches, 15-inches, or even 17-inches, making it simple to attach them to the trailer.
This is especially useful whenever you need to tow many fifth wheel trailers for work or recreation.
Each of the T Built 15′′ Fifth Wheel to Gooseneck Adapters offers a 20,000-pound towing capacity. Whereas the T Built 12 "-17" Adjustable 5th Wheel RV to Gooseneck Adapter Hitch has the capability of towing 24,000 Pound Rating.
This one includes a self centering locking plate and is very handy for ensuring the connectivity of the fifth wheel trailer. This T Built gooseneck adapter also features a padlocked coupler if you need to detach it.
The T Built 15″ Adapter Hitch includes a 2 5/16-inch ball as well as other necessary hardware components.
Features we like (pros)
Self centering locking plate included.
Has a padlocked coupler.
All the necessary hardware is provided, including Grade-8 mounting bolts, washers, and locknuts.
Easy installation
Things could be better
You may likely notice a drop in riding comfort when you approach the upper end of the towing capacity range or travel on uneven, gravel roads.
5) Convert-A-Ball C5GX1216 Adjustable 5th Wheel/Gooseneck Offset Adapter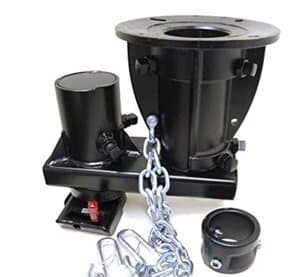 Should you need to pull a variety of fifth wheel trailers while maintaining comfort and confidence, the Convert A Ball C5GX1216 fifth wheel to gooseneck adapter may be a perfect choice.
The C5GX1216 from Convert A Ball hitch has a rated towing capability of 20,000 pounds and a pin weight capacity of 4,000 pounds. It also incorporates poly-cushions, which are built to withstand stress and reduce vibration for a more comfortable ride. It's also useful for reducing long-term wear – and – tear on your truck.
The engineering of Convert A Ball reduces wear and tear on your truck, which is beneficial if your tow vehicle is a little older. It's built of durable cast steel so you can trust it to bear the demands of towing a hefty fifth wheel trailer. The engineering also contributes to the comfort of the ride.
The Convert A Ball C5GX1216 is easily adjustable up to four inches, allowing you to customize it for your specific fifth wheel trailer or adapt it for different heavier trailers.
It's very convenient if, for example, you need to pull a fifth wheel trailer for business and then tow a different fifth wheel RV for vacations on weekends and holidays.
Features we like (pros)
Made with durable cast iron to last.
There are 4-inches of height adjustments.
Poly-Cushions are included to improve overall ride comfort while also minimizing wear and tear.
No bounce and vibration on rough terrains.
Things could be better
The customer service could be better.
Besides Amazon, etrailer also sells this product.
5th Wheel to Gooseneck Adapters Comparison Table
Product comparison always helps to compare the products. That's why we prepared this product comparison table to make your buying decision easier.
| | | | | | |
| --- | --- | --- | --- | --- | --- |
| Brand/ Model | EAZ LIFT 15″ | CURT 16055 Bent Plate | T Built 12″-17″ | T Built 15″ | Convert-A-Ball C5GX1216 |
| Item Weight | 52.6 pounds | 40 pounds | 40 pounds | 35 pounds | 29 pounds |
| Towing capacity | 30,000 lbs | 25,000 lbs | 24,000 lbs | 20,000 lbs | 20,000 lbs |
| Tounge weight limit | 7,500 lbs | 6,250 lbs | 6,250 lbs | 4,000 lbs | 4,000 lbs |
| Vehicle Service Type | Trucks, Trailer | Trucks, Pickup Trucks, Trailer | Trucks, Pickup Trucks, Trailer | Trucks, Trailer | Trucks, Trailer |
| Adjustable / Non-adjustable | Non Adjustable | Adjusted to move 3 inches backward | Adjustable | Adjustable | Adjustable |
Also read: Pros & Cons of 5th Wheel to Gooseneck Adapter
How Does the 5th Wheel to Gooseneck Adapter Work?
The 5th wheel to gooseneck adapter is a unique hitch that links to the tow vehicle's standard gooseneck ball and is mounted in the truck bed. The ball is then raised to a position where a little block on the kingpin is placed, allowing it to attach to the gooseneck ball.
All are special metal tubes with one end that links directly to the fifth wheel trailer's kingpin and the other end that connects to a truck bed's gooseneck ball.
This keeps your truck's existing gooseneck hitch in place and prevents the need for a fifth-wheel hitch.
Also read: Ways to lift the 5th wheel hitch out of the truck
5th Wheel to Gooseneck Adapter Buying Guide
When picking a 5th wheel to gooseneck adapter, there are a few things to keep in mind. Calculable and visible factors determine the best selection criteria.
Check through the categories below to get a better understanding of what you're looking for in a perfect model:
Types of Adapters
To begin, make sure your heavy trailer is level. As previously stated, certain adapters are sold with a fixed height while others are adjustable. Although adjustable ones provide greater flexibility in ensuring a precise fit, they are also the most expensive.
As a result, the best option will be determined by your budget. Determine the adapter sizes necessary for your project if you opt to buy a fixed height adapter.
Sizes of Adapters
You'll need to have the appropriate specifications, except you get an adapter that totally substitutes the trailer pin box. To find the right adapter size, measure the distance between the gooseneck ball's tip as well as the pin box bottom.
Although most models come with built-in height adjustments, you should be aware of products that don't.
For 11-inch to 12-inch measurements, a 12-inch adapter
For 13-inch to 14-inch measurements, a 15-inch adapter
For 15-inch to 16-inch measurements, a 17-inch adapter is required.
Types of Setup
Adapters aren't all made equal. The way the adapter is mounted has a direct impact on the level of security.
Make a note of the setting type and its key nature in this table for easy reference.
| | | |
| --- | --- | --- |
| Setup Type | Adapter placings | Safety Level |
| Setup A | Adapter replacing the trailer pin box | Superior |
| Setup B | Adapter replacing the 5th wheel hitch | Excellent |
| Setup C | The adapter bolted over the king pin lube plate | Average |
Price
Adapters to convert a fifth wheel to a gooseneck cost between $400 and $500.
The cost is soon justified when you consider that they are made of solid steel and are among the few important linkages connecting your fifth wheel trailer and truck.
Accessories
The majority of retail items come with extra features.
However, some items have fundamental functions that are marketed separately. Two to three of each of these accessories should be included in every model.
-Padlocks
Consider having padlocks that lock the couplers as well as safety chains.
-Safety chains
Some states need chains for gooseneck hitches. Nonetheless, the chains are important safety features for both you and your family!
-Cushioning
Cushioned adapters are also a good option because they provide a smoother ride.
-Remote release
Lastly, a remote release feature is a great feature because it eliminates the need to climb into the bed of your truck to unhook the hitch. Using a handle connected to a steel cable, you can release the hitch with a remote release.
How to Install Gooseneck Fifth Wheel Adapters?
The process of installation is usually simple. Because of its weight, having a friend hold the adapter in the air while attaching it to the trailer will be helpful.
The majority of individuals have discovered that they can install it and draw the trailer in 30 minutes.
Although most instructions don't mention it, a little Loctite (the removable kind) can help ensure that the bolts don't shake free over time, and it's probably not a bad idea. It's a low-cost form of peace of mind.
Installing an adapter is, therefore, less expensive and easier than changing the truck's gooseneck with a fifth-wheel hitch.
For better understanding watch this installation video by:
Is It Safe to Use Gooseneck Fifth Wheel Adapters? (Safety Guide)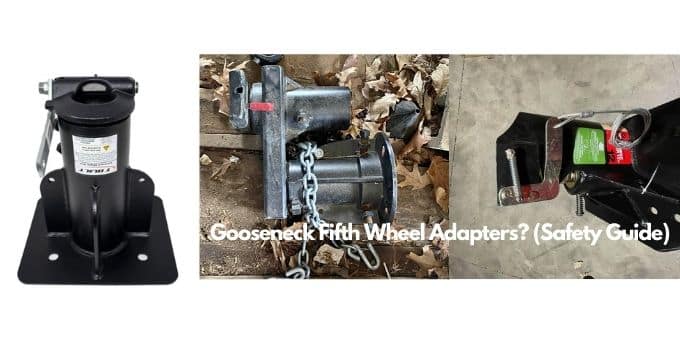 Adapters connecting the 5th wheel to gooseneck hitches are generally considered safe, but they're not ideal for long-term use.
Avoiding hauling heavy loads is a way to make gooseneck adapters safe. You'll remain under the weight limit and also have a safer experience if you have got a 12,000-pound 5th wheel and utilize an adapter rated for 20,000 lbs of gross trailer weight.
Gooseneck 5th wheel adapters that used the tube to attach to the kingpin, on the other hand, can place undue strain on the trailer's frame, potentially voiding the warranty. This is because when tugging from a low point, they provide a torsion force to the kinpin.
Seeking professional advice on this will guarantee that it is used safely.
Because their shape is comparable to that of a standard fifth-wheel gooseneck connection, gooseneck adaptor hitches & gooseneck pin boxes don't really generate frame stress.
While gooseneck adapters are generally safe, you don't want to take any chances. You must decide whether or not a gooseneck adapter is appropriate for your purpose and, if so, which sort of gooseneck adapters are most appropriate.
A 5th wheel hitch moves and glides with the trailer to create less stress on the truck and trailer. However, gooseneck adapters are rigid. Long-term use can cause strain on the trailer or the tow vehicle. But these adapters are safe in a pinch and for short-term use.
Keep in mind that using one of these gooseneck adapters may void your fifth wheel trailer's warranty because of the damage it can do to the frame. If you're planning on using gooseneck hitches long-term, consider swapping out your trailer's pin box for a gooseneck one instead.
What to Replace? Pin Box Or The Fifth Wheel Hitch?
That is generally determined by whether you own a fifth wheel trailer or a tow vehicle truck first.
If you already have a truck with a gooseneck hitch placed in the cargo bed frame, replacing the trailer's pin box is typically less expensive.
Though there is technically a third alternative of bolting an adapter over the kingpin's grease plate, an adapter that substitutes the fifth wheel hitch provides a more secure connection. However, it takes up more space and isn't a realistic solution for short bed trucks.
On the other hand, replacing the fifth wheel trailer's pin box is significantly easier and often less costly. However, you must realize that it will require more periodic maintenance, and if you install it yourself, you risk voiding the fifth wheel trailer's guarantee.
You get a very secure connection, a bit lesser maintenance, and an arguably smoother ride with an adapter mounted over the king pin lubrication plate.
Frequently asked question FAQs:
Based on our research from different forums we've answered the FAQs. We hope it'll help to answer the critical questions.
Do I Need To Remove the Gooseneck Hitch Adapter?
If you plan to use gooseneck hitches long-term, the wisest option would be to replace your 5th wheel trailer's pin box with a gooseneck pin box.
You can find many kinds of hitches, adapters, and combinations. If you feel unsure, consult with a professional for recommendations specific to your situation.
Which is stronger: gooseneck or fifth wheel?
Gooseneck hitches can pull more than 30,000 pounds, at least 3,000 pounds more than the best fifth wheel hitch, which makes them great for agriculture and commercial work.
Can you tow a fifth wheel with a 6.5 foot bed?
Yes, a best fifth wheel with a 6.5-foot long bed can be towed with sliding hitches. Sliding trailer hitches are very similar to regular 5th wheel trailer hitches.
Can you pull a gooseneck trailer with a bumper hitch?
The answer is yes and no. This means you can, but it would be unsafe to do so.
A bumper hitch's vertical load rating is typically exceeding. The entire purpose of a gooseneck trailer is about being able to load more weight onto the truck, resulting in a greater capacity than a bumper pull with about the same axles.
What kind of truck can pull a gooseneck?
The Dodge Ram, the Ford F-Series Super Duty, and the GMC Sierra HD are the cream of the crop for heavy duty trucks for towing. They offer the highest bumper payload capacity, the best gooseneck options, and the most torque on the market.
Is a gooseneck better than a bumper pull?
Both of them serve their purpose well. Typically, Goosenecks are a more stable choice than a bumper pulls, as more of the weight is over the vehicle's rear axle than behind it. This implies the trailer will sway less at faster speeds and the weight limit will be increased.
Other trailer types can't turn as tight as a gooseneck trailer hitch. A bumper pull trailer is definitely the appropriate trailer for you if you're searching for a tiny, economical trailer which you can tow behind vehicles such as SUVs or RVs.
Gooseneck hitches, on the other hand, should be your pick if you need a trailer with a huge towing capacity, or have a truck and want a smoother, more stable ride.
Conclusion
Now that you know about our top 5 best 5th wheel to gooseneck adapters and everything about 5th wheel gooseneck adapters, you're better positioned to decide which one will be the best option for you. Now get done with your measuring, purchase the bad boy, hook him up, and head for your RV travel destinations!
Also read: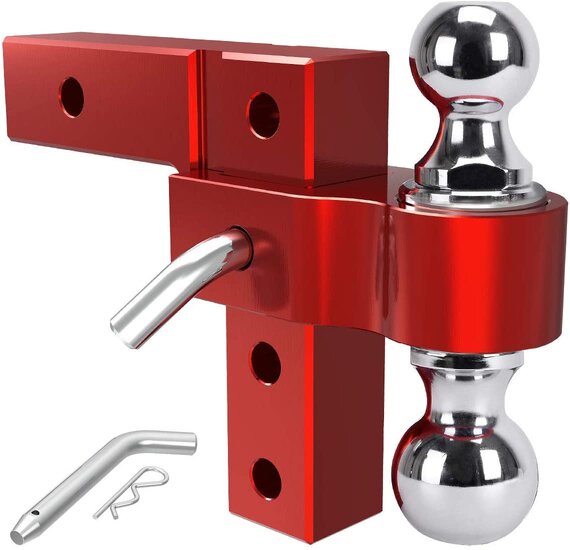 We are a team of 8 Hitch specialists based in Poland. Every day we fix different hitches for our clients. So we thought why not create an informational blog for the hitch users from all over the world.
So besides running our Hitch store here in Poland, we also write the hitch accessories tips and guidelines on this website. Read more about our Hitch store and services here.