When you need to move huge things or equipment that can't fit in the trunk of your vehicle, you'll need the necessary equipment. To solve this problem, many drivers, use a rooftop rack or a tow hitch carrier. Now, if we talk about Choosing which is best for your personal transportation needs, on the other hand, can be complex and difficult.
How can you determine which one will best suit your abilities and be the most useful for your personal needs? For that answer, first, you'll need to understand the fundamental differences between a roof rack and a trailer hitch.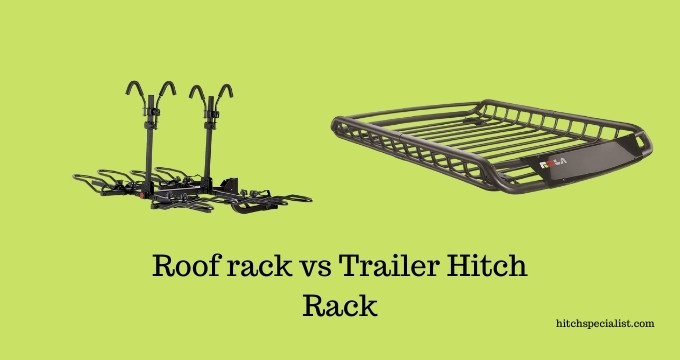 Comparison table of the Roof rack and Trailer Hitch Rack
| Concern | Roof rack | Trailer hitch |
| --- | --- | --- |
| Installation | On top of the vehicle | On vehicles rear hitch |
| Weight capacity | Carries more weight | Carry less weight |
| Flexibility | More flexible to drive | Less flexible to drive |
| Convenience | Less convenient | More convenient |
So now let's understand the differences between a roof rack and a trailer hitch rack briefly:
Place of installation
The most obvious distinction between roof racks and tow hitch racks is where they are installed. Roof racks are usually attached to the top of your vehicle, in opposition to a hitch rack, which is fastened to your car's rear hatch. Both of them can be utilized as bike racks.
Weight capacity
A roof rack can carry more cargo weight than a tow bar carrier because of its position on top of your long vehicle.
It is usually more durable and provides less swing and bounce when driving, which is flexible. Roof racks can typically carry an additional 165 pounds of weight.
Because it's ideal for providing your vehicle, a tow bar carrier may struggle with heavy loads due to the limited support provided by your vehicle's frame. A class 1 hitch rack can typically support up to 150 pounds of weight. Also, it creates a disbalance while you're driving.
Flexibility
Tow bar carriers are less adaptable than roof racks. Roof racks can transport a variety of stuff. Large objects that don't fit perfectly in the trunk or back of your automobile or pickup truck are better moved with them.
A hitch rack, on the other hand, is not adaptable. The types of cargo it can transport are relatively limited. It has the capability of being utilized as a bike rack. However, unlike the roof cargo baskets, you cannot move lengthy or bulky things.
Convenience
A hitch rack is more convenient than a roof rack in terms of accessibility. You can add or remove baggage from a hitch rack at any moment. Due to its location at the back of your vehicle, it is easy to access. You won't have to bother climbing over or moving stuff to get what you want.
On the other hand, a rooftop rack is no more accessible than a hitch rack. Loading and unloading objects usually necessitate the assistance of a second person.
Is it worth getting a roof rack?
Roof racks are strongly recommended. Roof racks are the greatest solution to transport everything you need if you like activities like a bike, small boats, surfing, and many more. Roof racks are also useful for keeping your vehicle clean and expanding its inside space. Rather than stuffing everything inside your car, you have plenty of room on your vehicle's roof.
Best roof rack brands on the market
Roof racks are a good suggestion. Here are some of the popular brands for roof racks:
Editor's Pick: Yakima JetStream Aerodynamic Crossbars
Most Premium: Thule AeroBlade Edge Raised Rail Roof Rack System
Perrycraft Aventura Black 48″ Roof Rails
ARKSEN Heavy Duty 43 Inch Universal Roof Rack Auto Top Luggage Carrier Basket Holder for SUV
Budget Pick: Reese Explore Roof Rack Cross Bar
Perrycraft Aventura Black 48″ Roof Rails
SportRack Complete Roof Rack System
Are hitch cargo carriers worth it?
Hitch cargo carriers have advantages. Roof racks are a wonderful alternative because of their adaptability, but they aren't the most accessible option. Where we can see a hitch, the rack is simple to use. Try a hitch rack instead if you think this will be too difficult. Loading and unloading a hitch rack is much easier. So, we can say yes, because of its accessibility, hitch cargo is worth it.
Trailer hitch rack on the market
Here are some of the best hitch racks for your vehicle:
Thule T2 Pro XTR
Kuat Transfer v2 2 
Swagman XC2
RockyMounts BackStage
Thule EasyFold XT 2
FAQs:
Do I need a hitch for a bike rack?
It depends on how you want to carry your bike. If you want to use a hitch mount bike rack, you need a good bike rack hitch.
How much weight can a hitch carrier hold?
It depends on the towing weight capacity of your vehicle. If your TWC is 100-150lbs, then the towing capacity will be 1000-1500lbs. If the TWC is 200-350ibs, then the towing capacity will 2000-3500lbs. If the TWC is 350-500lbs, then towing capacity will be 7500ibs. And if the TWC is 500+ lbs, the towing capacity will be 10000lbs.
Also read: Subaru Crosstrek Towing Capacity
What trailer hitch class do I need for a bike rack?
In this case, most class I and class II hitches are only capable of carrying two or three bikes. If you want to haul four or more bikes or swing the rack to the side, you'll need a class III or higher hitch because the weight will be heavier, and you'll need a balanced grip.
Also read: Top 5 trailer Drop Hitches For Lifted Trucks
Conclusion
After all of this, we can say one thing; we can not say specifically one is 100% better than another as both have several benefits in different conditions. But for heavier products, a rooftop rack is preferable, while an enclosed hitch rack allows for quick access to small items.
While they both have their own set of advantages, the one you choose is ultimately a matter of personal preference. On the other hand, hitch racks are more convenient than rooftop racks. So, the decision is yours now which one will you choose as per your benefits.
Read: