Lifted trucks have a lot of power under their hood, but it requires additional support to haul or tow your favorite ATV, snowmobile, trailer etc. Here's where an adjustable drop hitch comes into play. Installing the best drop hitch is a simple yet effective way of creating ideal towing conditions. It provides secure support between the lifted trucks and whatever you are towing.
Sometimes it's quite hard to decide on one that will best serve your needs since various drop hitches are according to specification, capacity, and price.
But don't worry; we have picked some of the best adjustable drop hitches for lifted trucks to get you going.
Our Recommended Best Adjustable Hitches for Lifted Trucks in 2023
| | | | | |
| --- | --- | --- | --- | --- |
| | | | | |
| | | Highly versatile and easily adjustable | | |
| | | | | |
| | | Towing capacity: 8,000 pounds | | |
| | | 16,000 lb Towing capacity | | |
| | | Towing Capacity 22,000lbs | | |
1. Curt 45900 Adjustable Trailer Hitch Ball Mount
The CURT 45900 Adjustable is a highly versatile and popular adjustable hitch for lifted trucks. The trailer hitch ball mount can be adapted to any towing situation. It has a highly adaptable and smoothly adjustable design.
The channel-style shank can be reversed to deliver up to a 6 inches drop or 5-1/4 inches maximum rise. It is American-made with CNC forming and robotic welding for better accuracy and precision. For a quieter ride, while towing your trailer, this adjustable drop hitch is a steady one and comes with a built-in anti-rattle feature, deterring vibrations, chucking and rattling at the coupling point which provides a smoother ride and receiver hitch experience.
The hitch is constructed from high strength steel, making it tough and extremely durable. The 2-inch ball hitch is rated for a capacity of 10,000 lbs. And the ball diameters of 2-5/16 inches for 14,000 lbs, which are sufficient enough for all your towing needs.
It comes with a standard shank to fit virtually any standard 2-inch x 2-inch trailer drop hitch receiver. It is ideal for most class 3, class 4 and class 5 receiver hitches.
Moreover, to protect your vehicles against rain, dirt, road grime and salt, this adjustable drop hitch with an adjustable ball mount is shielded with a durable carbide black powder coating. And the dual ball mount is protected with corrosion resistant zinc plating, which means no matter what, the CURT 45900 Adjustable is always ready.
CURT also provides a limited lifetime warranty (one-year finish, one-year parts).
| Pros | Cons |
| --- | --- |
| Height can be adjusted adaptively | Assembling the hitch can be a little tough |
| Various hitches can be attached with an adjustable ball mount | |
| 14,000 lbs. towing capacity | |
| Comes with anti-rattle technology | |
| Dual ball mount is weather and corrosion resistant | |
Why this is our best pick
The CURT 45900 Adjustable Hitch Ball Mount's build quality is unmatched, and it is obvious that it immediately solves many people's towing issues for them. This product is incredibly adaptable because you may customize it however you desire.
Additionally, it is produced by a well-known company, and reputation matters when it comes to hitches. You don't want to depend on a low-quality brand when you're on the road and putting lives in danger. But it won't be difficult with this one from CURT.
There are several good reasons why the CURT 45900 Adjustable Hitch Ball Mount is so well-liked. It will undoubtedly be the investment of a lifetime with its various features.
What do customers think about this product?
With this ball hitch, the customer frequently towed a tiny 400–2000 pound utility trailer and an 8000–2000 pound livestock trailer, and he also briefly towed a 14–15,000 pound trailer. All of it went smoothly for the hitch, and he was always able to level the trailer's ride height.
Although he preferred a gooseneck, especially for heavy loads, this hitch works great with bumper pull trailers.
2. B&W Trailer Hitches Tow & Stow
This B&W adjustable hitch can pull your mower to the shop, boat to the lake, or tractor to the job site, all with the same ball receiver. This is one of the best drop hitches that can be easily stowed under the vehicle when you are done towing. That's how you will never have to knock your shin or shut the garage door on a hitch again. This is a unique feature, unlike other adjustable hitches.
B&W Trailer hitch for lifted trucks is compact for being so heavy duty. The B W tow stows' adjustable height, and multiple ball sizes, meaning it can fit almost any trailer. Multiple ball sizes stop you from needing multiple ball mounts. For different sized trailers and other attachment accessories, the B&W Trailer Hitch is a good pick.
This hitch for lifted trucks by B&W has a dual ball mounts system with two different sized towing balls that can be twisted to help you easily find the perfect match for your trailer. The height can be adjusted for level towing, keeping your lifted trucks and trailers on the same line.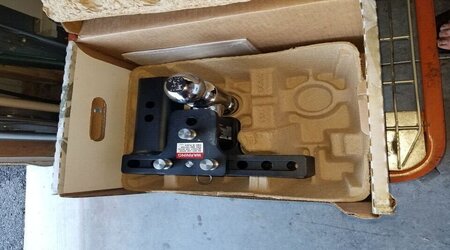 The hitch is rated to tow 10,000 lbs. (14,500 lbs. with the 2 ½ inches shank model and 21,000 lbs. with the 3 inches shank model) which is quite enough. The product weight is 31 pounds.
The machining on B&W hitches is fantastic, which makes the pin installation hassle free. All the Tow & Stow hitches are not made with forged aluminum and tested for both strength and endurance according to SAE J-684 (the latest standard for bumper pulled hitches). And that means you don't need to think about the hitch failing on you.
The B&W hitch for lifted trucks is finished in Ecoat and black powder coat, which provides corrosion protection. It even stows under the vehicle when not in use.
The B&W Trailer Hitch is all American made with high strength steel construction and comes with a limited lifetime warranty. This hitch for lifted trucks is made with durable high quality materials, which makes it very long lasting.
| Pros | Cons |
| --- | --- |
| 21,000 lbs. towing capacity | Not compatible with too high lifted trucks |
| Multiple ball mounts | |
| Powder coated and corrosion resistant | |
| Store it away when not needed | |
| Comes with lime time warranty. | |
3. MaxxHaul 70380 Black Adjustable Dual Ball Mount Hitch
The MaxxHaul 70380 Black/chrome hitch for lifted trucks is a durable, versatile and heavy duty hitch of great brand value. This is one of the best towing hitches in the market and provides exceptional performance for the price. This best hitch for lifted trucks comes at an affordable price compared to its competitors.
Out of the box, the hitch is well built and durable. The adjustable hitch ball mounts let you tow up to 12,000 lbs. with the convenience of a 6-½ inches maximum drop or 7-½ inches maximum rise. MaxxHaul 70380 Black includes 2 inches and 2-5/16 inches two chrome balls. It has a dual pin design which provides great stability. The 2 inches dual ball mounts can endure up to 800lbs. In contrast, the other ball hitch can support up to 1,000lbs.
The product weight is 29.5 pounds. This hitch for lifted trucks is built to handle heavy towing conditions. Setup is relatively easy and convenient. The hitch fits any 2-inch x 2-inch maximum drop hitch receiver, so installation will not be a problem. The hitch is all steel construction and comes in a black and chrome finish. It also complies with SAE J684E standards, providing a reliable and safe hitch.
| Pros | Cons |
| --- | --- |
| Attachment is easy | Not compatible with all ATVs. So check your model before buying |
| 12,000 lbs. towing capacity | |
| Constructed of heavy duty steel | |
| Dual pin design, which is easy to use | |
| Dual ball mounts can endure up to 800lbs | |
| Value for money | |
4. Geny 525 16,000 Lb 10″ Drop Raise Hitch
The possibilities are endless with the Geny adjustable hitch. Not only is it convenient for towing with multiple applications, but also heavy-duty and built to last a lifetime. It is designed to improve safety and convenience, ranging anywhere from boaters and off-roaders to serious outdoorsmen.
In addition to towing, the Geny 525 drop hitches can be the best for other applications such as bicycle racks, motorcycle carriers, cargo racks, etc. The desired height of the attachment is adjusted by simply pulling a pin and moving the hitch ball mounts to that position. Just like most of the hitches, this one too has a shank of 2 inches with 4 slots.
It also has a dual pin design that works hand in hand to lock the bolts in place for added reinforcement. The hookup is fast and simple, assuring that the trailer is being towed as level as possible.
The ball mounts are heat treated for more longevity & durability. The hitch can be adapted to almost any bumper style trailer and pintle style couplings. Compatible with All 2″ Attachments and has a towing weight capacity of 16,000 lbs. The product weight is 44.49 Pounds. The hitch is made in the USA with heavy duty steel for ultra-durability.
This hitch for lifted trucks is sand blasted and coated with a durable silver vein powder coat. This hitch can withstand any form of wear caused by UV rays or metal fatigue due to extreme friction. Geny also provides special colors or custom sizes and comes with lifetime guarantee.
| Pros | Cons |
| --- | --- |
| 16000 lbs. towing weight capacity | Movement pintle hook receivers are limited |
| Coated with a durable silver-vein powder | Sometimes hangs down below the bumper |
| Special colors or custom sizes are available | |
| Compatible with All 2″ Attachments | |
Also read: Should I Grease a Trailer Hitch Ball?
5. BulletProof Hitch 2.0" Adjustable Trailer Hitch
The Bulletproof hitch is a 2.0 inches, adjustable, heavy duty hitch for lifted trucks and is unlike any of their competitors' products. These best drop hitches are built to such a high standard that it has never had a single failure. You can use all Bulletproof hitches in the maximum drop or rise position and hold the same weight capacity in either position.
The hitches are extensively tested and exceed SAE-J684 testing requirements. It is a hitch class 4 for most lifted trucks with 22,000 lbs. Max towing weight capacity and offers 4 ride heights that are easily adjusted. The product weight is 47 Pounds. Each adjustable hitch ball mount comes with a 2-ball platform, and it fits in the adjustable channel of the hitch.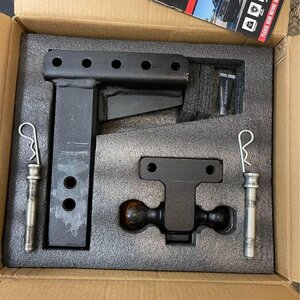 For maximum strength and stability, the 2 hitch balls are fused together onto the solid high strength steel construction.
The heavy duty hitch shanks are solid steel all the way through. They have chamfered edges to make them easily slide into & out of your hitch receiver. The Solid Shank is of solid steel construction, precision CNC milled and drilled. It also comes with two pinholes on the shank for more adjustment options.
Bulletproofs are machined from a state-of-the-art CNC machine, providing an extremely tight tolerance. This ensures that each hitch and ball combination fits together without slop or excess movement when attached to your vehicle. Every bulletproof hitch for lifted trucks features a signature durable corrosion resistant powder coat to eliminate the possibility of corrosion. Made in the USA with a hassle free lifetime warranty.
Also, watch this BulletProof unboxing video:
| Pros | Cons |
| --- | --- |
| 22,000 lbs. towing weight capacity with solid construction | The adjustable drop hitch is quite heavy |
| Comes with life time warranty | A bit expensive compared to other options |
| Precision CNC milled and drilled | |
| Signature durable corrosion-resistant powder coat | |
Also read: How to Tighten the Hitch Ball (a complete safety guide)?
Drop Hitch Comparison Table
This comparison table is based on our research:
| | | | | |
| --- | --- | --- | --- | --- |
| Curt Adjustable Trailer Hitch | B&W Trailer Hitches Tow & Stow | MaxxHaul 70380 Black/Chrome | | BulletProof Hitches 2.0" Adjustable Heavy Duty |
| 14,000 lbs towing ability | 21,000 lbs towing ability | 12,000 lbs towing ability | 16,000 lbs towing ability | 22,000 lbs towing ability |
| limited lifetime warranty | limited lifetime warranty | | limited lifetime warranty | |
| Various hitches can be attached | | 2 pin design which is easy to use | Compatible with All 2″ Attachments | |
Buying guide for the Adjustable Drop Hitch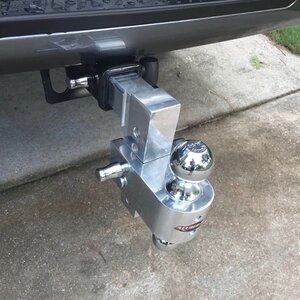 Towing capacity:
The foremost thing to consider is how much weight you will tow around.
Your towing vehicle also has limitations on towing jobs, which must be kept in mind. Extensively increasing the likelihood of accidents by choosing the wrong hitch for lifted trucks is the last thing you would like to do.
The gross trailer weight capacity categorizes them:
Class 1 – 1000 to 2500 lbs.
Class 2 – 3500 lbs.
Class 2.5 – 4000 lbs.
Class 3 – 6000 lbs.
Class 4 – 8000 lbs.
Class 5 – 10000 lbs.
Durability and strength:
Your drop hitches will ensure the weight is equally distributed to the lifted trucks and the trailers according to the tongue capacity. Therefore, you must consider the durability of the materials used to make your hitch. Generally, they are made of metal with solid construction. Hence, common issues are rust and corrosion, although most manufacturers feature powder coating to make them resistant to weather and rust.
Price:
You don't have to put a hole in your wallet to get the durable, drop hitch for lifted trucks. You should choose the right product according to your needs. But buying the cheapest might end you up spending more unless you get lucky, and it doesn't break after a few uses. Just so you know, the best hitches cost about $100 on average. However, most manufacturers extend their way to help you pick the right model for your needs. So you will have to decide on the best drop hitch according to your budget.
FAQs:
#1. Are adjustable hitches good?
As adjustable hitches allow you to haul different types and sizes of trailers behind your vehicle, it is a more convenient option than purchasing a fixed trailer hitch for lifted trucks. The only disadvantage of adjustable hitches is that it involves moving parts, which means there's a higher chance of it breaking or needing parts for replacement.
#2. Do you need a drop hitch for a lifted truck?
No doubt a drop hitch is necessary to keep the trailer from tilting away from the hitch ball. The trailer coupler isn't designed to withstand all the weight trying to pull it apart, and it will deform around the ball and disconnect. For a smooth towing experience, the trailer and lifted trucks should be at the same height. A drop hitch is required as lifted trucks are made higher on purpose to make a low trailer level with the truck.
Read: 3 Common Trailer Hitch Coupler Problems
#3. How much drop hitch do I need with a 6 inch lift?
For lifted trucks with a 6-inch lift, one drop hitch like the 180 Hitch 2 Ball Mounts w/ Stainless Steel hitch balls – 2 inches hitch – 10 inches is recommended. To determine the exact drop you need, you will want to measure from the ground to the inside top of the drop hitch receiver opening and then from the ground to the bottom of your trailer coupler.
#4. What size drop hitch for the lifted trucks?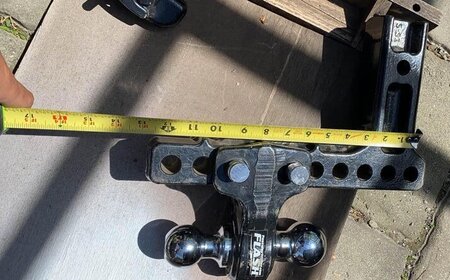 There are many techniques to measure the exact size of the drop hitch for lifted trucks. First, check the manufacturer's recommendation for a hitch. Next, account for the height you've raised your truck to and the tire size if you exceeded what the manufacturer recommends. The sum of all factors that lift the truck is equal to the drop your new hitch needs to have. You can also use a rule of thumb – 18″ from the ground is where most trailers are leveled.
Here is a simplified table to help you understand what size drop hitch you need based on weight capacity, max payload, and recommended hitch ball size:
| Weight Capacity (lbs) | Max Payload (lbs) | Recommended Hitch Ball Size (inches) | Drop Hitch Size (inches) |
| --- | --- | --- | --- |
| 2000 – 3500 | 500 – 1000 | 1-7/8 | 2 – 4 |
| 3501 – 5000 | 1001 – 1500 | 2 | 4 – 6 |
| 5001 – 7500 | 1501 – 2000 | 2-5/16 | 6 – 8 |
| 7501 – 10000 | 2001 – 2500 | 2-5/16 | 8 – 10 |
| 10001 – 14000 | 2501 – 3000 | 2-5/16 | 10 -12 |
#5. Can you put a weight distribution hitch on a lifted truck?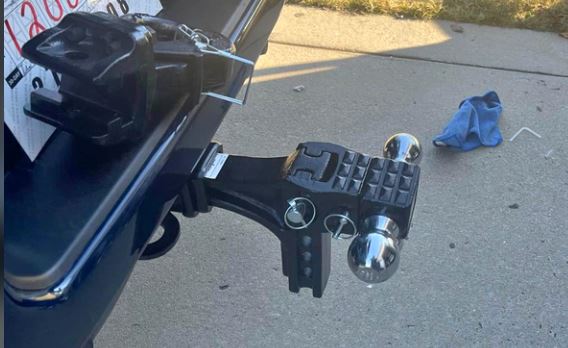 A tongue weight distribution system can certainly be used on your lifted trucks. The key will be to find a weight distribution shank that offers you enough drop to be able to tow your trailer level. Weight distribution systems are available without a shank so that you can choose the one that works best for you.
#6. Does The Weight Of The Drop Hitch Matter?
Your car's performance will suffer, you'll lose traction, and you'll have a far more difficult time stopping if the tow vehicle's front axle is underweight (especially when you have the heavy loads of the trailer behind you). To drive safely, you must first understand hitch tongue weight.
#7. What exactly does adjusting the Drop Hitch Do for Lifted Trucks?
An adjustable drop hitch for lifted trucks ensures that the tongue weight you are hauling and towing with your trucks is equally distributed among your truck and the object you are towing. An adjustable drop hitch enables you to level the trailer and your lifted trucks by adjusting different heights.
#8. Why does my drop hitch keep rattling?
Rattling is caused by the clearance issue between the hitch receiver and the drawbar inserted into it. A hitch has moving parts that slide into your hitch receiver tube and may rattle if it does not fit snugly. The result is a rattling, whining, or clunking noise that occurs while driving, addingbest adjustable hitch additional stress to your hitch pin.
Do you need a drop hitch for a 6-inch lift?
Yes, you do. A drop hitch, such as the GEN-Y 525 180 Hitch with 2 Stainless Steel Ball Mount with a 10″ drop, is required when a truck has a 6 inch lift.
Does a 2-inch lift affect towing?
Not at all, no.
Why does my drop hitch keep rattling?
The contact between your trailer coupler and the hitch ball typically causes the rattling noise. With the hitch, the sound is normal.
Conclusion: Final recommendation
The best drop hitch can improve the capacity of the lifted trucks. We have shown all the premium quality hitches with high strength and heavy loads of power.
Our top pick would be the Curt 45900 Adjustable Trailer Hitch Ball Mounts. It's not only versatile but also very rigid and durable. It will be a good pick for your lifted trucks without breaking the bank. Furthermore, this hitch features anti rattle technology for a smoother, quieter ride while towing. It also comes with corrosion and weather resistant coating and a limited lifetime warranty which would last you a long duration of usage.
Also read: