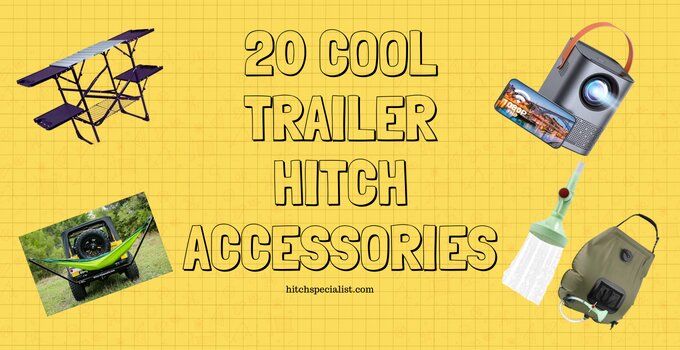 Whenever we go on a long vacation with our trailer we pack almost everything even including a hitch hammock. Because who doesn't enjoy sleeping in a little hammock when you are on the road with your family? This is not the only hitch accessory that is available though. There are plenty of other wonderful things out there to make your life easier when towing something behind your car.
Recently we went on a long vacation to Florida with our Airstream trailer and I came up with the idea of getting together 19 cool trailer hitch accessories.
If you own a trailer or just love to go on road trips this list is definitely worth checking out! Camping, traveling and having fun with your family are what summer is all about so keep reading to find out how to make the best out of it!
1) Portable grill stations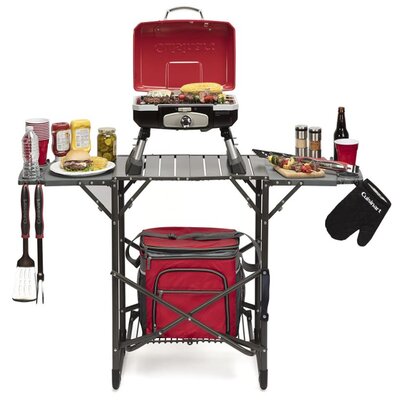 In summer you are definitely going to have lots of barbecues. Why not do it somewhere other than your driveway? How about when you are on the road with your trailer? Grill stations are perfect for this. They are made out of high quality materials that hold up well in all kinds of weather conditions. My girlfriend and I had the opportunity to own a set of grill stations for our Airstream and we must say: they are perfect!
Note: to connect it with your trailer's LP gas system you need to buy an RV Propane Hose.
2) Hitch mounted cargo carrier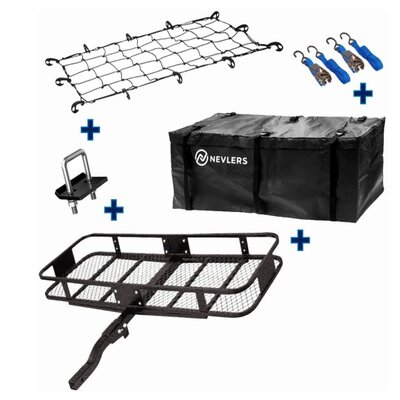 If you don't want to buy a new trailer but still want to expand your storage space then the cargo carriers are the perfect solution for you. It gets mounted on top of your current hitch and is perfect for putting all kinds of big things on it.
Note: Be sure to measure your current hitch if you are planning on buying one though!
3) Bike racks
If you like going out biking or if your kids want to do some bicycle tours with their friends then you will definitely need a bike rack on top of your trailer hitch. There are plenty of these available and all of them offer the possibility of staying off the ground.
Also read:
5 Best Swing Away Hitch Bike Racks
Installing Allen Bike Rack on SUV (step by step)
Bike Racks for SUV without a hitch
4) Hitch kennel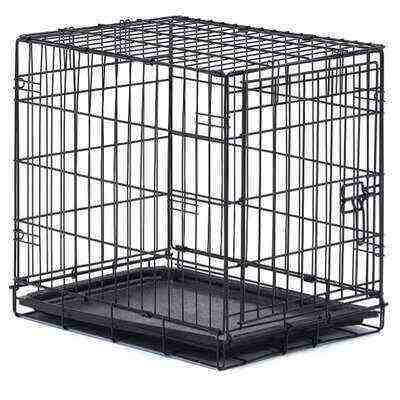 I personally own this little fellow right here and let me tell you something. It is very useful, especially if your dog needs to be with you at all times. You can put it on your hitch and you are good to go! You can use a lock to secure it or not, depending on how you feel.
5) Hammock
We already mentioned this one, but it is worth mentioning it again because who doesn't want to go on a road trip with their own little hammock? It is an accessory you can get for your trailer hitch and will definitely make your trips a lot more fun. After long driving in the afternoon, I certainly love to have a little nap in my own hammock.
6) Trailer step
If you are tall enough then this one might not interest you, but if you are tall and your partner is short, then this will certainly be great for you. It's a steel platform that is designed to easily mount on any existing 2″ receiver hitch. Just make sure to tighten the bolts well and it will give a lot of benefits.
Read: 4 Best Trailer Hitch Steps
7) Portable dog hitch step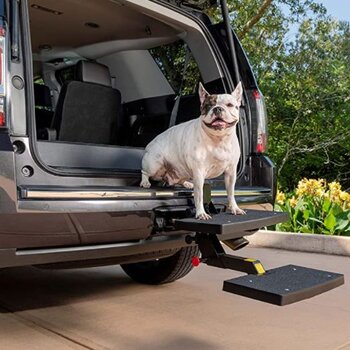 We take our dog with us wherever we go, but the problem is that our dog isn't tall enough, so he can't get on the truck bed. This is where the hitch step comes in handy! They are perfect if you want to take your dog with you but the truck bed is a little bit high. Be sure to use it responsibly though!
8) Portable projector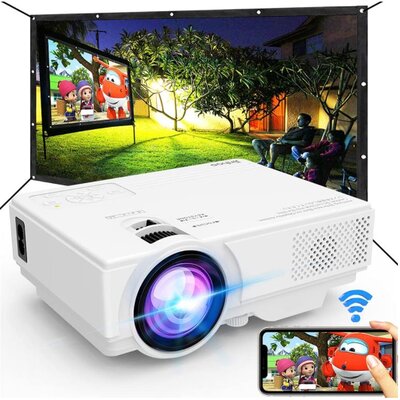 Imagine after a long drive, you want to chill out with your family and watch a movie right? Your kids will definitely love this as it is portable and you will be able to see the result on any surface!
9) Patio lights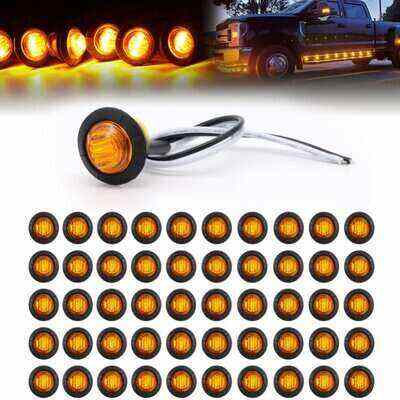 There are plenty of reasons why people love these little things, but the main reason is that they are really easy to install. You just have to stick them on the top of your car and you are good to go!
10) LED Camper Awning light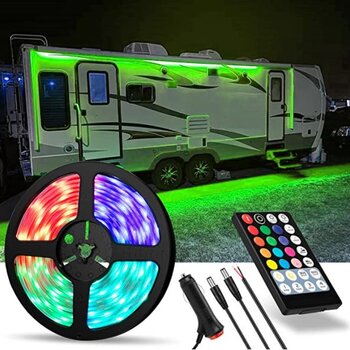 If you want to invite more people over or if you just need more light in your trailer then this is definitely something for you. These lights can be connected to your awning to provide bright light whenever you need it.
11) Camera System
There are all kinds of camera systems for trailers, but this one here is definitely my favorite because it comes with plenty of items so you can install it perfectly in your trailer. It also works well at night because the camera has a built-in motion sensor.
12) Portable outdoor table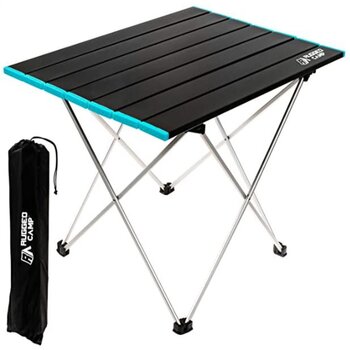 Most trailers have plenty of storage space, but when people are traveling they usually do not use it much. There is a solution to this small problem though – a portable outdoor table! It's perfect for picnics in the wild or just for having some breakfast outside.
13) Solar shower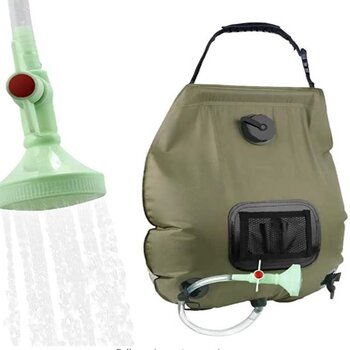 If you are someone who likes to go on outdoor trips then this is definitely something for you. It installs easily to your trailer hitch and works like a charm! Just make sure to check the weather forecasts before you decide where to go because it can be very cloudy sometimes.
14) Wheel chocks
We all know what wheel chocks are and how they work, but if you don't then here's a quick explanation. It's a cushion that you place behind your wheels to keep your trailer in place. If the weather is windy then these might be a little bit helpful for you!
15) Awning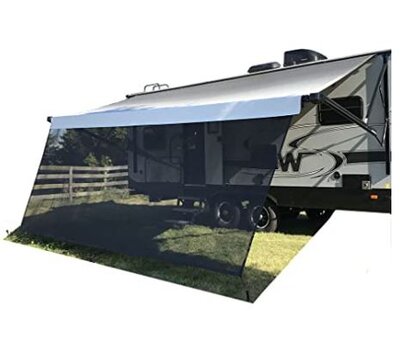 Want to have a party in your backyard? Well, an awning will be perfect for this. It's easy to install and you can even use it when it is raining! Just make sure to take off the canopy before driving anywhere though…
16) TV stand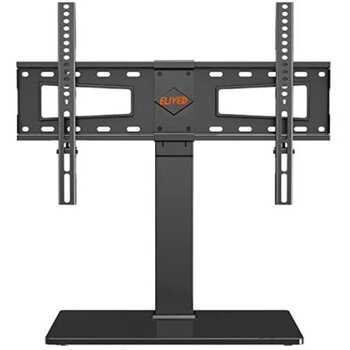 If you like watching TV in the trailer and don't want to install anything permanent then buying a TV stand like this is definitely a great option for you. It's portable and easy to move, so if you need some extra storage space just place it in the back of your vehicle!
17) LED Work Light Pods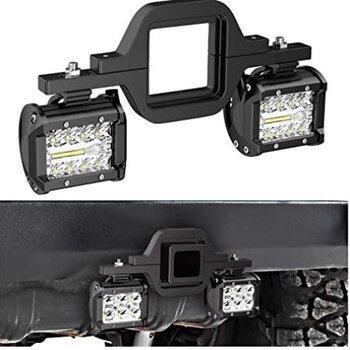 These are great if you like working on your car or if you need some extra light. Just connect them to your vehicle and get the job done! It makes everything so much easier if there's plenty of light, so one of these is definitely something that I would recommend!
18) Funny bumper stickers
Last but not least, don't forget to take some funny bumper stickers with you when you are traveling. This way people will know that you are having fun! Bumper stickers are also easy to remove when it is time to go back home.
Other things to carry?
There are many other things you can carry if you have enough space and budget such as hitch receiver, hitch pin, roof rack, hitch mounted winch, or other special tools.
So are you ready for your long trip?
Planning a long trip is not always easy, especially if you like to take some extra stuff with you. You will probably need plenty of space for all your new belongings, which is where these hitch accessories come in handy! They are perfect for any season and can be used on almost any vehicle type. All of them are great tools that I would definitely recommend!
I hope you enjoyed my list of 20 Cool trailer hitch accessories. Let me know if you have any more cool ideas in the comments, I would love to hear them!
Also read: