Due to huge Weight Distribution Hitch options availability in the market, it's quite confusing to pick just the right one. After huge research, our experts have come up with these 9 Best Weight Distribution Hitch reviews for you to have a fair look at before you invest.
Even if you're planning a week-long trip across the country, a few days in a forest, or just weekends with your RV wherever the road takes you, one of the most critical things you'll need to understand is how to properly move your trailer to each destination. The solution is to use weight distribution hitches.
What is a weight distribution hitch, exactly? A hitch that supports the distribution of weight more evenly. To be more specific, a weight distribution hitch is a hitch that evenly distributes the actual tongue weight (TW) of a trailer all across the tow vehicle's four wheels. Weight distribution hitches are also known as load-equalizing hitch.
With their capacity to provide further level towing & greater control, weight distribution hitches are the key to assuring safe road travels.
Isn't that fantastic?
Let's take a good look at this best weight distribution hitch review to find out how WD hitches may transform your towing experience.
How Does the Weight Distributing Hitch Work?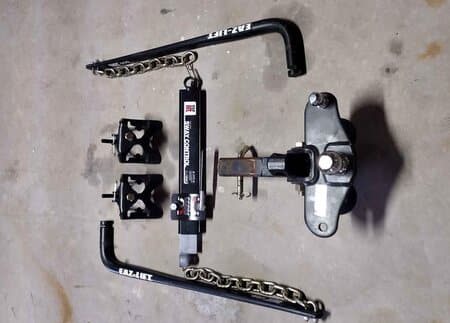 When you hitch, the trailer puts a specific amount of load on the back axle of your car, which is known as tongue weight. A weight distribution hitch works by distributing the weight evenly throughout the vehicle, allowing the trailer and tow vehicle to ride more levelly. This helps you to have greater control on the road while also making towing better on your vehicle.
A WD hitch uses a trailer ball to connect to the trailer, just like a regular adjustable ball mount. The WD hitch, unlike a ball mount, features spring bars that also serve as a bridge between the tow vehicle and the trailer, with one end linked to the trailer frame and another near the tow vehicle's receiver.
The spring bars are placed under tension, causing the trailer frame to leverage down and the car to lift up on the back.
This tension acts as a counterweight to the trailer tongue weight's downward pressure, keeping the car and trailer level. This hitch's goal is to make drives safer. Towing more than your vehicle's allowed towing capability is neither safe nor smart, though.
Read:
Best 8 Weight Distribution Hitches for a Safe Off-Road Journey (A Complete Review)
1) EAZ LIFT 48058: Our Top Pick and best overall weight distribution hitch in the budget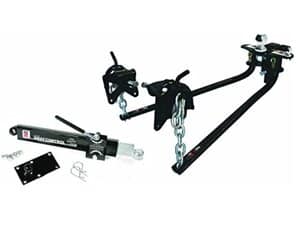 The 2-5/16″ hitch ball and sway control ball are pre-installed and torqued to specification on the hitch head. The U-bolts and chain package are pre-installed on the spring bars. As a result, the sway prevention set is simple to install and adjust, with a 6-inch height range.
The Eaz-Lift 48058 Bent Bar Ready-to-Tow Weight Distributing Hitch Kit does come with a 2″ square shank that has a 2 1/2″ drop. You can turn over the shank for the 48058 weight distribution trailer hitches and use it as a rise. Mounting hardware is also included. These trailer hitches have a maximum tongue weight of 1,000 lbs.
Eaz-Lift Sway Controls are preferable to cam action sway controls since they do not produce noise or limit road clearance. When traffic conditions do not require the usage of Eaz-Lift sway controls, they can be quickly disengaged.
Unlike cam action sway controls, which rely on hitch weight to operate and can't be released on snowy or slick roads where straight line motion could compromise driving control, these controls can be disengaged.
Also, Eaz-Lift Sway Controls do not lose control of the trailer sway when it turns. Slide bar, spring clips, crank handle, friction plate, self-tapping screws, ball tongue plate, and chrome-plated tongue ball are all included.
| Features we like the most | Features could be better |
| --- | --- |
| Comes with a manufacturer's 5 years warranty | The hitch pin can be of better quality |
| Saves time on installation | |
| All mounting hardware included | |
| Price is reasonable | |
Customer opinions
The Eaz Lift 48058 weight distribution hitch is hefty and sturdy, and it comes with the necessary steel pieces. Its weight capacity is adequate; installation is simple, and operation is silent and efficient.
How is EAZ lift as a brand?
EAZ Lift, a well-known manufacturer that has been making numerous car accessories, including towing gear, since 1966, is responsible for this weight distribution system.
It's a producer located in the United States, with headquarters in North Carolina. The company is proud of its finest products, great service, and reasonable pricing, with five manufacturing locations in the USA and one in China.
As a result, the hitch is extremely long-lasting.
We've also reviewed the 5 Best Eaz Lift Weight Distribution Hitches.
Why is this our best pick?
This weight distribution hitch is top-quality & strongly recommended to all travelers, as it is created by the well-known Camco Manufacturing, Inc. company. Eaz-lift Elite Weight Distributing Hitch Kit saves you time with pre-installed components. A round bar weight distributing hitch, sway control, and hitch ball are all included.
Also, it offers you 5 year full warranty to backup what they claim for. There is no better WDH in the market in this price range. So, with current anti-sway control, we'd recommend it as the best weight distribution hitch on our list.
2. ANDERSEN 3350: Best Universal Anti Sway Hitch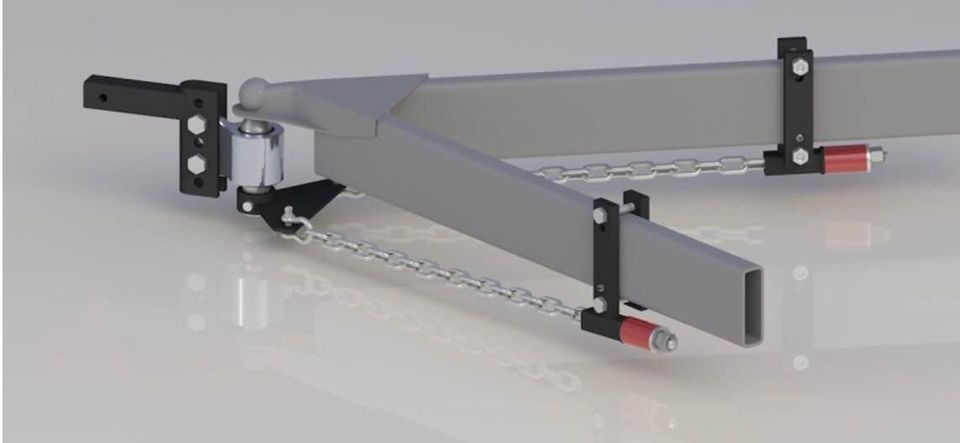 This good-looking but sturdy weight distribution trailer hitch is capable of up to 16,000 pounds GTWR & 10,000 pounds GTWR and weighs under 60 lbs. It can therefore satisfy all of your heavily loaded trailer requirements.
This adjustable hitch also serves a dual purpose in that it may be used as a regular adjustable ball mount if you ever need to tow without distributing weight.
This grease-free system is available in two sizes: 2″ and 2-5/16″. Tongue brackets are available for trailer frames measuring 3″, 4″, 5″, and 6″. (A-frames, V-frames, & Y frames). These Andersen hitches have a 2″ or 2-1/2″ shank/receiver and a 4″ or 8″ Drop/Rise adjustable metal rack.
Patented shock absorbers, like traditional weight distribution hitches, reduce trailer sway and bouncing. Using the proprietary Motion-DampeningTM technique drastically minimizes bounce. Andersen hitches are the only solution for ultimate anti-sway, anti-bounce weight distribution, and it's backed by a lifetime warranty!
Unparalleled sway control of these Andersen hitches adjusts itself to the load and does not lose control while taking turns. It'll be so silent that you won't even notice it's there! Because of the small weight of the system, installation & handling are incredibly simple. It's possible that the entire setup will take less than half an hour. Finally, simply pull the pin out to remove it.
Unlike most other weight distribution hitches problems, backing up is not a problem.
NOTE: The Andersen hitches are currently incompatible with Atwood couplers 88007, 88010, 88555, and 88600. (all other Atwood couplers are fine).
| Features we like the most | Features could be better |
| --- | --- |
| Lightweight | When taking a sharp turn, it can generate an unpleasant noise |
| Simple, innovative design | In some years, the plastic insert & nuts may need to be replaced |
| Quiet | |
| Intuitive to install and remove; no spring bars needed | |
| Anti-bounce | |
| Lifetime Warranty (limited) | |
Customer opinions
Owners say it's the smoothest ride they've ever had! The Andersen Hitch is a self-adjustable, high-capacity hitch.
It's grease-free, silently moves, is made of modern materials, and fits all caravan & truck models.
Buy from Tweetys
You can also read the full review below:
3. Camco Eaz-Lift ReCurve R6: Excellent sway control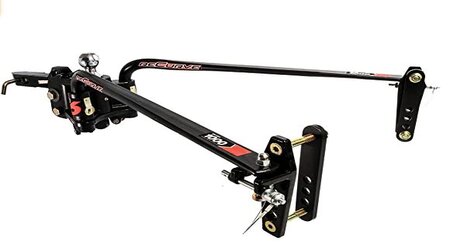 This is a weight distribution hitch for trailers with maximum tongue weights of 801 to 1,000 lbs and/or gross maximum trailer weights of no more than 10,000 lbs. A 2″ square hitch bar with a 3/4″ drop, 7″ rise, and 12″ length is included. The spring bars are 30 inches in length. Included is a 2-5/16 inch hitch ball. The provided brackets fit travel trailers with A-frames ranging from 3 to 6 inches.
In dangerous or snowy driving conditions, the excellent sway control can be readily disabled.
Its easy-to-install top-loading spring bars provide increased ground clearance. The mono trunion & trailer move in lockstep, keeping the same center of gravity.
The sway control collar is made of brake pad material, which allows for easier modifications and greater sway control. No further creaking or screeching, thanks to the quiet design. The ReCurve R6 weight distribution hitch is the most user-friendly model, with premium adaptive sway control.
Because the sway control "locks" the trailer straight, turning with other sway control hitches can be much more difficult than turning with a travel trailer.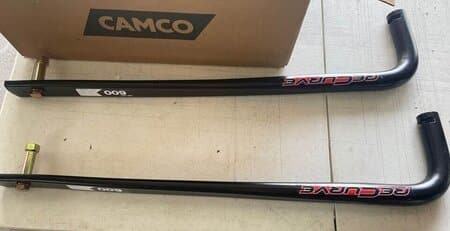 For regular driving, the ReCurve R6 will manage your sway, but then when you swerve, the sway control will automatically disengage. And that makes maneuvering easier and smoother for the driver.
Its top-loading spring bars offer greater ground clearance than some other weight distribution hitches. And the sleek design allows the hitch and travel trailer to move as one, while the black finish gives it a clean and discreet appearance; it's very large and heavy-duty.
It is not a difficult or time-consuming process to install. The only complaint is that the guidelines are a little lengthy and unclear. The bar mounts are weak and prone to twisting. The lanyard pins are also easily misplaced. The company quickly provides replacements in this scenario.
| Features we like the most | Features could be better |
| --- | --- |
| Innovative design | Mounts and pins are two of the most typical problems |
| Highly efficient on the corners | |
| Heavy-weight | |
| Heavy-duty | |
Customer opinions
Camco's Recurve R6 weight distribution hitch is designed to be innovative, high-quality, and durable. It performs admirably in corners, disconnecting whenever the sway control system is no longer required.
Also read: Eaz Lift Recurve r3 Review
4. Equal-i-zer 4-point Sway Control : Most reliable & user friendly Hitch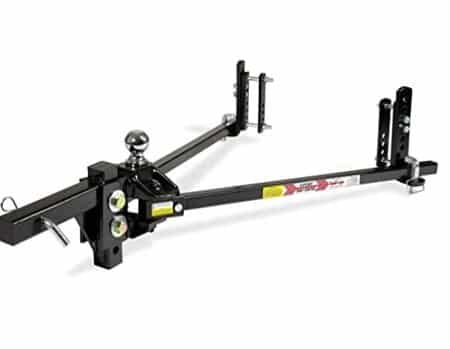 The strongest level of protection to your travel trailer's sway is provided by its Integrated 4 Point Sway Control. The Equal-I-Zer is the only hitch on the market with as much sway control. The weight-distribution system of the Equal-I-Zer hitch effectively transfers trailer tongue weight among all axles and aids in keeping the tow vehicle's front axle safely on the road.
This improves steering, braking, and overall sway control, reducing stressful driving situations and ensuring the safety of your family and investment on the road. The Equal-I-Zer hitch is designed to work with a wide range of bumper-pull travel trailers, including RV, horse, freight, boat, and utility trailers, as well as surge brake trailers.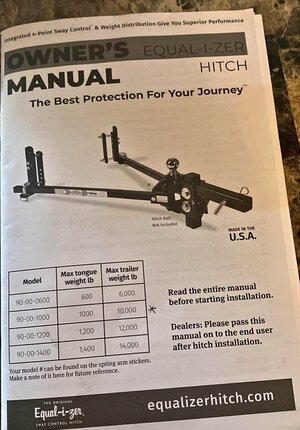 With a maximum gross towing weight of 10,000 lbs and gross trailer weight of 1000 lbs, and the ball size is 2-5/16″ (Not included). Sway control bracket positioning is 27″ – 32″ back from the center of the coupler. Spring-bar dimensions are 36″ long x 1-3/8″ wide.
Shank length is 12″, and maximum trailer frame height is 6″. It gives a maximum rise of 7″ and a drop of 3″ from the top of the trailer hitch receiver opening.
You do not have to think about backing up limits or a tight turning radius with this Equal-I-Zer hitch. There's nothing else to connect or disconnect. When the weight distribution system is activated, the sway control system is activated as well, offering the best possible protection.
The hitch is made of the toughest, highest-quality American steel available. Inside the package, you'll find a couple, two, or three rivets, washers, and installation hardware. The installation process is simple.
| Features we like the most | Features could be better |
| --- | --- |
| Reliable | It might make some noise while turning |
| Heavy duty | No ball included |
| Easy to use | |
| Intuitive to install | |
| Durable | |
| Lifetime warranty | |
Customer opinions
This Equal-I- Zer hitch is a monster!
A four-point design is advantageous. It hauls well, evenly dispersing the weight of the travel trailer across all axes. The hitch improves braking and assures optimal safety on the road. It also gives long-lasting, high-quality, and easy hitch setup.
Also read: Andersen vs Equal-i-zer Weight Distribution Hitch
5. Blue Ox BXW1500- Swaypro: Best High-Capacity Trailer Sway Control Hitch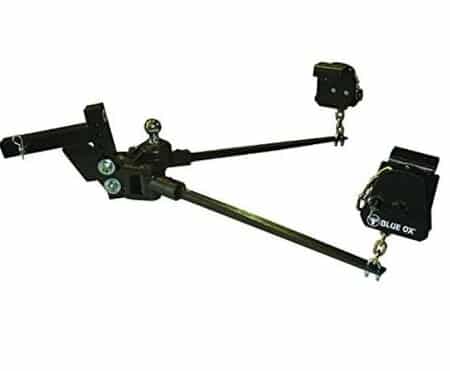 It can support heavy trailers weighing up to 15,000 pounds and tongues weighing up to 1500 pounds without making any noise nor discomfort. The weight leveling system is proudly made in the United States (in the state of Nebraska) by a factory with a storied record.
Any modifications aren't required. The heads are open, allowing simple access to the ball so that it can be tightened. They are self-locking, with no additional pins or clips, and they can back up without the use of stops to secure the chains.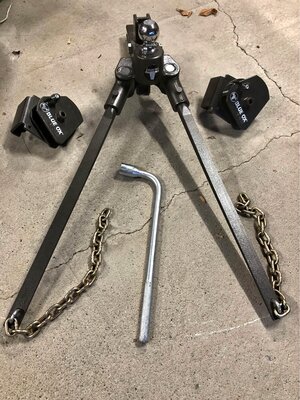 The torsion bars benefit from being composed of high-quality steel and may flex and rotate 90 degrees.
As a result of being nearly the best weight distribution and sway control hitch on the market, the gadget is simple and gives an easy hitch setup.
Furthermore, the technology provides the finest possible usability, driving stability, and handling. Even in severe winds, it fully eliminates sway, resulting in incredibly smooth, safe, & quiet rides. It suits minivans and pickup trucks with a maximum towing capacity of up to 34 tons, such as the Ford F150 or Chevy 2500 HD.
In general, it's the greatest self-adjusting weight distribution hitch with dependable sway control, large capacity, long life, and quiet operation. The powder-coated steel design of the sway prevention system maintains the caravan properly centered.
| Features we like the most | Features could be better |
| --- | --- |
| Setup, hookup, and disconnection are all quick | During heavy use, the U-bolts could wear out and need to be replaced |
| Noiseless | |
| Lifetime warranty | |
| All-weather no-sway results | |
| Interchangeable torsion bars | |
Customer opinions
Blue Ox's SwayPro BWX1500 weight leveling hitch is high-capacity, quiet, sturdy, and dependable. It allows simple hitch setup, adjust, use, and detach when needed, thanks to the revolutionary design. On the road, it provides superior stability and safety by fully eliminating sway. When the wind is strong, the weight-carrying sway control system can be employed.
If you're not sure between Blue Ox and Equal-i-zer, then read: Blue ox sway pro vs Equal-I-zer Weight Distribution Hitch
5. Fastway e2 2-Point Sway Control Trunnion Hitch
The e2 hitch is required for the greatest and safest towing trailers experience, as it allows for quick and more efficient weight distribution and swaying control.
With a trailer weight rating of 10,000 pounds and a maximum tongue weight rating of 1,000 pounds, the e2 hitch provides faster and easier weight distribution. The e2 hitch's Built In sway control eliminates the need for backing, turning, or weather constraints when sway control is most needed. Its robust brackets provide permanent sway control, allowing you to tow smarter and safer.
Sway control and weight distribution are combined in one system, eliminating the need for traditional chain-style hitches with no Built In sway control and add-ons. It comes with no restrictions on backing or turning.
Unlike many other hitches, the e2 should be left attached regardless of the weather or angle. There are trunnion & round bar variants available.
Regardless of your towing style, the e2 hitch acts as a bridge between the trailer and the car, allowing them to work as one unit rather than two, distributing weight evenly across the tow vehicle axles.
Quality craftsmanship and a 10-year limited warranty provide security and peace of mind. Your front axle will remain securely on the ground with an e2 to keep your trailer close behind you, giving you more control and a more comfortable ride.
Brackets are installed 27″ -30″ back from the hitch ball's center. RVs, yachts, cargo, industrial tow vehicles, and ATV trailers all benefit from this hitch. Towing is made faster, simpler, and safer for you and your family with Built In sway control and weight distribution.
It provides a superior tow and assists in keeping your tow vehicle and trailer safe in hazardous towing circumstances such as steep grades, towing large loads, passing semi-trucks, facing crosswinds, and making fast turns.
The stiff brackets on the e2 create two points of steel-on-steel friction sway control that constantly strive to combat wobble. Its one-of-a-kind design ensures a level ride while reducing sway caused by gusts, semi trailers, and unexpected moves.
When backing up & taking a tight turn, there's nothing more to connect or store and nothing to remove. The intelligent design of the e2 allows it to be positioned around gas tanks or battery boxes. Surge brakes are compatible, and any trailer type can be accommodated.
| Features we like the most | Features could be better |
| --- | --- |
| Durable | The tools needed for installation are much larger than a standard tool set |
| Best for any weather condition | |
| No backing or turning restriction | |
| Easy to install | |
| Heavy duty | |
| Limited warranty | |
Customer opinions
It performs admirably. Allows easy hitch setup, and it definitely keeps the wobble at bay and the ride level. If you are a 'Do It Yourself' (DIY) person, you can save a few hundred dollars and avoid a trip to the dealer by doing it on your own.
Be careful that the box it comes in is HEAVY. This buy can't go wrong; it gets the job done. Users can't recommend this thing enough!
Read: Fastway e2 Hitch complete Review
7. Husky 32218 Center Line TS with Spring Bars
Built on the award-winning Center Line HD, the Husky 32218 Center Line TS is a new, enhanced, lighter, and much more compact design. Husky's engineering team has been working on the Center Line TS for nearly three years. They combined smart design, cutting-edge technology, plus materials science to create a product that transforms the towing experience.
Prevent trailer sway with Sway Control System, exceptional performance, and value are all provided by the Husky 32218 Center Line TS featuring a Gross Trailer Weight of 12000 lbs with a Gross Tongue Weight of 800-1200 lbs. It comes with a shank and a 2-5/16″ hitch ball, as well as a mount.
Lift brackets, head, & spring bars all function together to provide a very smooth and responsive ride that is notably quieter than competing alternatives. Weight distribution and sway control are included in a single unit that requires no additional hardware.
The hitch ball is placed at the factory and torqued to the proper standards. Universal frame brackets are included for simple installation and adjustment.
There are no separate components in each kit; everything you need to install this hitch is included!
| Features we like the most | Features could be better |
| --- | --- |
| Limited Lifetime Manufacturer Warranty, or 90 Day Warranty On Commercial Use. | Bolts on the trailer hitch require tightening |
| Significantly lighter than competing products | |
| Easy installation | |
| The design effectively manages sway control without extra parts | |
| Not noisy on the road | |
Customer opinions
Husky Center Line TS gives a durable, high-quality, and easy hitch setup. It hauls effectively, evenly distributing the trailer's total weight across all axes. The hitch systems increase braking and ensure maximum road safety.
8. CURT 17501: Great products and customer service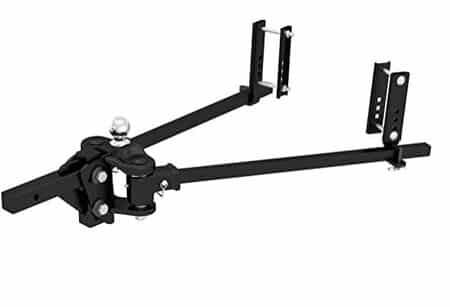 While many weight distribution hitches are designed to work with a sway control attachment, the CURT TruTrack is a sophisticated WD system that incorporates the trailer sway control function within the hitch's design.
The TruTrack does more than simply level the truck and trailer. It actively avoids trailer sway as well. For a smoother, safer ride, it employs a spring and cam mechanism as well as fixed support brackets to stop the trailer from wobble at four unique spots.
Cam components that have been hardened are less prone to wear and last better than competing models.
This TruTrack weight distribution hitch allows you to level your tow vehicle and trailer with pinpoint accuracy. It has 35-9/16-inch trunnion spring bars as well as a 2-inch receiver shank that may be adjusted.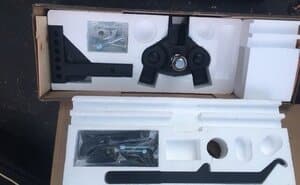 This CURT weight distribution hitch with trailer sway control is built to be quick and simple to put up and adjust. It has hex castle nuts for convenient adjustment without removing the hitch fully.
This weight distribution anti-sway hitch has a welded head and cast steel parts for dependable towing strength.
This stabilizer hitch has a GTW of 10,000 to 15,000 pounds and a TW of 1,000 to 1,500 pounds. To resist the rigors of the outdoors, this weight distribution hitch with trailer sway control is coated with a highly long-lasting carbide black powder coat. The TruTrack also has its own set of spring bars.
It uses a pair of spring bars, like all WD hitches, to strain the maximum trailer tongue weight and distribute it across all wheels of the tow vehicle and trailer combo. However, instead of spring bar chains, the TruTrack attaches to the trailer frame with heavy-duty, adjustable support brackets that keep the spring bars in position both laterally and vertically.
Regular spring bars waver from side to side, but the integrated trailer sway control arms prevent this motion and keep the trailer in a more level position.
The CURT TruTrack, in addition to its incorporated trailer, and sway control, has the same high quality as their other WD hitches, making it ideal for campers, livestock trailers, and other heavy-duty trailers.
They stand by this uncompromising hitch and back it up with a limited lifetime warranty to prove it.
| Features we like the most | Features could be better |
| --- | --- |
| Hex castle nuts for convenient adjustment | A bit pricey |
| Constructed with heavy duty steel | |
| Durable and longer lasting | |
| Limited lifetime warranty | |
| | |
Customer opinions
Heavy-duty and well-constructed. It may be adjusted to accommodate a wide range of trailer heights and weights.
Users backed up with it fully connected and had no issues. Backing into campgrounds, they even did some very tight bends. Was able to drive a fairly hefty Toy Hauler down the road without swaying or bouncing.
It's pricey, but it delivers on its promises.
9. Reese Strait-Line (66074): Extra Durability Hitch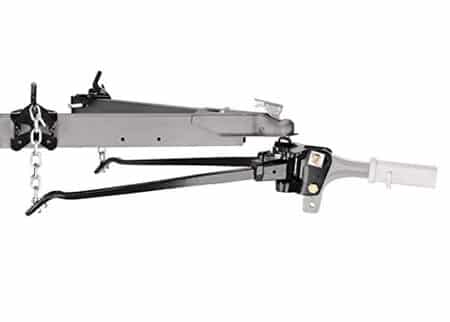 Reese 66074 Wd Pro Series Trunnion is the ULTIMATE hitch. At a fair price, no other hitch provides the driver with the kind of control that this one does.
This setup is for tow vehicles with maximum trailer tongue weights anywhere from 600 to 1200 lbs. and/or a GTW of up to 12,000 lbs. A hitch ball with a shank diameter of 114″ is required (sold hitch ball separately). This product will not fit on trailer frames that are more than 2-1/2 inches wide.
There are no U-bolts in the way of bottle racks, or other A-frame mounted objects. In one easy-to-install package, the Strait-Line hitch combines twin high-performance trailer sway control with a high-performance weight distributing system.
The Strait-line hitch got its name from its proactive design, which forces the trailer to follow the tow vehicle in a straight path. The dual sway control platform and high-performance system controls sway. The twin cam mechanism works harder to stop wobble as the force increases.
| Features we like the most | Features could be better |
| --- | --- |
| Installation and adjustment are simple | Hitch Ball & Adjustable shank are not included |
| Dual-Cam high-performance system | |
| Reasonable price range | |
Customer opinions
It's fantastic with this baby; no swing, no white-knuckling!
It is important that the chains distribute the appropriate amount of weight. You won't be able to use the cam-lock sway units if you don't have enough. Obviously, too much weight will lighten the back of your tow vehicle, putting you at risk of losing control.
It's also fantastic that you can maintain everything connected when you need to back up & cut hard angles because of the design. This is hands down the best setup to buy at a reasonable price.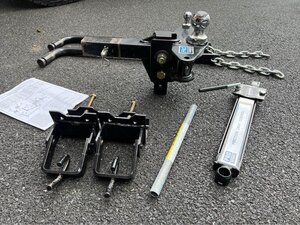 Reese Weight Distribution Hitch FAQs
How big of a ball shank will this take?
Upto 1-1/4 or 1″.
I'm towing a 1960 Airstream with hydraulic brakes with a 2016 Ram Rebel. Is this hitch compatible with my trailer?
Yes, it is. But if surge brakes are used, extra hardware may be required. In that case, it's best to contact them for assistance.
You can also read Reese Strait-line's full Hitch Review
Comparison table of the above 9 Weight Distribution Hitches
To make your buying decision a bit easier, we've compared the above hitches. This comparison is based on our real product testing, customers' opinions and different forum research on the internet.
| Brand | Gross Trailer Weight GTWR | Tongue Weight TW | Item weight | Warranty |
| --- | --- | --- | --- | --- |
| EAZ LIFT 48058 | 10,000 lbs | 1000 lbs | 30 pounds | 5 years Manufacturer warranty |
| ANDERSEN 3350 | 14.000 lbs | 1400 lbs | 52.5 pounds | Lifetime Warranty (limited) |
| Camco Eaz-Lift ReCurve R6 | 10,000 lbs | 1000 lbs | 102.8 pounds | None |
| Equal-i-zer 4-point | 10,000 lbs | 1000 lbs | 1.6 ounces | Lifetime warranty |
| Fastway e2 2-Point | 10,000 lbs | 1000 lbs | 103 Pounds | 10 years limited warranty |
| Blue Ox BXW1500-S | 15,000 lbs | 1500 lbs | 1 Pound | Lifetime warranty |
| Husky 32218 Center Line TS | 12,000 lbs | 800 to 1200 lbs | 1 Pound | 90 day warranty on commercial use |
| CURT 17501 TruTrack 4P | 10,000 to 15,000 lbs | 1,000 to 1,500 lbs | 120 Pounds | Limited lifetime warranty |
| Reese Strait-Line (66074) | 12,000 lbs | 600 to 1, 200 lbs | 1 Pound | None |
Types of Weight Distribution Hitch and Which One Do You Need?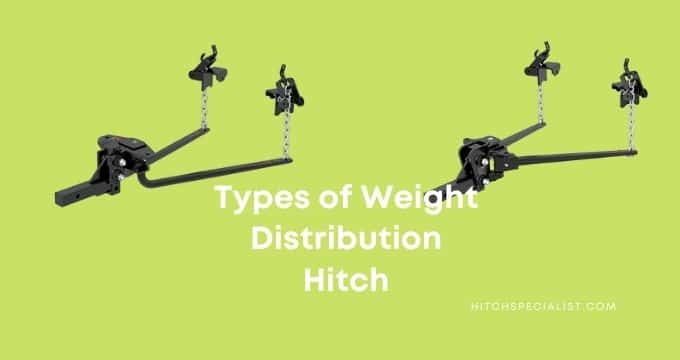 There are two primary types of weight distribution hitches: round bar and trunnion bar, both the hitch of which are determined by the type of spring bar used.
Round Bar
Because of the shape of its spring bars, the round bar weight distribution hitch is called such.
The round spring bars extend from the bottom of the hitch head and angle back to attach to the trailer frame.
Round bar hitches have significantly less ground clearance than trunnion bars because the bars extend out from the bottom of the head.
Trunnion Bar
Trunnion bar WD hitches have square-shaped spring bars. They connect to the hitch head's face, pointing outward and parallel to the trailer frame.
When opposed to round bars, trunnion bar WD hitches offer a slightly higher weight capacity and provide a little amount of extra ground clearance.
Which one do you need?
In terms of performance, there isn't much of a difference between the two; the most noticeable distinctions are the forms and the way the spring bars connect to the hitch head.
So, whether you pick a round bar or a trunnion bar comes down to personal preference – but either option will provide you with more comfort and stability while towing.
When buying, we'd pay more attention to the maximum trailer tongue weight rating and GTWR than the style of hitch. You should be fine as long as your weight-distributing hitch has the appropriate weight rating for the trailer you're pulling and matches your receiver properly.
Your body weight must be evenly distributed. If your trailer weighs 7000 lbs and has a TW of 750 lbs, you will require a hitch kit rated for 8000 lbs total trailer weight & 800 lbs tongue weight.
How to Choose the Best Weight Distribution Hitch? (Buying Guide)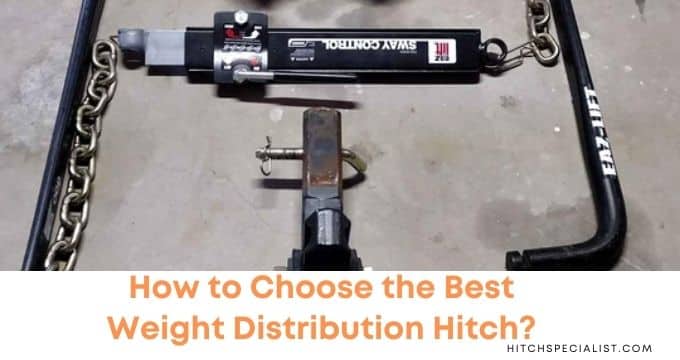 For the best ride, you'll need a weight distribution hitch designed for your trailer's tongue weight. If you choose a WDH that is too light for your application, the hitch won't be effective. If you go too heavy, however, you'll suffer a rigid ride and a bouncy trailer.
So how do you find that Goldilocks weight distribution hitch that's just right? Let's find out in 2 steps.
Step 1. Determine Your Total Tongue Weight
To begin, determine the tongue weight of your loaded trailer (TW). With your loaded trailer and the weight of any gear behind the rear axle of your tow vehicle, your tongue weight is the downward force you're exerting on the ball of the weight distribution system.
This is the loaded, ready-to-tow weight once you've packed in all the items you wish to transport, not the unloaded) weight is given on your trailer spec sheet. Add in the weight of any stuff you've loaded behind your back axle (gear, coolers, bags, etc.). This is the overall tongue weight you'll be working with.
Let's say the tongue weight of our trailer is 700 pounds, and the stuff behind the rear axle is 200 pounds. The entire weight of our tongue is 900 pounds. If your entire tongue weight is around 900 pounds, a weight distribution hitch with a tongue weight rating of 800 to 1,200 pounds is recommended.
Pro tip: It's optimal if your total tongue weight (the total of your trailer tongue weight and the weight of your cargo) is in the middle of your WDH range. If your tongue weight fluctuates between journeys, this provides you some flexibility.
For detailed guidelines read this article.
Read:
Step 2. Choose a Hitch with the Right Weight Capacity
We've broken out our weight distribution hitches by tongue weight here for your convenience. Once you have your tongue weight figure, simply select your TW from the list and choose a system.
You can also watch the best weight distribution hitch video review and guideline below:
Weight Distribution Hitches by Tongue Weight
| TW 100 to 1,000 lbs | TW 1,100 to 2,000 lbs | TW 2,100+lbs |
| --- | --- | --- |
| 100lbs | 1,100lbs | 2,100lbs |
| 200lbs | 1,200lbs | 2,200lbs |
| 300lbs | 1,300lbs | 2,300lbs |
| 400lbs | 1,400lbs | 2,400lbs |
| 500lbs | 1,500lbs | |
| 600lbs | 1,600lbs | |
| 700lbs | 1,700lbs | |
| 800lbs | 1,800lbs | |
| 900lbs | 1,900lbs | |
| 1000lbs | 2,000lbs | |
Why Do You Need a Weight Distribution Hitch? (The importance)
First and foremost, let's be realistic, the optimum tow ball weight will not be increased by employing a WDH.
You must keep the weight of your tow ball at or below the specified minimum. On your tow ball, the weight of your trailer should be around 10% of its overall weight.
Your towing vehicle would have its own number of restrictions that must be adhered to. A concern with incorrect ball weight is that it limits your tow vehicle's ability to navigate and brake.
To fix your ball weight, use a Weight Distribution Hitch or a Ball Weight Scale to redistribute your load.
All of these components are intended to keep the camper & tow vehicle at the same height. This is significant because if the weight is really not distributed evenly, the tow vehicle's front axle and the back end of the van both will rise. This is a big issue because it lowers your steering's effectiveness.
While it may appear that the caravan/ trailer is level, it is the tow vehicle's weight level that is more important. This will cause severe trailer sway, poor handling, plus braking difficulty, as well as abnormal tire pressures.
Even if you have a big pickup truck like a Dodge Ram 2500 or a Chevrolet Silverado 3500 with all of your belongings in the cargo area, it will still be significantly lighter than a fully loaded caravan. As a result, the pickup truck's front axle would rise, while the back end would sag.
The camper may not be as sturdy as it appears, especially around curves. Thus, a weight stabilizer hitch is required to equally distribute the additional weight from the caravan's tongue to the truck's front axle, thereby leveling the tow vehicles and balancing the load.
Does Weight Distribution Hitch Safe? (Safety tips during towing)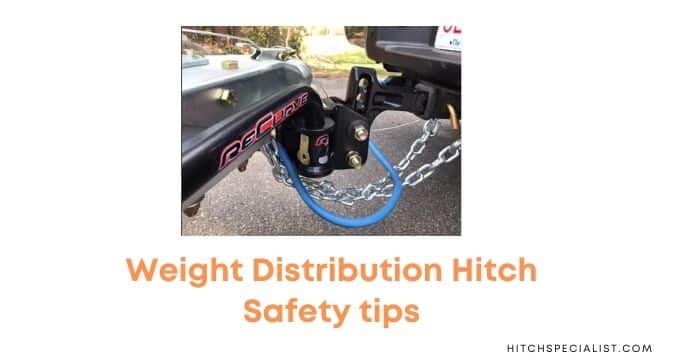 Weight distribution hitch with trailer sway controls is ideal because it avoids bumps and dips, reducing lane wandering and crashes with oncoming traffic.
When the caravan's weight capacity surpasses 5,000 pounds, it's usual for caravan and light truck manufacturers to propose using a trailer weight distribution & carrying hitch. Otherwise, your warranty & insurance may be impacted.
Additionally, depending on federal or municipal legislation, the use of an anti-sway weight distribution hitch may be required.
For instance, Section 15-111(d) of the Illinois Vehicle Code stipulates that the gross trailer weight applied to the road surface by a tow vehicle's axle should not exceed 16,000 lbs.
Besides, you might be interested in the smooth, soft, and silent ride, which is just as nice and comfortable as the safe and risk-free travel.
To that end, here are some general guidelines for using a weight-distributing hitch that apply to all hitches and will help you get the most out of your trip.
Make absolutely sure the hitch is properly installed.
Ensure the spacer washers in the cavity in front of the hitch ball are tight on your angle set bolt.
See if your sway brackets on every side of the trailer frame are fastened and spaced evenly between the center of the trailer coupler and the center of the L bracket, which should be 27-32″ apart.
Check the hitch ball & hitch head for lubrication. As needed, wipe and re-lubricate.
Check the socket pins and clips that hold the arms in the spring arm sockets for tightness.
Tighten the socket bolt nuts to a torque of 65 ft-lbs.
Assure the L-pins are in position and secured once the arms are connected onto the L-brackets.
After your first 50-100 miles of towing
Now that your hitch has hauled your weighted trailer, there are a few things to verify to ensure you have the greatest sway control or weight distribution for your system.
Take the actions outlined below:
1. Examine weight distribution after the tow vehicle & your trailer have been loaded, as well as any time the tow vehicle or trailer loading changes significantly. Make a note of the three front wheel measurements and compare them:
The first is uncoupled (the baseline), the second is coupled but with no weight distribution, and the third is coupled but with weight distribution. For example, the first should be 30″, the second 32″, and the third must be between 30″ & 31″.
The 3rd measurement should be between the original baseline measurement and a location midway between the baseline and the 2nd measurement for models with a resolution of 4K to 14K.
The third measurement for 16K models should be as near to the half-way mark as practicable. 1st = 30″, 2nd = 32″, 3rd as near to 31″ as possible, for example. To make any necessary changes, consult the owner's manual's section on Weight Distribution Adjustments.
2. Lubricate the hitch ball and the head. Lubricating the hitch preserves it and reduces noise. Insert the spring arms into the hitch head and push them out parallel to the tow vehicle's bumper to expose the tops of the sockets. Wipe clean the hitch head's friction surfaces with a towel.
Apply a thin layer of high-quality bearing grease to the friction surfaces, such as Equal I Zer high-performance lubricant. Apply on the underside of the top plate, top and bottom surfaces of the sockets, and top of the bottom plate.
Note: Details can be found in the owner's manual under Regular Maintenance.
3. Double-check the angle set bolt and tighten it. After the first 150 miles of towing, the angle set bolt on a new hitch may need to be re-tightened. Before each travel, double-check that each bolt is securely fastened.
You can use a torque wrench to check the bolts on a regular basis to ensure that they are still within acceptable ranges.
What Are The Important Parts of a Weight Distribution Hitch?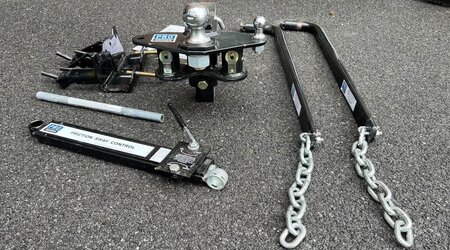 You may be wondering what makes up a weight distribution hitch now that you understand what it is and how it works. After all, with everything it can do, it has to be a kind of brilliant engineering, right?
A shank, head, spring bars, and connecting brackets make up a WD hitch:
Shank: Shank gives an adjustable mount that may be moved up and down to fit your tow vehicle's height.
Head: The shank and spring bars are connected by the head.
Spring bars: By equally distributing weight, spring bars assist level the trailer and tow vehicle.
Hookup brackets: Hookup brackets allow the spring bars to be securely mounted on the trailer frame.
How to Measure The Weight Rating Based on Needs?
A weight distribution hitch is worth a lot in terms of your and your family's safety. When it comes to weight distributing hitches, there are 2 different weight classifications to consider: tongue weight & gross trailer weight.
When a trailer is hitched up, its tongue weight determines how much downward stress it exerts on your trailer hitch receiver. Whereas, the gross trailer weight rating (GTWR) is the trailer's total weight.
Having too much tongue weight is obviously bad, but having too little tongue weight can also cause trailer sway problems. Ideally, your tongue weight should be 10 to 15 percent of your GTWR, so your trailer sits evenly with your tow vehicle.
For example, if your trailer weighs 10,000 pounds, you'll want to have a tongue weight rating of around 1,000 pounds. Getting tongue weight at the 10% mark or a little more is the single biggest thing you can do to prevent trailer sway, hop, and fishtailing.
Having the proper weight rated hitch is the most important aspect of shopping for a weight distributing hitch. Even the best weight distribution hitch is not a substitute for an adequately sized tow vehicle but will make towing safer in all conditions.
Problems With Towing A Trailer Without A Weight Distribution Hitch
Without a load distribution hitch, you will risk-
The appropriate towing safety.
Improving traction.
Braking.
Steering control and handling on the whole.
Weight Distribution Hitch FAQs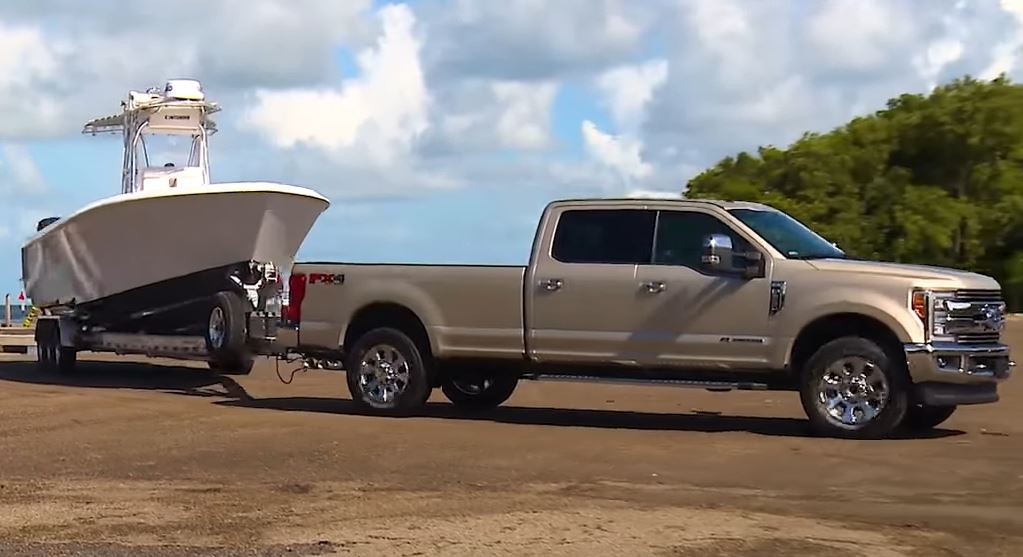 Do weight distribution hitches stop sway?
They do, in fact.
Additional sway control measures are available with weight distribution hitches. The up-and-down motion of a trailer is reduced through better weight distribution, while the side-to-side motion is addressed with sway control.
What is the easiest weight distribution hitch to use?
One of the market's most popular and user-friendly WDHs is EAZ LIFT 48058. For easier uses, you can also choose Fastway e2 2-Point.
Can you back up with a husky weight distribution hitch?
If you have the Husky Center Line Weight Distribution # HT32218 installed, you can backup. If the tongue weight range of this model is 800 to 1,200 pounds and fits your requirements, this could work for you.
Does a 1 ton truck need a weight distribution hitch?
Yes, it does. In fact, every vehicle manufacturer mandates a weight-distributing hitch while using a bumper trailer hitch ball, regardless of whether the tow vehicles are midsize, 1/2-ton, or heavy-duty.
Is a weight distribution hitch the same as a sway bar?
No, they are not.
A weight distribution hitch distributes weight towards the front axles of your trailer's towing vehicle.
And the weight-distribution hitch carries the majority of the load.
On the other hand, a sway bar provides resistance as the tow vehicle sways and distributes it equally to the car's wheel suspension action components.
A proper weight distribution hitch & a sway bar serve the same purpose: to provide a safe, smooth, and controlled ride overall.
Should you remove weight distribution bars before backing up?
While it is not required with some weight distribution issues, it certainly can be beneficial in some cases.
Can you backup a trailer with a weight distribution hitch?
Reversing is prohibited in some weight distribution systems because it may cause damage to the system.
Suppose you're backing up in a straight path, which is perfectly OK. To turn while backing up, however, you must first release the spring bars and/or the friction sway control unit, then manage the trailer.
Does a weight distribution hitch affect the turning radius?
In most circumstances, when employing a weight distribution system, you will have virtually the same turning ability as if you were not using one.
When backing up in tight spaces, however, all weight distribution systems will restrict your turning radius.
Should you grease weight distribution bars?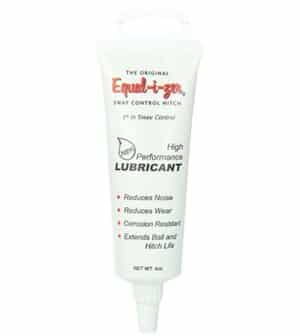 The ball mount sockets, hitch ball, and spring bar trunnions all need to be lubricated. The trunnions should be lubricated on a daily basis as well as while they are in use.
The upper and lower trunnion pivot pins and the contact surfaces in the ball mount sockets must also be lubricated.
Can a weight distribution hitch be too big?
Since you should never exceed the capacity of your lowest-rated towing component, what's the point of having a bigger one! Right size the hitch. Too big is not good, nor is it better. Too strong of spring bars can damage the tongue of the trailer.
Can you back up with an e2 hitch?
The 2-Point Sway Control design of e2 system allows you to back up without having to detach the sway bars.
Does hitch height affect tongue weight?
In a nutshell, yes, the hitch height will affect tongue weight.
Is it better to have the trailer tongue higher or lower?
Actually, neither higher nor lower is the case. The level is optimal. If a trailer's nose is pushed up too far, the tongue weight is insufficient to keep the trailer from swaying.
Can you use a weight distribution hitch without the bars?
Yes.
If you do not need weight distribution bars to transport the trailer, you can tow the trailer with just the WD hitch head and ball.
It will function similarly to a ball mount.
Does a 3000 pound trailer need a weight distribution hitch?
A weight distributing hitch is required if your trailer weighs more than 5,000 pounds.
Because your trailer is loaded at 3000 pounds, you may not require weight distribution or trailer sway control until you see sway or rear vehicle sag.
It's wise to attach a weight distribution system to your setup if you notice sway or rear vehicle drooping.
Final Verdict
Now, you've read through the ultimate weight distribution hitch reviews to understand how weight distribution hitch works and know everything about our 9 best weight distribution hitches tested by our experts. If you still have any confusion, since all of them serve pretty much the same, leave your comment and we'll get back to you.