To carry a travel trailer, maintaining tongue weight is very important. A bad calculation might create significant problems for your vehicle while traveling, and disbalance, lousy swing, lengthy turns may create an accident. So, it's essential to adjust your tongue weight properly for your and others' safety.
Can tongue weight be adjusted?
Yes, you can adjust the tongue weight by calculating the measurements correctly. The proper tongue weight for traditional trailers with hitch balls is around 10% to 15% of the total loaded trailer weight.
For example, if a 2,000-pound conventional trailer is loaded with 1,000 pounds of cargo, the loaded trailer's tongue weight should be between 300 and 450 pounds or 10-15 percent of the total 3,000 pounds.
In this case, if the tongue weight is more than 450 pounds, then you have to reduce the weight and adjust it. You can increase your vehicle's payload by maintaining its capacity given by the manufacturer. The proper tongue weight for gooseneck and fifth-wheel trailers, built to carry heavier loads, is between 15 and 30% of the loaded trailer weight.
Read: 5 Best Fifth Wheel Hitch Reviews
Ideal tongue weight for travel
The ideal tongue weight for travel variations is between nine and fifteen percent of the overall net weight in the pound. If it is more than that, try to minimize it. Also, reducing overall weight capacity is as simple as experimenting with overall weight redistribution or cargo adjustments.
How to reduce tongue weight on a trailer?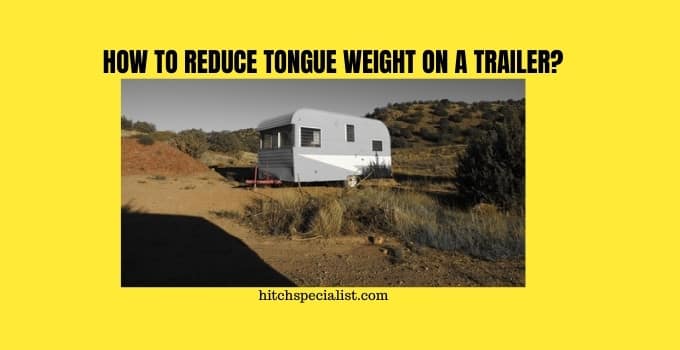 Here are the steps which will explain how to reduce the tongue weight of a trailer:
Weight separations
Always try to put 60% of the whole trailer weight in the trailer's front half. Simply means, you must bring the load to the front portion of the trailer while keeping it evenly centered. And this should account for around 60% of the total weight of your trailer weight is 2000 pounds, then 1200 pounds in your front half of the trailer.
Lowering the height of the hitch ball
If you decide to lower the height of your hitch ball so that the tow vehicle can tow as level as possible, you will save weight. When you want to reduce tongue weight. If you're in a position where you have to choose between a slightly lower or higher level, go with the first option. When the trailer's ball is held above the trailer, this will help you the most.
Purchase a strong weight distribution hitch
The manufacturer most likely recommended a weight capacity rating. And you should never violate those ratings when it comes to your trailer hitch's towing capacity. Purchase a strong weight distribution hitch.
Read: Andersen high capacity Weight Distribution Hitch
You won't be limited in any way, and you'll be able to use your towing vehicle to its highest capacity. However, some people are unaware of this. That's why, even if their trailer can hold greater weight, they have to limit the total weight due to the standard hitch's limited capacity.
Therefore, purchasing a stronger or higher-rated trailer hitch that allows your vehicle total weight-bearing capacity is vital and is frequently the better option than lowering weight.
Shifting your weight in an ideal location
With a travel trailer tongue, moving the load is beneficial in more minor and weight cases. That's all there is to it when shifting the weight. It may take more than a few tries to get everything in the ideal location so that you can properly manage your weight.
Maintain the payload
In most cases, you'll need to stick to a simple general rule. And it's to get the payload onto the front or back of the trailer. When it comes to raising the weight, all you have to do is move the payload to the front.
Sway control is a feature of several travel trailer hitch accessories. Including these could be a massive help in addressing such problems. You don't even have to transfer your cargo with such a method. That's not always the case.
What happens if the trailer tongue weight is too heavy?
If there isn't enough weight on the tongue of the travel trailer, it may swing from side to side, making it difficult to manage. Similarly, if you put too much weight on the hitch ball, the force will overload the tow vehicle's back tires, causing the car to spin around.
Too much tongue weight can stress the towing vehicle's rear tires, causing the vehicle's rear end to spin. When this happens, the vehicle becomes hard to manage, turns or curves may become more challenging to navigate, and braking may become less responsive.
Does tongue weight count as trailer weight?
The total weight capacity of your travel trailer is referred to as payload capacity. By reducing the trailer weight from the GVWR, you can compute the maximum payload capacity. The amount of your trailer's weight transferred to your tow vehicle via the tongue or gooseneck is known as tongue weight. Tongue weight is against gross vehicle weight rating (GVWR), where the trailer weight is added into GVWR.
FAQs
Can tongue weight be adjusted?
You can change the tongue weight by shifting weight to the back of the trailer for less tongue weight or forward for more tongue weight. On the other hand, the tongue weight should be 10 to 15% of the gross trailer weight. There are also distinct principles to follow while using a weight distribution system.
Does a more extended trailer tongue reduce tongue weight?
Yes, increasing the length of your trailer tongue will not decrease the tongue weight capacity of your hitch. As you said, the hitch now has more leverage on the tongue weight, so the opposite is virtually true.
Conclusion
Maintaining tongue weight is crucial for a safe ride which will prevent a disbalance and uncomfortable ride. If the tongue weight is too heavy or less, try to fix it with the correct calculation. Once your setup is good, you're suitable for everything. Happy ride!
Also read: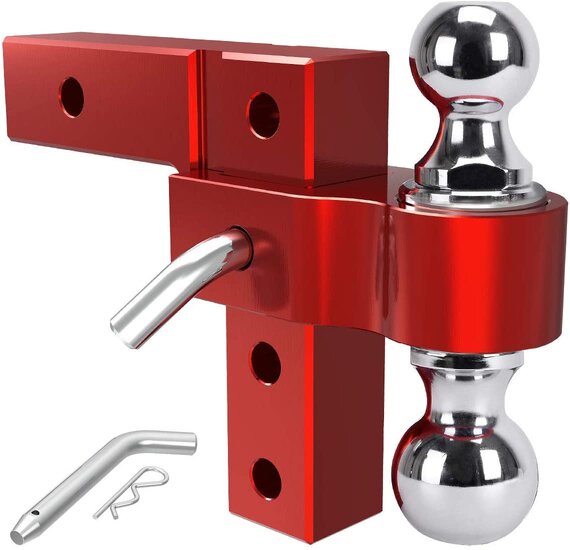 We are a team of 8 Hitch specialists based in Poland. Every day we fix different hitches for our clients. So we thought why not create an informational blog for the hitch users from all over the world.
So besides running our Hitch store here in Poland, we also write the hitch accessories tips and guidelines on this website. Read more about our Hitch store and services here.