Hitches are some vehicle tools you think you won't need until you get one. Yet, newbies often get puzzled about choosing the right one for their vehicle. If you clicked this article, we're pretty sure you already know bits about the great hitch brands Anderson and Equal-I-Zer. Both of these brands are known for their supreme quality and convenient hitches.
But both have different efficiencies and technologies that have created quite a difference. While Andersen's anti sway motion-dampening technology provides a noise-free safe ride, Equal-i-zer integrated 4-Point Sway Control provides a convenient swift travel experience.
We've tested the weight distributing hitches and analyzed them based on the different factors below. Read the full article to find the best one for you.
Andersen vs Equal-i-zer Hitch: Comparison Chart
Before explaining all the features, let's see the key differences first.
Andersen Weight Distribution Hitch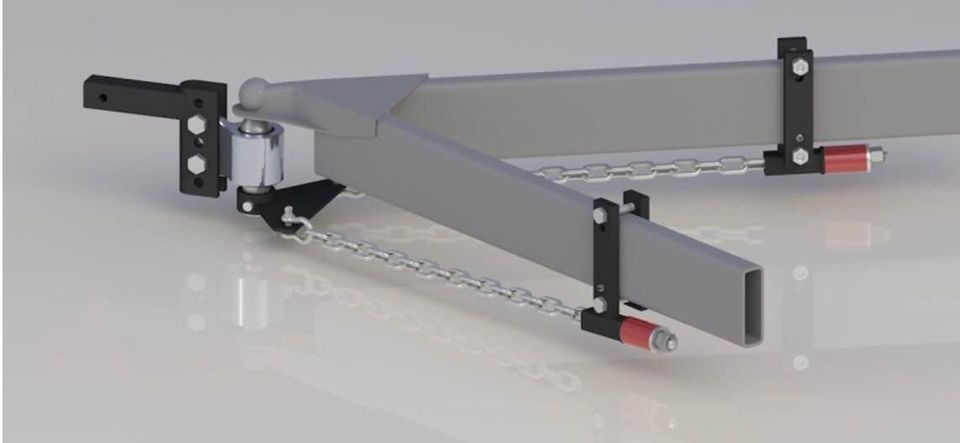 ---
Technology: Anti-sway Motion Dampening™, No Sway Anti Bounce ™
Product integration: Multiple
Material: Steel/Aluminum/Stainless Steel
Gross trailer tongue weight: 1,400 to 1,600lbs
Maximum towing capacity: 10,000lbs/16,000lbs
L-Bracket: No
Equal-I-Zer Weight Distribution Hitch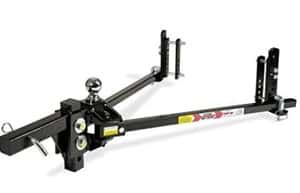 ---
Technology: Integrated 4-Point Sway Control™
Product integration: One
Material: Steel
Gross trailer tongue weight: 600lbs to custom
Maximum towing capacity: 10,000lbs/16,000lbs
L-Bracket: Yes
Also read: Blue ox sway pro vs Equal-I-zer hitch
Now let's talk about the differences briefly.
Product Variation
Anderson hitches manufacturers different types of trailer settings, including ball mount adjustments, rapid truck hitch setup, alumistinger, EZ hitch & ball combinations.
Equal-i-zer provides only one hitch to offer: their 4 point sway control hitch. Our experts have used Equal-i-zer as Bumper & rear hitch apart from weight distribution, so it is universal to an extent. The manufacturers claim it is versatile and custom from vehicle and ball set.
However, there's more to Anderson, you can adjust extra hitches like their wheel hitches, rapid truck adapters to the wd hitch.
Sway Control Technology
Equal-i-zer has innovated a hitch head including a rotation friction point that immediately activates whenever it feels the presence of any turbulence. The 4 point sway technology enables this rotating friction to stop any sway or pull from side to side. Moreover, the hitch head puts tension on the spring bars, installed sway bars, and rear axle socket.
This results in holding the trailer amidst heavy winds and rough roads. This technology works fine from our towing experience, even if you don't place it on the head area. Finally, the four pulls the friction successfully, combats any sway, and holds up the tow vehicle.
Anderson hitch technology does differ from the Equal-i-zer. However, most hitches of Anderson follow one simple mechanism. Its motion dampening technology has an anti sway technology built inside.
We detected the hitch ball attached to the lower portion of the Andersen wing chain and plate for friction sway control.
So when our trailer took a turn, the attached ball twirls along while sitting close to a brake pad and stopping risky weight transfer. So the more amount of weight, the more sway and bounce control. The same goes for when it has extra shank adjusted. We only had to attach the shank with the triangle plate. It provided excellent sway control pull and weight distribution and resisted the most substantial turbulence.
Read: Comparison between Weight Distribution Hitch and Sway control
Towing Capacity
Andersen, Equal-i-zer, and eaz lift offer a similar towing capacity range for trucks or trailers. We prefer a hitch that's maximum towing capacity is twice the actual towing size.
Back to the point, equal-i-zer comes with hitch ball included and not included versions. Without a hitch ball, it provides three options, 4,000/6,000/10,000 lbs towing capacity for any type of hitch. Also, the range starts from 10,000/12,000/16,000 lbs maximum towing capacity with a hitch ball. It has a 600 lbs (can be customized) tongue weight.
However, an important thing to note is that the towing capacity of the Andersen hitch might change if you change shank and ball combination settings up to 1,000 lbs more or less.
When Andersen's weight distribution hitch combines with the 5th wheel shank, maximum towing capacity starts from 20,000lbs. Max capacity is always measured with enough weight, so all of these measurements are afterload. Rapid hitch shank provides maximum towing capacity starts with 2 inches shank and varies with shank sizes. It has a gross trailer weight rating of extra 1,200lbs with your current Andersen weight distribution max capacity.
Installation
The comparison between Equalizer vs Andersen is quite the same until the installation and whole assembly point.
Andersen hitch system needs chain or spring arms for manually installing them. We used a ball housing shack to set up the triangle rack. In case of changing weights in the middle of the road or the return trip. We found the ball mount setting is trickier than equal-i-zer. You have to keep in mind how many chains you've set up on the round bar from every ride to ride.
Even if the triangle plate is 1/4 inches thick, our experts are concerned about the rotation and weight distribution strength it can take. But truth to be told, despite all our concerns, it never failed us for sway control and safety.
On the other hand, equal-i-zer shank is easy to adjust. We recommend that the ball level is always aligned with the trailer level coupler. Also, the included spring bars need readjustment with the trailer frame's L-bracket. Make sure to avoid any propane tanks to avoid trailer sway.
You don't need to count chains or change or rotate at the same angle in the middle of a trip. Only checking the alignment between the coupler and ball mount will do. But it's highly recommended to keep a toolkit including a tongue jack no matter what hitch you are using.
Read: How to Setup a Weight Distribution Hitch? (Step by Step)
Durability
It is tough to compare these two as they have excellent durability. Andersen is made from high-quality steel, stainless steel, and high-quality aluminum. Both the brake material and also friction material is made from American steel.
Equal-i-zer is made from American steel and is also light weight. Both of the brands provide a limited lifetime warranty and an average one-year warranty with proper care, these last to a rock solid time. These both have excellent customer service. Price-wise, the equalizer is slightly more expensive than Andersen hitches.
Andersen vs Equal-i-zer Frequently Asked Questions
Are Andersen weight distribution hitches any good?
Absolutely. Andersen is one of the popular hitch brands in the states. Starting from ball mounts to wd hitch, it provides an excellent variety of trailer balls & hitch ranges. It provides and makes the best products and has excellent quality customer service.
Yes, an equalizer hitch is a weight-distribution hitch. Unlike other hitches, it is universal and can be adjusted with different trucks, including short bed trucks. It does the same thing as most weight distributors and even better. The bottom line is, yes it is.
Can you back up with an Equal-i-zer weight distribution hitch?
Equalizer has an adjustable design for backup and provides turning points to hook up. But your trailer should have less weight than equalizer max towing capacity.
Andersen or Equal-i-zer Hitch: Which one to choose?
This is one of the most challenging comparisons we have done. Because both of these are excellent hitches, they provide great sway control and a smooth experience. However, Equal-i-zer single-handedly adjusts with different types of trucks and ball settings and still offers excellent performance.
On the other hand, Andersen needs specific adjustments specifically for the trailer or truck you are driving. One of the things we dislike is the lengthy installation procedure. However, as it's custom-made for your vehicle, Andersen still manages to provide an anti-bounce ride just like an Equal-i-zer.
If you want a universal hitch that you want to use on every trailer or truck, then go for an Equal-i-zer. But for big bed trucks and heavy trailers, we would recommend Andersen hitches.
Also read: