A trailer coupler is a mechanism that connects a tow vehicle's hitch to a trailer. They come in a variety of sizes and styles, but the tongue on your trailer must match the trailer coupler. They all work by clamping around the hitch ball on the trailer.
You must first calculate the towing capacity and maximum tongue weight of your car and calculate the weight of your trailer properly before buying a coupler. When traveling with your trailer, a coupler is an essential component.
A trailer hitch coupler's purpose is to secure the trailer to the ball mount. But often people face some problems which are common to all and get confused about what to do.
So today we are here to talk about what are some common hitch coupler problems and how to solve them. Try to read the article properly to understand everything.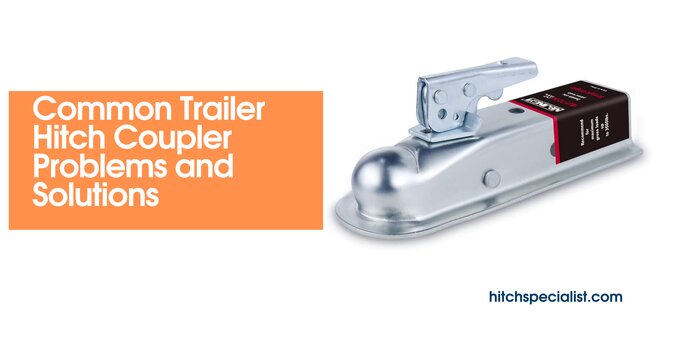 Also read:
Trailer Hitch Coupler Issues and Solutions
It's very common to face problems in your hitch coupler, especially in the early days of your hitching life. Nothing to worry about, it's good to take the help of an expert or we are here to help you. Here, below, we are going to talk about what common problems you may face with your trailer coupler, and our suggestions are also given. Read it carefully.
One of the major problems people face with their coupler is rust. which we all faced at least once in our life. The interaction of iron and oxygen in the presence of water or air moisture produces rust. If you don't safeguard your hitch, ball mount, hitch ball, or accessory, it will pit and corrode with time, making towing a trailer dangerous.
These products are more prone to rust and corrosion when they are used near water. These suggestions can help you extend the life of your towing equipment and prevent rust and corrosion.
Here are some tips by using which you can remove rust easily:
Steel, stainless
Stainless steel is a tough material that resists rust, corrosion, and discoloration. Stainless steel towing products are ideal for watercraft trailers or humid environments. Stainless steel is used in many of our tow bars, exhaust systems, hitch receiver locks, coupler locks, and tube steps.
Also Read: How to Unlock the Trailer Hitch Lock?
Aluminum
Aluminum is a lightweight metal that resists corrosion naturally. A rust-resistant platform for the hitch ball is provided by an aluminum ball mount that slides into the hitch receiver.
Steel that is zinc-plated or galvanized
Zinc plating, often known as galvanizing, is a procedure that protects a product from the environment. Zinc is dipped into steel or iron to create a physical barrier against corrosion. Hitch balls with zinc plating are available. Many towing items, such as hand winches, jacks, and couplers, are manufactured with corrosion-resistant materials.
Ball lubricant
Little thing but effective, try to use a good lubricant to remove rust. Rust and oxidation are prevented, friction is reduced, and moisture is repelled. Every time you tow, liberally apply. It'll make your coupler more durable.
Have a ball cover
It protects your hitch ball from the weather with a ball cover. When the hitch ball is not towing or in storage, it prevents the grease from rubbing off.
2) Coupler size problem
Another most common concern with trailer hook-up is mismatching coupler to hitch ball size, but it remains a big problem at rental stores. People are either too busy or pay insufficient attention to detail, causing them to miss the improper ball size while connecting up to the towing vehicle.
To solve this problem, try to follow these tips,
Color code
Every time, color code for safe hitching. The hitch operation will be simplified by using color codes. Employees, supervisors, and store owners can easily notice a mismatched ball/coupler, even from a long distance, thanks to this technique.
Rental stores should put their color code
With every color-coded towable you rent, include the rental store's own color-coded Class 4 drawbar and correct ball. It helps a lot. Also, all towable used for rental purposes should be converted from safety chains to coiled steel safety cables. The coiled wires not only look great, but they also last considerably longer because they don't drag.
3) Unfit coupler
Another common problem is when the coupler is not properly installed. The ball hitch and trailer coupler should be snug enough to prevent a dangerous decoupling while driving, but not so tight that the trailer struggles to turn. In only a few minutes, you can attain the perfect fit.
To prevent this problem, try to follow these easy steps:
Uncouple the trailer and replace the coupler with a spare ball (a). Close the latch lever on the coupler. Remove the ball and tighten the spring-loaded nut (b) on the underside of the coupler if the fit is too loose.
Replace the ball and double-check the fit. Repeat Step 1 until the ball fits snugly but not so tightly that you can't move it by hand with reasonable effort. Replace the trailer's hitch.
Conclusion
Well, we hope now you are clear about all these problems. If face some of these nothing be worried about it's normal. We all face similar problems in our travel days with a trailer. If you face this kind of problem, then simply try to follow these steps which are very basic and easy to maintain. We hope your problem will be solved.
And yes, one thing is it's better to be advanced every time. If you already have enough knowledge about the problem before it occurs then very simply these problems are not going to take place as prevention is better than cure. Let us know your thoughts. That was all for now. Have a safe journey!
Other trailer hitch related guides you may want to read: