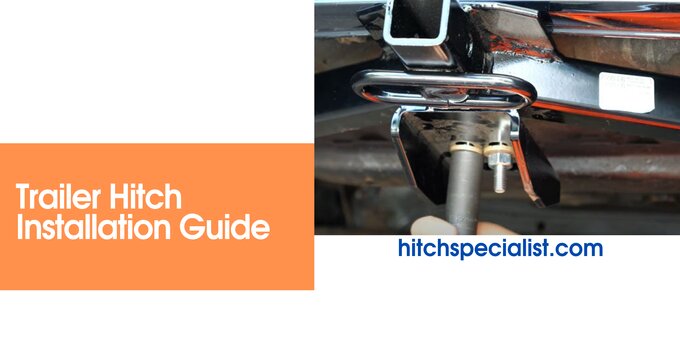 Contrary to popular belief, installing a trailer hitch isn't that difficult. All you need is proper guidelines for hitch installation, and some basic tools are required for you to complete this process.
Try to remember some tips we provided below, which will help complete the task more smoothly without any hassle. We are going to explain to you the exact steps you'll need to take to get a trailer hitch installed on either a vehicle or a truck.
You can hire an expert to do it for you, which is good, but you'll need to pay the installation fee and installation is not that tough. We'll make it easy for you. Go through the whole article, and find the exact answers to the questions you want to know.
Can you install a trailer hitch by yourself and how hard it is?
Yes, you can install it by yourself. Hitch installation is pretty popular these days (and relatively easy). On some cars and with certain hitch types, it can get tricky, but most easy installs just require basic equipment. Once you have the proper knowledge and guidelines, you can hitch your trailer without calling an expert for this job.
How long does it take to install a Trailer hitch?
Installing a trailer hitch depends on your knowledge and your experience. It takes 20-30 min or more, which depends on you. If you are good enough and have done this task several times, then it's going to take less time for you.
My personal experience for first-time hitching took 50mins which was too long, and I didn't have any proper guidelines that much, so it was a mess as a first-timer. Also, I made some mistakes and learned from them. But we hope you won't face the same as now we will tell you the easy ways to install a trailer hitch. Keep reading.
Tools required to install the trailer hitch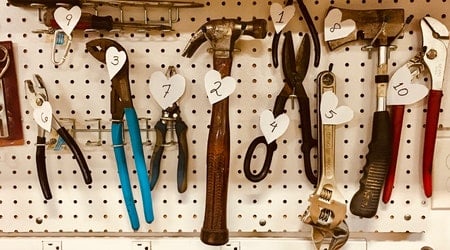 These are necessary tools that you will need to install the trailer properly to your vehicle. Try to keep them near you whenever you're traveling with your trailer.
Wrenches
Torque wrench with the relevant socket for the bolts
Wheel chocks
Vehicle jack
Electric drill
Wire brush
Step by step Trailer hitch installation Guidelines
Now the main part, here are the steps you need to follow for a proper installation. Please read it carefully to understand it properly:
Step 1: Selecting the Hitch
Selecting a good quality trailer hitch is super important. We like B&W adjustable trailer hitches the most. However, there are a lot of other options as well. So make sure you do your research and find one that will work well with your vehicle. Because every vehicle can only tow a certain amount of weight. You must ensure that the hitch you select can tow the required amount of weight. So, try to be clear about your vehicle's weight and how much it can tow easily.
Read:
Step 2: Make sure wheels are Chocked
The first thing you'll have to do is chock the wheels. While it's rare that your car would move while you install the trailer hitch, it's always best to be cautious and alert. Don't let it move frequently.
Step 3: Raise the vehicle's rear end
It is better to use a car jack to lift the vehicle, make sure it's attached to the appropriate spot on the vehicle, and lift the back. Not necessary it has to be much higher. If you're going to use a vehicle jack, making sure the wheels are choked is extremely crucial.
This is because there will be a higher chance that your vehicle will move. And yes, make sure you know how to use the jack properly. You should be able to learn everything you need to know about your jack by reading the handbook. If you use the jack incorrectly, it could be very dangerous.
Step 4: Getting the Vehicle's Rear Ready
You may inspect it somewhere under the back of the vehicle now that you have access. You'll want to make sure there are holes where the trailer hitch may be attached. If there are any holes, clean them out with a wire brush.
To make the process easier, use a small amount of lubricant. And make sure you're using genuine vehicle lubricant in this situation.
You'll need to reference your trailer hitch's instruction manual to figure out what you should do next. This includes determining the hole size and where the holes should be drilled. You must keep a close eye on it because it varies from vehicle to vehicle.
Read:
Step 5: Place the Hitch in Its Proper Placement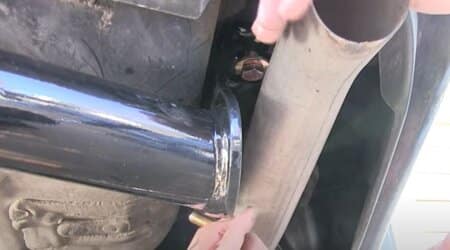 Now you must grab a coworker (friends, family members) and ask them to assist you in lifting the hitch into place as single working will be tough in this case. As previously said, this is not a job that you will be able to complete on your own. The hitch will be excessively cumbersome. Make sure everything is aligned with the holes.
Step 6: Carefully secure the Hitch into place
You must take the nuts that come with the hitch and secure them in place. You don't need to tight it that much. They only need to be able to secure the hitch in place while you finish the task.
Step 7: Tight the hitch
The person holding the hitch can relax their grasp after the nuts are in place, and the hitch is placed. Now you'll need to get your torque wrench and tighten the nuts to the manual's specifications. As we previously stated, this will vary from hitch to hitch.
Step: Completing the Task
All that's left to do now is remove the wheel chocks and, if applicable, the vehicle lift. The task has now been completed. Please check if the trailer lights are working properly or not.
Things to remember during installing the trailer hitch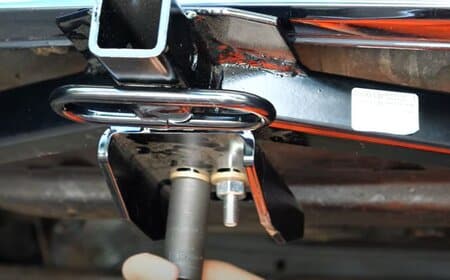 Before the installation process, always keep these certain important things in your mind, which help to do your work more smoothly.
It may vary from car to car
However, keep in mind that the procedure may differ from one car to the next as there are a lot of different brands of vehicles in the market. It could also be determined by the sort of hitch you use. So be careful about it at the beginning.
keep the manual with you
Every needed detail is provided accurately by the manufactory company in a manual book. You must keep the trailer hitch documentation before attempting to install it. As in this manual, there is a lot of information that we cannot assume by ourselves properly by watching the hitch. So, keeping the manual makes our work much easy.
Read the manual
This will contain a great deal of information regarding the installation procedure itself. You should pay great attention to the maximum torque specified in the manual, as a lot of information about your vehicle is mentioned accurately by the manufacturers.
Check the tools
Check the tools properly before installing the hitch to see if the tools are working properly. If not, keep a backup or manage that tool from someone else.
keep a partner
It's vital to remember that the installation will necessitate the participation of two people. You won't be able to hoist and bolt in a trailer hitch at the same time since it's just too heavy.
Hitch Installation FAQs
How much does it cost to install a hitch?
In general, trailer hitch installation fees vary greatly depending on the installer you select and the type of towing vehicle you intend to use. There are low-priced hitches on the market. For a standard hitch installation, anticipate paying $100 and $150.
Can you attach a trailer to a car without a hitch?
No, it's better to have a trailer hitch on your car. A trailer hitch can be installed on any vehicle. These installations are available from the tiniest electric vehicles to the largest trucks. A vehicle with an appropriate hitch is preferred for safety; however, a bumper-pull style trailer can sometimes be pulled a short distance without a hitch. Before proceeding, make sure that towing the trailer on public roads is legal.
You can also watch this trailer hitch installation video by Milanmastracci:
Conclusion
Roaming out with a trailer attached to your vehicle is common now. Often clients come to our hitch repair shop and ask us how to install the hitch. They think they need to call an expert who'll give you the service, but it's unnecessary. It's a very simple method now. All you just need to do is follow the guidelines we provided you. And one thing, try to take care of your hitch, which you will attach to your vehicle to last longer and give you a better service for a long time. Once you maintain all of these things, you're good to go!
Read more about trailer hitch: