Beautiful exploration spots often don't have any Kayaks and require you to carry your own. Since Kayaks are long and wide in the middle, it quickly makes one of the tricky items to tow on a vehicle. Hitch extenders do wonders when appropriately installed for the suitable pick up truck bed.
Besides, from Canoes to Kayaks, you can carry almost anything on your vehicle with the help of an extender. But there are different extenders, and other brands provide various models that get upgrades year to year.
We have tested many hitch extenders and picked the best truck bed hitch extender for kayaks. Read the full review below.
Can you put a kayak in the back of a truck?
You can just go through and adjust the kayaks or get a bed extension. As you know, truck bed extenders and racks are good ways to carry a kayak. But lets through some light in detail.
Truck bed
All you have to do is load the kayak on the back of your truck and secure it with cable load. However, a bed liner and mat can keep the kayak safe. But we find it unsafe for the following vehicle standing below as kayaks can accidentally drop out. This might not work well if you have a short bed and a lengthy kayak.
Truck bed extender
If you can not fit the kayak into your truck bed, you need an extender. Also, if the truck can't carry 75% weight of the kayak, you must get an extender. The truck bed extender is attached to the back of the hitch receiver. It adds two or more feet according to the model you are using. You don't need to drip or modify your truck to adjust to an extender; that's what we like most.
Also, it is an affordable solution for carrying heavy kayaks.
6 Best Truck Bed Hitch Extenders for Kayak (Tested)
Weight capacity: up to 375 lbs

Four different quick releases

Adjustable height and width

Weight capacity: up to 750 lbs

Adjustable height and width

Weight capacity: up to 750 lbs

Adjustable height and width

Reflective tape and flag included

Adjustable height and width

Maxium Loading Weight: 750 lbs

Fits with Trucks, Pickup Trucks, Marine-Personal-Craft
1) MaxxHaul 70231 Hitch Mount Truck Bed Extender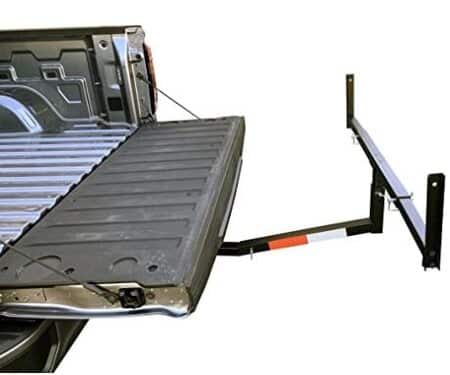 Maxxhaul had to be our first pick, and we, too, know that you saw it coming. MaxxHaul 70231 Hitch Mount Truck Bed Extender is great if you want to carry multiple heavy-duty kayaks.
Features:
Heavy-duty: MaxxHaul 70231 has a fold-down option along with its side arms that creates an extra area to position your kayaks. Our Chevrolet Colorado 2022 adjusted with its sturdy design and was very fast to assemble. It is made from steel.
Reflective control tape: Many people complain about not seeing proper fit while attaching an extender with their kayak. Maxhaul solved this problem by adding a red reflector or tape to specify. Clevis pins also allow easy access to the tape.
Specifications: It fits a 2-inch receiver and has four different quick releases. We measured and found it has 54 inches of length from the pinhole and adjustable width of 49 inches. You can adjust its height to a max of 9 inches. Most importantly, it has a weight capacity of up to 375 lbs.
| Things we like | Things could be better |
| --- | --- |
| Powder coat finish makes the extender sturdy | Weight capacity could be a bit more |
| Very easy to disassemble and assemble | |
| Can take up to one kayak | |
Why is it our first choice?
From the rest of the six hitch extenders, MaxxHaul 70231 has all-rounder features. We drove with one kayak using each of the extensions we reviewed here. It doesn't have a high weight capacity but provides a smoother ride than the other six. Moreover, it is easy to assemble, unlike Jeremywell. It provides clevis clips and comes with foldable space, which others don't have. Lastly, it wins our first position for regular outings and the price tag.
2) Mockins 2-in-1 Design Truck Bed Extender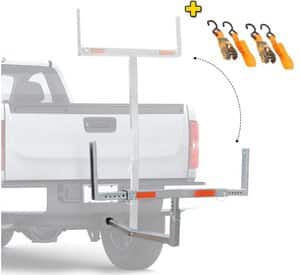 Mockings mimic a basketball hoop style and have solid construction. It has multiple reflective tapes that provide strong visibility at night.
Features:
Better for a long bed: Mockins would have done better if we didn't pair it with a Chevrolet Colorado 2022 rather than a long bed truck. However, we were okay with how it performed on our trip to Boundary Waters.
Strong: Even if it has a 750 lbs capacity, it is the most precise construction of the six. The structure is out of alloy steel and stainless steel. There are four quick-release clevis pins for a fast assembly. It can be challenging to carry four kayaks, but three kayaks should adjust if placed from the sideline.
Reflective tapes: There are tapes on the left-back and the rear right so boats from far away can notice. While getting back at night, the reflective tapes were very much visible. Also, this comes with a 3-year warranty.
Measurement: It has an adjustable width of 29 inches to 48 inches. There is an adjustable height that goes to a max of 27 inches. From the vertical point, it goes starting from 69 inches to a maximum of 78 inches, and from the standing point, it goes up to 29 inches.
However, if you want it to adjust along with your 25 inches truck, it can also fit simultaneously.
| Things we like | Things could be better |
| --- | --- |
| Universal fit and has 1.25, and 2 inches receiver fit | It is not rust-resistant |
| Two reflective tapes | |
| Excellent construction | |
3) Jeremywell Truck Bed Hitch Extender
Our final pick is none other than the Jeremywell Hitch Extender. It has a good weight capacity and fits a one by ¼ inches trailer.
Features:
Low turbulence: Jeremywell Truck Bed Hitch Extender took us on a seamless and quiet journey to Na Pali Coast. It handled 2 of our kayaks effortlessly. While riding the bumpy roads of Hawai, we didn't face much turbulence. However, the kayaks did make a bit of noise but didn't cause any harm.
Weight capacity: Between your tuck and the hitch, it can take up to 300lbs, and for the load, it goes up to 375 lbs. But the overall capacity is approximately 750 lbs.
Material: it has an adjustable width of 49 inches and goes max to 10 inches height. From the end of the extension, the pinhole is about ¾ inches. Despite it being a heavy-duty extension, it was about 27 lbs.
Others: The construction of Jeremywell is in a tube and made of alloy steel. It includes four quick clevis pins and reflective tapes on the front and sides.
Similar to Maxxhaul, it too has a semi-portable space to carry extra items.
| Things we like | Things could be better |
| --- | --- |
| Carries kayaks smoothly with low turbulence | It is not rust-resistant |
| For class III, it can go up to 715lbs | |
| Lightweight and has heavy-duty construction at the same time | |
4) Ecotric Truck Bed Hitch Extender: High weight capacity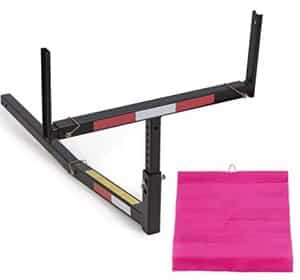 If you are not satisfied with Maxxhaul and want more weight capacity, then Ecotric Pick Up Truck Bed Hitch Extender is the one. We towed four, yes, four kayaks with this extender.
Features:
Impressive: What we like about this hitch extender is that it can go beyond its capacity. It can carry 750 lbs. We tried towing two kayaks jokingly, and to our surprise, it did great. It is a stealer with the price point.
Adjustable: Ecotric is quite similar to Mockins 2-in-1 but flexible. The width adjusts from 29 to 48 inches. If your kayaks are over 7 feet, don't worry; they can adjust length up to 10 inches.
Extra tools: We were thrilled to receive an adapter for 1/4th trailer hitches with this. While Maxxhaul provides foldable space, Ecotric is more for heavy loads and suitable for both short and long both kinds of bed trucks.
Material: Manufacturers claim it's made from 100% durable steel. From our towing experience, it is impact resistant. The previous update did not have a reflector tape; however, the new version includes one for safety.
| Things we like | Things could be better |
| --- | --- |
| Impact-resistant and can carry up to 2 heavy-duty kayaks | For lightweight kayaks, there are also other options. |
| Extendable arms with a versatile design | |
| Value for money | |
5) Lifeisbetter Pick Up Truck Bed Hitch Extender
We didn't expect Lifeisbetter Pick Up Bed Hitch Extender to make our top list. But after towing with this, we were blown away by seeing its capacity.
Features:
Effective: On our way to Lake Tahoe, we hauled about a 180 pounds kayak with it. The kayak is 15 inches long, and the extender bar holds it to the ground. We didn't face any turbulence, and the kayak remained unscratched. It attached to Colorado's two-inch receiver perfectly and was simple to assemble.
Measurement: Is this adjustable? Yes, it is. Like Ecotric, it also can carry up to 750lbs. But in terms of adjustability of height, it's an inch lesser than Ecotric. The adjustable height is at a max of 19 inches. On the contrary, the adjustable width is 29 to 49 inches. You can adjust the horizontal if you want, but we changed it vertically.
Design: Jeremywell can not go below 2 inches, but this can fit a 1.25 inches hitch. We will give this a bonus for that. It is made from alloy steel and has a smooth powder coat finishing.
Material: You can carry canoe, cargo, ladders, and adjust extra racks with this. It has reflective tape and can carry up to 1 kayak or two kayaks and a long pipe.
| Things we like | Things could be better |
| --- | --- |
| Universal and sleek design | Below average adjustable height |
| It can fit a 1.25 hitch receiver | |
| Versatile and can be used for heavy loads besides kayaks | |
6) MTN Gearsmith: Bigger space hitch mounted extension
MTN Gearsmith Hitch Mounted Extension is a popular hitch extender due to its universal design. Even though it looks compact, it provides a bigger space.
Features:
Capacity: Like other extenders, this also fits with 2 inches receiver hitches. We took a 30-mile drive with it and found it decent. However, it did cause a tiny bit of turbulence. It can carry a kayak of 14 inches, and 4 inches by four metal stands in one go.
Lightweight: Compared to Mockins, it has a very lightweight construction. Maxxhaul, too, has a very light vibe, but it's more heavy-duty than the MTN Gearsmith. While the manufacturers claim it's easily adjustable, we, as hitch experts found it difficult to assemble as hitch experts.
Security: There's an orange safety flag and about three clevis pins. It has a fixed design, so you have to assemble it once. You don't need to carry extra hitch pins. However, MTN could have gone with reflector tapes as per its reputation.
Material: It is made of steel and has a maximum width of 41 inches. Unlike most hitches, it can go up to 10 inches in height. The capacity of the extender is about 750lbs, and you can easily tow two kayaks if you put it on the side.
| Things we like | Things could be better |
| --- | --- |
| 8 inches more storage when entirely unequipped | The height and width are not adjustable |
| The orange flag provides visual safety | |
| Premium material and resistance to rust | |
Comparison table of the best 6 hitch extenders for kayaks
To make your buying decision easier, we've prepared a comparison table below. The comparison between the products is based on our testing, research and other customer reviews.
| Product | Weight capacity | Adjustable Height and Width | Universal |
| --- | --- | --- | --- |
| MaxxHaul 70231 | 375lbs | 9" H x 49" W | No |
| Ecotric | 750lbs | 10" H x 48" W | No |
| Lifeisbetter extender | 750lbs | 19" H x 49" W | Yes |
| MTN Gearsmith Hitch Mounted Extension | 750lbs | Not adjustable | No |
| Mockins 2-in-1 | 750lbs | 27" H x 48" W | Yes |
| Jeremywell Truck Bed Hitch Extender | 750lbs | 10" H x 49" W | Yes |
Also read: 5 Best Short Hitch Extenders for Bike Rack
Things to remember before buying a truck bed Kayak hitch extenders
Type & measurement
First, the hitch extender should be compatible according to your truck. As we discussed different types of bed trucks above, you now know that not every kind of extender goes well with a truck and kayak. Check out your vehicle's measurement first and then evaluate the Kayak's measurement. Finally, check the extender's measurement.
Our Chevrolet Colorado 2022 bed is 6.2 inches, and we had tried a new BKC UH-RA220 kayak for review purposes.
What type of extender do you think we went for? If you guessed bed loaders, then you are correct. Because the pick up has a short bed and the kayak is long and heavy-duty, we went for the bed extender to properly fit. In the same way, you must consider the extender type and find the suitable one.
Number of kayaks
Cargo extenders are best for multiple kayaks. The horizontal bar of your kayak determines if you can carry more than one kayak, even in a cargo extender. You also need to consider whether you need a hitch extender or just a kayak rack.
We prefer hitch extenders over racks for carrying two to three kayaks.
Function
We don't mind a complex operating process if the hitch extender is fantastic. But the same can not be with you if you are a newbie or have personal preferences. If you don't want to install and adjust the extender repeatedly, you can go for a fixed truck bed hitch extender. On the contrary, there's an option for bed hitch extender extension starting from the tailgate. Also, always consider the weight capacity of the extender.
Accessories
Some prefer extenders with different accessories, such as mount adapters and extra hitch pins. While others only want the extender. For example, we consider the warranty options. Always pay attention to the small details before buying a hitch extender.
How to Install A Truck Bed Hitch Extender?
Step 1: Firstly, read the installation manual. Open the truck bed and accommodate the tools to the right rear side. Now open the tailgate and secure it with hitch pins. Make sure it is 180 degrees wide open and adjusted according to the extender. Most trucks have 2 inches hitch extenders and if you have 1.25 inches, grab an adapter.
Step 2: Adjust the receiver and the extender in a reverse motion from 180 degrees to 90 degrees and secure with hitch pins to the three holes. Now, if you secure it against side mounts, then you'll need four hitch pins.
Step 3: After securing the pins, take your extender and clip it with the clevis pins. Most hitches come with pins and should take a max of 15 minutes to adjust overall. The installation is complete. Now you have to align and position your kayak.
Types of kayak hitch extenders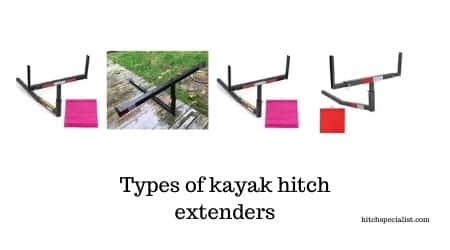 Classic U shaped
U-shaped is best for bed extenders for short kayaks and kayaks shorter than truck bed/tailgate. These are about 2 feet and will connect to your truck's tailgate. Besides, most classic hitch extenders are made of metal and some plastic or hybrid. You can also attach it to an extended cargo area.
Bed loader
If your kayak is longer than the tailgate, then a bedside extender is a good option. Bed loaders always connect at the truck's rear receiver instead of the tailgate. These include hitch mounts and provide 4 feet storage for kayaks. Also, these include support spring arms to adjust the position of the kayaks or even long loads.
Cargo
Classic and bed loaders provide extra space, but cargo extenders offer easy yet quick access to the kayaks. While the above two create space, the cargo extender turns the truck bed into an in and out drawer. However, you'll need an extra right mount hitch to lock the cargo extender in place.
How does Truck Bed Extender create a difference?
The first difference it makes is that it provides extra space for your short truck bed. You can't buy a long bed truck because you want to carry kayaks. Also, if you tow heavy loads besides kayaks, an extender is your best friend.
Not only will it increase the length but also increase the intensity. A long road trip to kayaking spots requires lots of things to carry. Often people ditch many trips because of the extra baggage. Also, you can keep small storage besides kayaks. These don't harm trucks and are detachable.
Kayak hitch extenders FAQs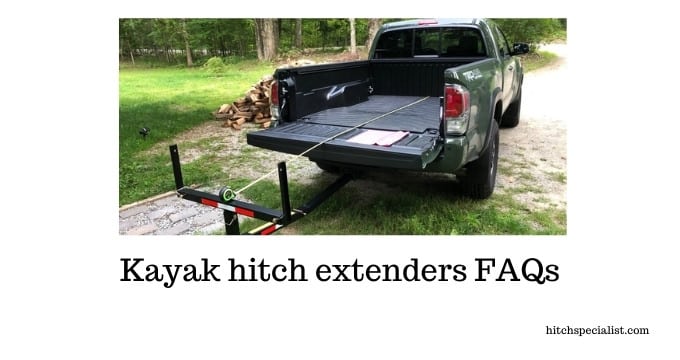 How do you secure a kayak in a short bed truck?
There are two ways. You can directly connect the kayak using a buckle strap to the kayak top from the tailgate. However, if you have a long kayak, you have to use clevis pins and a loop to tighten with the extender.
Can you fit 2 kayaks in a truck bed?
If it's a long truck bed, then yes, and if it's a short truck bed, you need an extender. How you position the two kayaks depends on you. You can go sideways or central or tie through cable lockers.
How far can a kayak hang out of a truck?
Kayaks will stick out about 6 inches (depends on length) and 2 inches if there's an extender. However, it always depends on the extender size. Always place flags to maintain safety precautions. Most extenders include extender tape or flag.
How many kayaks fit in a truck bed?
Larger trucks can easily fit four kayaks, while pickup trucks can go two max. If there's an extender, it can go up to 3 kayaks. We don't recommend fitting four kayaks on a short bed truck without any extender.
Also read: Does the Andersen 5th wheel hitch short bed truck friendly?
Do I need a red flag on my kayak?
The flag can be any vibrant, visible color besides red. It can be orange/neon green/ yellow. But avoid blue as you need a contrasting color. But you must have a flag because it is difficult to see on the water, preventing boat accidents.
Conclusion
Our team took three months to test and trial because we didn't want to do a ten-minute drive and select one. After driving miles and hours, we visited actual kayaking spots from Portland to Colorado and choose the best hitch extender. MaxxHaul 70231 is our favorite pick among the other five as it gave a balanced performance which we explained in the review section. But if you want to carry up to 3 kayaks, then Mockins 2-in-1 Design is a better option among the 750lbs capacity. It is a bit expensive, but it has a universal receiver hitch. Ecoteric is a cost-friendly option with close identical features and is the only one with impact resistance.
You may want to read: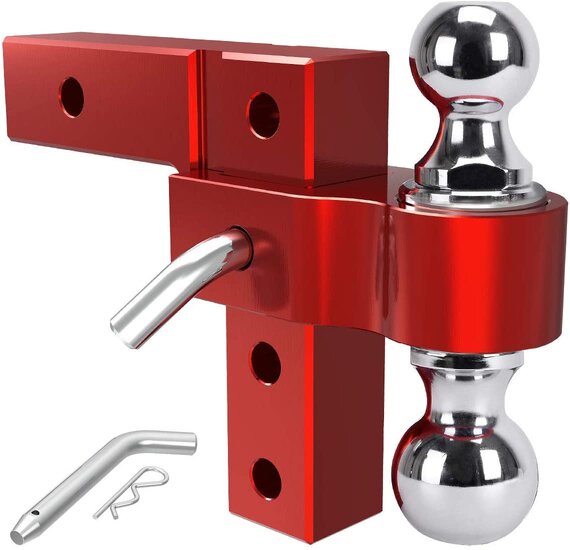 We are a team of 8 Hitch specialists based in Poland. Every day we fix different hitches for our clients. So we thought why not create an informational blog for the hitch users from all over the world.
So besides running our Hitch store here in Poland, we also write the hitch accessories tips and guidelines on this website. Read more about our Hitch store and services here.