Bike racks have become updated, improved, and harder to choose. Over the years, three companies have been making industry-leading bike racks. You've guessed by reading the title: Saris, Kuat Innovations & Thule Group. These brands offer bike racks with four bikes towing capacity and bike racks that can easily haul kayaks.
Some hitch bike racks provide anti-sway adapting to the new trailer hitch technology. However, some of you might want the latest technologies on your bike, and some want a simple functioning bike rack. So, we have reviewed two bike racks from each brand and compared them elaborately.
Thule vs Saris vs Kuat bike racks Comparison table
| | Thule | Saris | Kuat |
| --- | --- | --- | --- |
| Prime technology | HitchSwitch technology | Nfinity technology | locking hitch pin |
| Bike capacity | 1 – 4 bikes | 1 – 4 bikes | 1 – 4 bikes |
| Average weight capacity per bike | 65 lbs per bike | 45 lbs per bike | 60 lbs per bike |
| Material | Aluminum & alloy steel | Aluminum & 100% recyclable plastic | Aluminum & metal |
Also read: Best 5 Bike Racks for SUV without hitch
Thule Bike Rack Review
In the 60s, Erik Thulin designed ski racks and started selling car gear for traveling. Until the 70s, new market products built up, and the actual growth of the Thule group began across the U.S.A & Japan.
Thule bike racks offer 1.25 inches and 2 inches receiver hitch fitting for almost all bike rack models. The brand first introduced the bike on vehicle access feature and brought high towing capacity models to tow electric bikes and fat tires.
Besides, most bike racks come with clamp & locking bolt accessories. Thule bike racks offer roof, trunk, and hitch racks. It also provides other racks. 
Most of the Thule bike racks are compatible with square bars, round bars, classics, and an aero bar. The bike racks provide locking bolts technology to ensure safety and cut theft. Thule bike racks vary from hanging, wheel off, wheel on, and even platform.
We've tested and used different Thule bike racks over the years. Thule bike racks have superior design and don't let the rack damage the bikes. However, we think it is better in the cargo box & kayak racks section than in the bike racks. But from customer reviews, most Thule bike racks work fantastically, and the towing capacity is top-notch. 
Key features of the Thule Bike rack
Made of lightweight aluminum and alloy steel. The material changes according to the bike rack type
It provides the first of its kind seven inches bike spacing
Anti-sway capability prevents bike frame contact and any kind of damage
HitchSwitch technology in hitch bike racks allows hitches to tilt easily
An integrated cable lock lessens the chances of bike theft or falling out
It can haul e-bikes to mountain bikes, depending on the bike rack model
Best Thule Bike Racks:
Thule T2 Pro XT/XTR Hitch Bike Rack
Thule t2 pro xt is one of Thule's most user-friendly bike racks. It is one of the cult favorites. 
Features:
Bike fit: Thule t2 pro xt has a carbon finish that protects it from bike scratch. On the contrary, the bikes stay unharmed. What we like most is that it easily fits popular bikes like downhill and fat bikes. Despite our rough test, the Thule t2 pro xt effortlessly held the bikes in place.
Versatile: You can easily fit 20 to 29 inches wheels that go up to 5 tires. There is no requirement for any extra adapters. So, the rack is suitable for carbon frames as long as kid bikes. Also, the loading of bikes is effortless, and the tilt mechanism makes it easier to load and unload using the Thule t2 pro xt.
Secure: Unlike traditional bike racks, you only need to slide the Thule t2 pro xt hitch receiver and attach the stinger pin to secure it. A knob activates on the rack body, which corrects and seals the position of the bikes. We dislike that Thule only offers one bolt free along the Thule t2 pro xt.
Spacing: As you know, Thule provides 7 inches of space, but it provides 12.5 inches between the mounts for the Pro one. Why is spacing so important? The spacing prevents bike to bike contact. It means minor damage and more lifetime. 
Special details:
Thule t2 pro xt can tow up to 60lbs per bike.

Integrated wheel maneuvers the t2 pro xt rack when it's off the vehicle.

Hitchswitch level provides t2 pro xt, a superior tilt to unload the bikes.
Thule UpRide Roof Bike Rack
Roof bike racks are Thule's specialty. Thule UpRide Roof Bike Rack is one of the best bike racks offered by the brand.
Features:
Frame contact: Thule is best known for its bike-protecting technology. It provides separate hooks and even wheel hoops that you can use to position your bikes. Also, Upside provides crossbar support to lessen pressure on the bike. The hook grabs the front wheel, so there is no need for extra ropes to keep the balance for fat tires.
Arm: The arm of the roof bike rack is quite sturdy, and you can quickly ratchet it. However, you can only tow a single bike because it is a roof rack. The second arm of the bike rack places about an 8.9 inches spacing distance.
Weight capacity: Despite being a roof bike rack, Thule UpRide Roof Bike Rack can tow up to 20 lbs. It fits from 20 to 29 inches wheels and can tire up to 3 inches wide. Thule recommends flipping the front arm to tow correctly with any bike, especially mountain bikes. 
Versatile: Thule UpRide too comes with a lock system. However, this version requires a cable from the rack wheels to the suspension area. The model provides bolts to secure the bike's work properly.
Special details
It can tow one bike up to 44 lbs.

It provides an easy switch from one vehicle to another vehicle front wheel.

It usually fits 3 inches tires but can go up to 5 with the help of an adapter.
Is Thule better than Kuat?
Between Kuat vs Thule bike racks, Kuat offers various updated models of bike racks. But Thule remains to be the first of its kind. Let's take an example. NV 2.0 can tow 60 pounds bikes very quickly. On the contrary, Thule t2 pro xt, its direct competitor, tows up to 120 pounds. That too without an adapter. Here, Thule wins for its smooth mechanism and bike protecting capability.
Here's a video about Thule T2 Pro XT vs Kuat NV 2.0 bike rack:
Saris Bike Rack Review
Saris is a cycle and cyclist trainer company. So, the brand has always been an expert in making bike racks that fit new designs and acknowledge rack-related problems. Most bike racks are made from recyclable materials.
From our experience, most Saris bike racks provide all types of vehicle models and even default factory setting spoiler. The brand stands out for its convenient design and easy-to-install functions. Also, the trunk bike racks of Saris come in multiple bike towing capacities. The brand offers classic 1.25 inches & 2 inches hitch receiver size options. It provides other racks for kayaks. 
Saris Freedom 4 Bike Rack, SuperClamp EX 4 Bike Rack & more models offer four bike towing capacities. Overall, the bike racks have very high ratings on different websites and forums; it has a die-hard fan base.
Just like famous brands, it also offers the bike on vehicle access. Additional options include folding, loving, and classic tilting mechanisms. One of the top opinions of the customer is that Saris bike racks don't scratch the bikes in any form.
Key features of the Saris bike rack
Arc technology keeps splits and spoilers divided into different levels
Most of the bike rack models allow injection-molded arms and legs adjustment
Trunk and roof bike rack models allow ratcheting downwards and upwards
Some of the bike racks models included rubberized feet to protect cars
The towing capacity goes above 130lbs depending on the bike rack model
Anti-sway strap ensures bike security and prevention from any damage
Best Saris bike racks in the market:
Saris Bones Car Bike Rack
You saw this coming. Saris Bones Car bike Rack is the most classic of all Saris bike racks.
Features:
Design: First of the Bones included a mounting leg option to avoid any kind of spoiler contact. It is suitable for flatback cars and SUVs. However, it is made from 100 recyclable materials. You might wonder how this composite rack can hold alloy steel bike racks. From our trials, Saris have outperformed the typical bike racks. So, the environment-friendly feature is a plus point. 
Frames: Saris Bones is a classic hanging rack or a trunk mount bike rack. So, the bike frame hangs in a 180-degree manner on the rack's arm when bikes are loaded. Most trunk-mount racks tend to be platform racks making Saris bones an exception. However, this one avoids any attack with the rack and bike frame.
Towing capacity: The rack goes well with tires having at least twelve inches of ground clearance. However, according to the manual, small towing vehicles might need an extra adapter. The max capacity of these racks is two bikes and a 70lbs bike limit at max. It has three plastic straps that clamp the bike from the seat tube to the top line. 
Installation: The installation process is quite simple. It doesn't need any complex setup. But make sure to read the manual before assembling any bike rack. Rack arms take angles parallel before going parallel to the ground when installed. However, Saris should work on this feature.
Special details:
Leg lift features prevent spoiler and car connection.

Each bike gets almost 6.5 inches of spacing.

It includes narrow and easy to move ratcheting straps.
Saris All Star 2-Bike Hitch Rack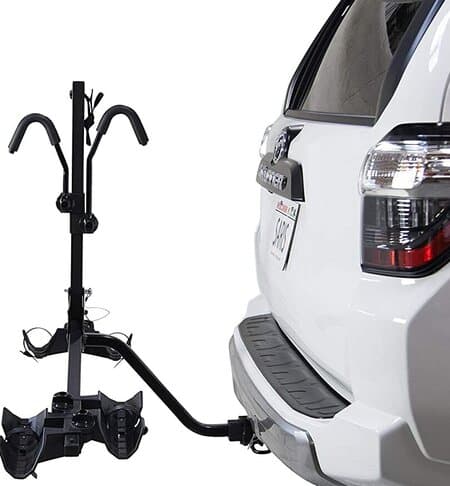 Saris All Star 2 bike is a modern tray bike rack and provides a safe ride.
Features:
Towing capacity: All Star is a hitch rack, and as mentioned, it can carry two bikes very quickly. However, the weight limit goes to 90 lbs at the rear wheel. However, the hitch rack has more of a platform style. The bike rack comes along with straps to hold the hitch firmly. 
Load-unload: There's a tilting technology that ensures easy loading and unloading. However, the model comes with hooks to attach. But these do have a line foam padding to avoid any bike contact. Additional handles are added for extra security. Special notes: All Star works excellent for ladies' bikes & mountain bikes.
Adjustable: The flexible model gives you at least 12 inches from the hitch pin center. The closest cradle goes around 11 inches which makes its arms adaptable. Also, the outer edge and pinhole adjustment go around ¾ inches on two bikes. The hitch bike rack is adjustable if the vehicle wheel ranges between 10 inches. 
Others: According to the manufacturers, it can go up to 29 inches with wheels and three tires. The two bikes rack connection is simply a tray to strap and tube hook connection. However, it doesn't include any integrated lock. The rack doesn't move position despite the lock, with no sway or mountain bike speeding bump. 
Special details:
The hitch receiver options are one ¼ inch or 2 inches.

It can load bikes up to 45lbs per bike.

The rack is made from plastic and aluminum.
Is Saris better than Thule?
Thule bike racks offer great towing capacity. However, Saris surpasses Thule through the Bones series. Thule offers better bike spacing between Thule and saris bike racks than Saris. From our experience, both make reliable and heavy-duty bike racks. Both of the brands provide a lifetime warranty. If you want to go green, Saris is the winning option.
Kuat Bike Rack Review
Kuat started 14 years ago as a bike transport company. The company now creates precisely engineered bike racks and accessories that are fan favorites. Did you know that the leading design team of Kuat bike racks consists of professional cyclists and industrial experts?
Most bike rack models combine style and different substances and functionality. The hitch bike rack options Kuat offers are 2 inches and 1.25 inches. However, you can custom make one if you prefer. One of the unique things about this bike rack is that it can also tow up to six skis. 
All Kuat bike racks have an ergonomic design. Most users love the Kuat anti-sway mechanism in all types of Kuat bike racks. The cradles of hitch bike racks automatically separate the rack from the vehicle if it faces sway.
Also, people rave about the towing capacity of the bike rack at an affordable price tag. Kuat hitch racks are adjustable with all kinds of trailer hitches. The brand also offers sp[ecializzed snowboard and kayak racks. It provides swing away and carrying fat tires. Besides Aerobar, the rack models are adjustable with round bars, square bars, and even T-Slots.
Key features of the Kuat bike rack
Most Kuat bikes have two bike capabilities.
The towing capacity starts from 45 lbs to 70 lbs per bike rach
The wheelbase can hold up from 30 inches to 48 inches
The tire width capacity goes as maximum as 5 inches
It includes fully integrated cable locks that protect from theft
Tight hitch cam systems in bike racks prevent from use of toll for installation 
Best Kuat bike racks in the market:
Kuat Racks Sherpa 2.0-2 Bike Rack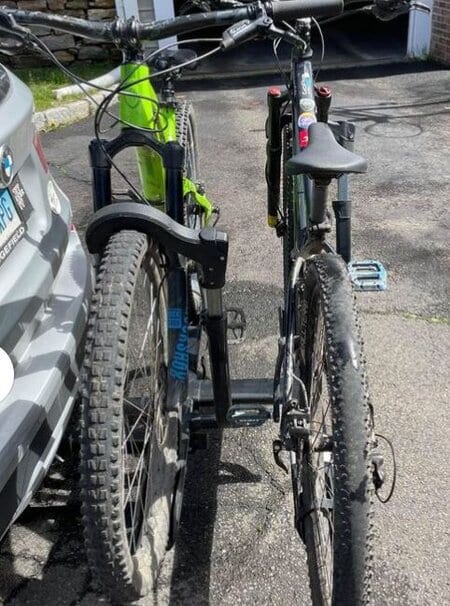 Sherpa 2.0 is the best bike rack from Kuat to this date. It has incredible towing capacity and provides a hassle-free journey.
Features:
Functional: The first point is its holding system. You can place your bike racks upright, and still, it can tow it fantastically. The ratchet arm & rear hatch works excellently, and the lock works with single hands. Also, the primary material of the rack is aluminum. Unlike other brands, Kuat bikes can be assembled without any helping hand.
Tow capacity: Sherpa can tow 80 lbs combined and two road bikes at max. There are about 5 inches of bike spacing between every bike. So, it avoids any rubbing or pedals or contact with other bikes. Sherpa works excellent for 29 inches tires, and 25 inches tires work fine with the rack.
Straps & installation: The pivot arm and back tires stay in place through the straps. However, Sherpa needs an extra cradle adapter for Fat bikes. The installation will only take you to connect the base with the straps. Overall, the weight of the rack is about 32 pounds.
Also read: How to Install Allen Bike Rack?
Lever: There's a particular function called a pivot lever that you can pull easily with your foot. Sherpa 2.0 includes security lock bolts and a manual pivot lever for emergency pull for double security. As the lever pulled down, it created extra space where the rack sat.
Special details:
The cradles have 14 inches in between per bike.

The entire rack comes in three different color options, including Grey, black & pearl, metallic.

The maximum bike capacity is 40lbs per bike.
Kuat NV 2.0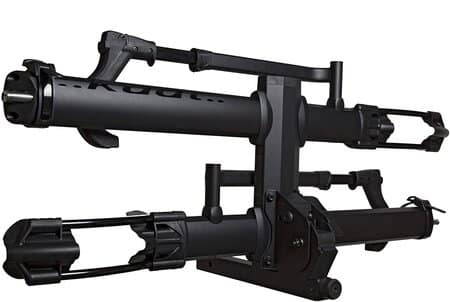 The Kuat nv 2.0 from Kuat is taking the world by storm. The superior composition of rack gold and straps makes it easy to use.
Features:
Design: Kuat nv 2.0 has a straightforward design and nothing fancy. It is a platform rack, and the design leads you to ratchet the arms up and attach the front wheel. However, the entire process makes it very easy to use. However, while towing tow bikes, you have to connect the straps that it comes with.
Receiver option: Kuat nv 2.0 comes in two different hitch receiver styles. One is 1.25 inches, and another is 2 inches. However, the 2 inches version allows you to add an extra rack for two spare bikes. In the case of fat bikes, the Kuat nv 2.0 comes with an additional adapter. It doesn't carry more than two bikes.
Weight capacity: Just like most Kuat bike racks, Kuat nv 2.0 also offers max 120 lbs bike towing capacity. It means per bike 60 lbs towing capacity. However, the rack can handle mountain bikes and tires from 20 to 29 inches. In the case of 24 inches, it might need an extra wheel adapter. It includes integrated cable locks.
Warranty: The bike's frame is metal and has a very sturdy body. You can get a lifetime warranty even if you purchase from a dealer. But make sure you register first at the website. Also, while not in use, the Kuat nv 2.0 provides a folding option that doesn't block the tailgate.
Special details:
Reattaching arms prevents nv 2.0 side bike movement and secures in place.

Nv 2.0 can tow up to 120lkbs at max and carry kids' bikes.

The nv 2.0 wheel tire range is 20 to 29 inches.
Is Kuat better than Saris?
Kuat and Saris both call for close competition. However, most Saris racks are cost-effective, while Kuat is not. In the case of off-and-on attachment, Kuat racks do better. Because Saris is made of recyclable plastic, the durability of Kuat bike racks is more excellent than Saris. Kuat might fall behind in Sarios bike racks; it requires adapters & rear rim for wheel range change, and Saris doesn't.
Also read: Kuat vs 1up Bike Rack
Thule vs Saris vs Kuat bike rack: Which is right for you?
Three brands are making the best bike racks in the industry. However, we recommend Thule bike racks for balanced performance out of these three. Thule bike racks have brought first-of-kind technology like Tilt mechanisms and bolt locks. Different models can take more than 150 lbs, including e-bikes and fat bikes. However, all brands offer bike racks offering four bikes towing capacity. 
For an eco-friendly and cost-effective option, we recommend Saris bike racks. It doesn't fall short of Thule & Kuat, but using recyclable plastic shortens its life. However, out of the three, Saris has the best customer service. Lastly, Kuat is great for specialized towing and die-hard bike enthusiasts. Each of its models is specialized for specific bike models, including Skis and Kayaks. We rank Kuat bike racks top in case of bike security.
Read other bike rack topics: